What if, like Mary Poppins, you could jump into a picture on the sidewalk? Entering the Storm King Art Center, the fantasy feels almost real. A sculptural wonder of the Hudson Valley, it takes you inside a Thomas Cole painting filled with sun-splashed green fields, fiery trees, mountain ranges, dramatic skies, and flowing brooks. The natural setting in Mountainville exists as an art venue and peaceful escape from metropolitan life.
Founded in 1960 and inspired in part by a man's trip to an Austrian marble quarry, this pristine oasis is an 80-minute bus ride from Manhattan. The 500 acres of landscaped lawns, fields, trails, and woodlands are dotted with towering postwar sculptures by internationally renowned modern and contemporary artists, including Henry Moore, Alexander Calder, and David Smith; their works help make up the center's permanent collection.
Visitors are welcome to roam the grounds and stand a foot away from the steel behemoths, of which there are over 120. Smaller scale pieces such as Tomio Miki's Ear are ideal for a game of Sculpture Scavenger Hunt for kids, while adults can appreciate Richard Serra's site-specific Schunnemunk Fork, which pays homage to the nearby mountain.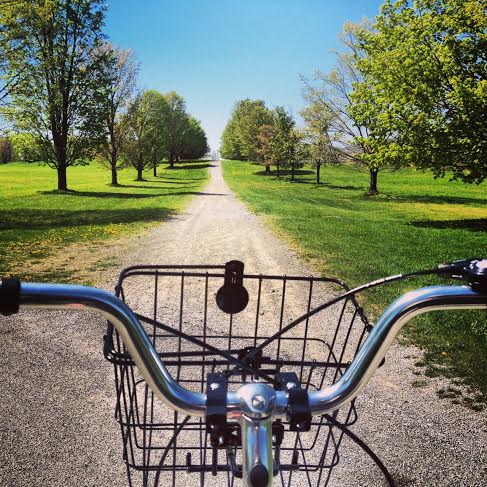 Everyday at one and two p.m., an hour-long docent guided tour highlights the museum's core pieces on top of the hill. For those hoping to learn fun facts at their own pace, rent an on-site bike ($20/two hours) and pick up an audio tour at the Visitor Center where a modest shop sells coffee table books, postcards, and other mementos. Stop by the Storm King Cafe for fresh seasonal offerings or pack a picnic and dine by the fifty-six-foot high curves of Alexander Calder's The Arch.
Instead of tackling the masses at MoMA this week, step into Storm King, where space, deer, and sculpture serve to alleviate the honk and garbage-worn senses.
How to get there: Coach USA (formerly Short Line Bus) offers a day tour package leaving from Port Authority with direct drop-off at the park. For a bus schedule and to purchase tickets visit coachusa.com. Storm King reopens April 2 2014, Wednesday through Sunday (10am-5:30pm). Fees: Roundtrip bus transportation and museum admission for adults—$46, Children ages five to eleven—$23.
(Storm King Art Center, Old Pleasant Hill Road, Mountainville, New York. 845.534.3115, stormking.org)
Photo: Courtesy of Storm King, atubbs

*Note: For those taking the Coach USA bus back to the city, be sure to make it to the front gate a bit before 4:30 p.m. It may not be scheduled to arrive until a quarter to five, but we hear the bus rolls by anywhere between 4:20 and 5:00 p.m.—with a habit of leaving late passengers behind.