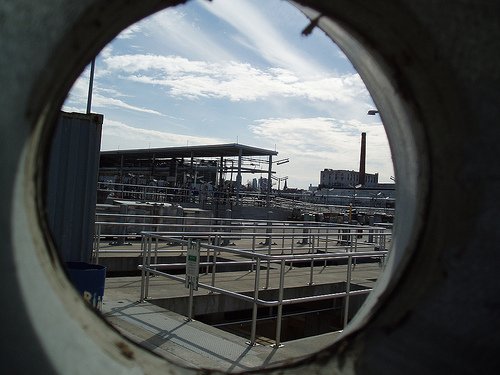 For a unique slice of green beyond the confines of parks Central or Prospect, consider a trek to the Newtown Creek Nature Walk in northern Greenpoint, Brooklyn. Unlike most nature walks, Newtown Creek does not shy away from nature's complex relationship with human culture and industry. Rather, it provides its patrons with the opportunity to reflect on these issues as they literally walk the line between natural flora and the man-made concrete jungle.
For those unfamiliar, Newtown Creek is an estuary of the East River that separates northern Brooklyn from Queens. For over a hundred years it was cluttered with oil refineries and in 1950 was the site of the worst oil spill in U.S. history (three times larger than the Exxon Valdez). Today, the oil refineries have been replaced by the city's largest wastewater treatment facility. (Who knows if that's exactly an improvement, but fortunately, your nose will not recognize either one.)
A stark setting for a nature walk to be sure, Newtown Creek does not disappoint. A dramatic nine-foot tall entry gate built of stainless steel pipes welcomes you to the walk and is an immediate reminder of the adjacent sewage treatment plant. As a reward for tempting this journey, you are given a choice of diverging paths. As you look at the large steel bridge directly ahead, you can choose to follow the short path beneath the bridge to a small fragrance garden or traverse the bridge itself.
If you cross the bridge, you will come to the "Vessel," a spectacular 170-foot corridor with bowed, 13-foot high concrete walls and portholes that mimic the look and feel of the old boats floating through 19th century Newtown Creek. Peer through the portholes to notice that the raging waters visible on those old vessels have been replaced with a labyrinth of pipes connected to the nearby sewage plant.
After a few other surprises, you will eventually reach a set of granite slab steps next to the Newtown Creek shore. The clash between industry and nature is striking as you pass concrete slabs rising up from the banks of the water. Each successive slab is etched with a scientific name denoting the evolutionary development of the region.
Sitting on the highest step labeled "Mammalia," watching geese jump from slab to slab, two mammoth garbage barges approaching from the other bank, you cannot help but appreciate the controversial arrangement of this unusual urban setting. A public art project designed by George Trakas and commissioned by the Department of Environmental Protection, it forces pedestrians to reflect on their impact, past and present, on the local environment. While not as showy or even as beautiful as many other parks or nature walks in the city, the unilateral respect exhibited for all sides makes it feel like a sincere attempt to make amends with nature. How often do you feel that?
As you conclude the walk on the "Whale Creek Path," with native species to your left and those garbage barges floating to your right, you realize that you're standing on a battleground of nature that feels even-handed and propaganda free—where a metaphorical treaty was signed between humans and nature to benefit both sides. Perhaps such abstractness would never be mentioned in history books, but it fills you with more tangible hope for the environment than any Greenpeace volunteer ever has. That's about as concrete as it gets, and definitely worth the trip.
How to get there: Take the 7 train towards Queens and get off at the Vernon Jackson stop.  Exit on the Jackson side and walk across the Pulaski Bridge (10 minute walk) until you hit a set of stairs past the river.  Take the stairs down to the street level where you will be on McGuiness Ave. between Ash and Box Street.  Go left on McGuiness towards Box Street and take a left on Box Street.  Box Street will become Paige Street, which will end right at the Newtown Creek Nature Walk entrance.
After your visit, try the free-range egg salad sandwich at the Ashbox Café at 1154 Manhattan Ave. (between Ash & Box Streets on Manhattan Avenue, one block west of McGuiness Avenue).
Photo: Courtesy of Avandista