July 29, 2011–
The horn sounded and 200 bikes poured into the streets of Boston, marking the opening of the first bike-sharing program of Massachusetts and a step toward the mayor's dream of establishing the city as a world-class cycling destination.
Boston Mayor Thomas Menino presided over the New Balance Hubway bike-share opening ceremony in City Hall Plaza on Thursday and watched as the silver and black bikes started their journey toward several of the 61 stations that make up the new bike-sharing network.
"Boston's bike-share represents how far we have shifted on thinking about transportation in our city," Menino said. "The car is no longer king in Boston."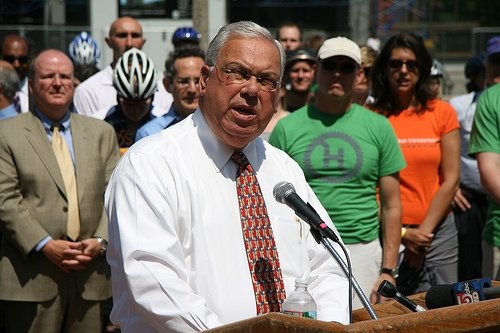 With the advent of Hubway, Boston joins the ranks of established bike-share cities such as Paris, Montreal and Washington, D.C.—and soon, New York. The program offers 600 bikes at kiosks located from Downtown to Cambridge to Southie, with the goal of adding many more in the coming years.
Officials hope the hundreds of bikes will accommodate both residents and casual users, and have made one- or three-day access available for $5 and $12 respectively. Year-long membership costs $85, but a special $60 annual rate is available through the end of July. Rides are free for the first half hour, with incremental charges tacked on after. Bikes can be returned to any kiosk in the city, so a round trip is not necessary for riders using mixed modes of transportation.
Jocelyn Gaudi, the member care manager at Hubway-affiliate Alta Bicycle Share, said after living and biking in the city 365 days a year for three years, she knows the potential impact of Hubway.
"Folks that own their own bikes but don't want to worry about 'Where am I going to park it when I visit that neighborhood?' or, 'My bike has a flat tire but I still want to get a ride in today,' that's when the system comes in handy for them," Gaudi said. "They can just walk out their front door, walk a few blocks, rent a bike and still do what they're used to doing without the hassle of changing a tire that morning."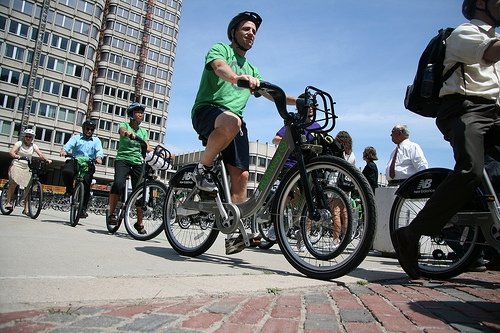 However, lifelong Boston-area resident Steve Jacobs said that few bike lanes, confusing roads and lots of traffic all add up to major obstacles the city needs to work through before Hubway can be a success. Menino spoke vehemently about Boston's progress to strengthen its cycling culture, citing that in the past two years alone, 38 miles of lanes and 1,600 bike parking spots were installed as a part of the Boston Bikes program. It is a trend the mayor thinks is changing the dynamics of transportation in the city, and yet Jacobs still worries about how casual riders will be received by Boston's drivers.
"People who are going to be riding these bikes aren't that bike savvy, especially if you have tourists coming through. The drivers in the city are not bike friendly; they're not bike aware and they don't care to be. That education is going to be met with some resistance and take a while before biking in the city is safe," Jacobs said.
Menino told offManhattan on Thursday morning that "[the bike share program] continues to improve our status in the green community. No longer is the car in control of Boston. We want more people cycling, more people running and more people walking for a more and more environmentally-sound city," he said. "There are 600 bikes available at 61 stations, so. . .you can go anyplace you want and pick up a bike and ride to the next location. This is a great start for us to have a program like this in the neighborhoods of our city."
Before the bikers rolled out, Menino qualified his final words as some of the most important:
"Wear a helmet."
For more information on how it works, visit www.thehubway.com
Photos: Signe Brewster