There's nothing like a home-cooked meal, especially when it's prepared by people who know their way around the kitchen. See if you can score yourself a spot at any of these four hush-hush supper clubs throughout Brooklyn for a delish dinner.
Crow Hill Supper Club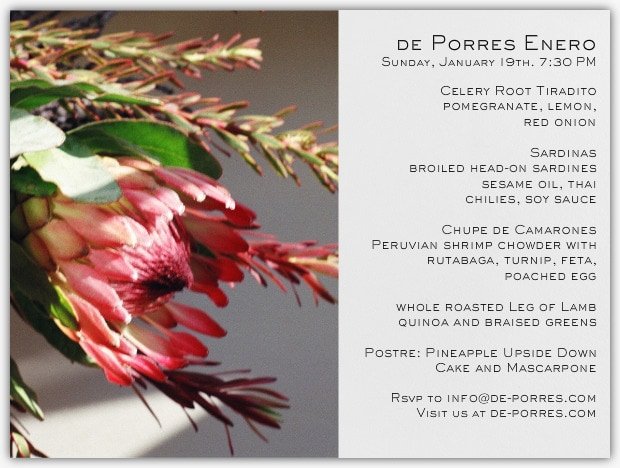 This supper club is so new there isn't a website up or a review out yet, but with Real Cheap Eats founder Noah Arenstein at the head of the table, we're excited to see and taste what Trinidadian treats the meal has in store for us. Crow Hill is set to be a monthly dinner in a century-old home in Crown Heights, and this Saturday, January 11 is your first opportunity to try your tongue at some new flavors with dishes like mini bake and shark, stewed chicken, currant rolls, and chow mein. Trinidad chef Crystal Voisin of Crown Heights-based pop-up Lena's Kitchen will be preparing the food. Between the bites, new friends, rum punch, and ethnically-rich Nostrand Avenue, this is sure to be one culinary adventure you'll want to repeat. Get your $55 tickets soon at brownpapertickets.com.
De Porres Dinner Series
While some supper club hosts move on to start restaurants or lose loyal diners and discontinue their intimate gatherings, Danielle Bell and Pablo Osorio are still going strong in 2014. In its second year, the De Porres Dinner Series invites foodies and the "wonderfully curious" to experience their travel-worthy cuisine, which takes guests "from Lima to Louisville in a single meal." On Sunday, January 19 at 7:30pm, Danielle and Pablo will welcome guests into their Bed-Stuy home, where things like chupe de camarones (pervuian shrimp chowder), whole roasted leg of lamb, and pineapple upside down cake are on the menu and paired with wines, though a BYO policy is also encouraged. The dinner is $70 and includes drinks. RSVP to info@de-porres.com. Visit the site for upcoming events.
The South Side Supper Club

When it's cold outside, a Seafood Boil is really the best way to stay warm. The South Side Supper Club always has something inspiring and delectable in store, be it a gluten-free Korean menu, Dim Sum, or a food art show. At this casual culinary affair, expect a buffet of razor clams, mussels, shrimp, scallops, homemade salmon and cod balls, veggies, fruits, and a complimentary cocktail—but feel free to BYOB. Doors open at 7pm and dinner is available at 8pm at 160 Havemeyer St in Williamsburg. Get your $35 tickets at brownpapertickets.com.
Eat with Neighbor
E.W.N. is run by Archie and Emily, an adorable couple serving up wholesome American food (think dishes like wild mushroom toast, hazelnut, and chard ravioli) in their artistic loft in Williamsburg. Events take place approximately once a month; check the website for upcoming events. At a recent supper, after cocktail hour, the four-course dinner included "Arizona-grown Citrus, Fried Stuff, Apple Wood Smoked Pheasant, and the Shortbreads."