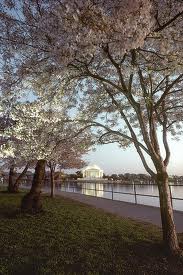 Central Park is still bare of buds, but if you're ready to say so long to winter, book your trip to Washington D.C., where pretty pink florals will have you humming spring around the rosey all the way back to New York. More than two million people will visit the nation's capitol this year for the 97th anniversary of the Cherry Blossom Festival. The peak blooming period runs from March 28th to April 11th and the most spectacular blossoms are expected from April 1st to the 4th. To get the most bloom for your buck, take advantage of the Cherry Blossom Getaway at the Liaison Capital Hill, where room rates start at just $153 a night. Your package will include a live cherry branch to take home (keeping you from illegally picking one at the festival), ten handmade cherry blossom artwork note cards, and a picnic basket of goodies from local restaurant Art and Soul. You'll also have a super swank room that comes with a pillow menu (there are six to choose from) and iPod speakers.
Make sure to mention promotional code CHERRY when reserving your room. All reservations must be made by March 28th – and word has it, they're going fast.
After the jump, itineraries for weekends one and two.
Weekend 1, Saturday, March 28th
Partake in the Family Day and Opening Ceremony at the National Building Museum, where you will find a floating Japanese tea room, learn the traditional folding arts of origami and furoshiki, watch a little ballet, and even create your own anime character. On the same day make sure to check out the 43rd Annual Smithsonian Kite Festival at the Washington Monument. This year's theme explores being eco-friendly, and the invaluable resource of wind power.
Stick around Sunday March 29th and attend the Lantern Lighting Ceremony at the Tidal Basin. The 357-year-old stone lantern is lit in a ceremony featuring traditional Japanese performers, Washington dignitaries, and the Cherry Blossom Princesses (no, not from the Nutcracker, but it's worth watching). All events are free and open to the public.
Weekend 2, Saturday April 4th
At the Parade of the National Cherry Blossom Festival, you're here for the giant colorful balloons, marching bands, and performers that will burst down Constitution Avenue rain or shine. The parade starts at 10a.m. and is free, but prime viewing grandstand seats can be purchased through Ticketmaster for $17 per person. Later that day, experience the Sakura Matsuri Japanese Street Festival, America's largest annual exhibition of Japanese culture. There you can learn about and slurp sake, watch craftsman make traditional dolls, listen to taiko drums, and meet Shinto and Buddhist priests if you're up for it.
On Sunday April 5th, consider watching the Cherry Blossom 10 mile Run as the fit pack snakes around past monuments and cherry trees. Or bring your bike and attend Blossoms by Bike, a two-hour ride designed to showcase the natural beauty of the Nation's Capital at its pink and white peak. Cost is $32 for adults and $22 for children.
How to Get There: Amtrak offers daily service from New York's Penn Station to Union Square in Washington DC. Go to Amtrak.com for a full list of fares and schedules. BoltBus has cheap fares to DC and departs daily from Midtown with free wi-fi enroute. Go to boltbus.com for tickets.
Once there take the Metro to any and all of the festival events. The Smithsonian Metrorail station (blue and orange lines) is most popular among festival visitors, but the L'Enfant Plaza Station (blue, yellow, and green lines) 7th street and Maryland Avenue exit is about a 10 minute walk to the blossoms and much less crowded.
Another option is the DC Circulator, which allows you to come early or stay late, a new route connects the Washington Monument with Metrorail Stations and allows you to skirt the more crowded stations during the peak blooming period.
For more information and Liaison Capitol Hotel reservations go to Affinia.com or call 866.246.2203. For more information and a full list of events check out: nationalcherryblossomfestival.org or call 877.44BLOOM
Photos: Courtesy of Affinia Hotel and the Washington DC Visitors Bureau