Vernon Boulevard is long. Really long. More than 100 minutes long, more than 200 minutes long. This thoroughfare bevels its way from the Long Island Expressway up to Astoria, along the western coast of Queens. Exploring the stretch between 51st and 46th Avenues provides an excellent sense of Long Island City's newly trendy spirit while making sure you don't overly tax yourself or get too thirsty.
Exit the subway on 50th Avenue, turn left onto Vernon, and make your way over to Vernon Mall. Visitors looking for cheap jewelry from Claire's or hats from Lids will be disappointed, however, as this isn't that kind of mall. Instead, the strip of concrete topped with benches and trees is named for British admiral Edward Vernon (1684–1757). Say a quick thanks that the park and street bear his actual appellation, rather than his nickname, which was derived from both a coat he wore and a rum drink he served his men. You could, after all, now be standing on Old Grog Boulevard.
Speaking of drinks, PJ Leahy's (No. 50-02) pours hefty pints and screens all manner of sporting events. It's a testament to the neighborhood's steadfastness that the pub manages to survive among other ritzier watering holes. Nearby, Domaine Bar a Vins (No. 50-04) and Tournesol (No. 50-12) exude an entirely different atmosphere. Try the almost nightly jazz concerts at the former, the housemade foie gras terrine at the latter. If the lack of blooms on the mall got you down, pop into fLorEsta (No. 51-02), about where the sidewalk ends, for an exotic arrangement.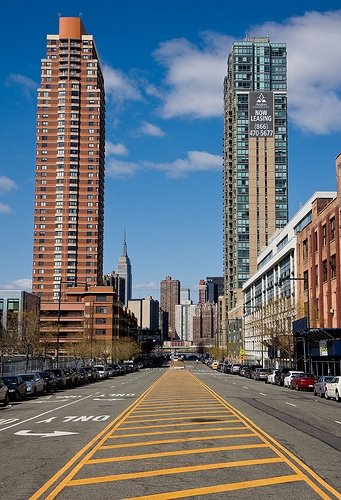 Addresses in Queens helpfully have the cross streets built in, so Tuk Tuk (No. 49-06), a Thai restaurant, is located where Vernon meets 49th Avenue. Charmingly anachronistic Just Things (No. 47-28) looks like a Swiss chalet from the outside: white-washed walls offset by sharply pointed window treatments made of dark wood. Inside, it looks more like a suburban octogenarian's basement. This consignment store has been around for ages; as with all thrift stores, those with a good eye and lots of patience tend to reap the biggest rewards. A sign in the window boasts, "Only beautiful people shop here." That could be you!
By this point, you've no doubt noticed another curious feature of Queens cartography: many roads and avenues have the same name. As you cross 47th Road and 47th Avenue, for instance, don't forget to look left. The Manhattan skyline is playing peekaboo with you. Temper (or toast) the intense beauty of all that glass and steel with a stop at Dominie's Hoek (No. 48-17), a bright blue bar with a year-round garden.
Ahead of you is the recently renamed Ed Koch Queensboro Bridge. Behind is the elevated Long Island Expressway. If so much traffic has you feeling fenced in, you can always turn down a cross street to the East River waterfront. 47th Road leads to Gantry Plaza State Park, home to the iconic Pepsi sign. Or you can focus on a different type of liquid at Lounge 47 (No. 47-10). In the early 1980s, this writer's family had the same knobby plaid couch as the one near the bar. For a light bite, pop into Blend (No. 47-04), a Latin fusion restaurant, for its so-called tapatizers, including mazorca (corn topped with mayo).
Across the way Masso (No. 47-25) serves Italian at lunch, brunch, dinner, happy hour, and dessert. Thursday is Porchetta Night at Testaccio (No. 47-30), decorated in oodles of browns and brass, although its nose-to-tail cooking is available for lunch and dinner everyday. Manducatis Rustica (No. 46-33), a grocery-bakery-restaurant-with-working-fireplace, is owned by Gianna Cerbone, whose parents run the cherished Manducatis practically around the corner (13-27 Jackson Avenue). And then there's the Societa Sant' Amato Di Nusco (No. 47-39), a community center that's more than 100 years old. Nonmembers are welcome; call 718.729.9686 for event details.
End by popping into LIC Bar (No. 45-58), nestled among auto repair and electrical supply stores. Make sure to look up at the original tin ceiling and over at the refurbished wood bar, details that go back almost as far as the aforementioned Societa. Salute!
Got a few more minutes? Hoof it to Socrates Sculpture Park (No. 32-01). You'll be rewarded for your efforts with challenging, giant sculpture and, if you're truly lucky, lots and lots of licks. (Residents often use the park as a huge dog run.) Or stay in the neighborhood and visit the Chocolate Factory (5-49 49th Avenue, at Vernon), a performance space and art gallery.
How to get there:
Take the 7 train from Times Square or Grand Central to Vernon Boulevard–Jackson Avenue. As always, caveat rider: remember to check MTA for service advisories.
Photos:New York City Department, Garrett Ziegler