Enjoy the flavors of Spain with these three authentic tapas bars just outside of Manhattan.
Cadaques | Williamsburg | Take the L Train to Bedford Avenue
Cadaques, opened in August 2010, is an elegant yet welcoming tapas bar on an unassuming street in Williamsburg. The lights are dimmed and a set of ham hangs by the bar. Cadaques is great for a date, or sophisticated after-work drinks. The tapas are superb and surprisingly filling. Order the Pulpo en su tinta, grilled baby octopus served in its own ink with cherry tomatoes and fig balsamic. For a cold tapa rich in flavor, try the Terrine De Remoulachas, a flavorsome dish of roast beets, goat cheese and sherry truffle redaction. For something simple, the Pan con Tomate is a healthy slice of bread with crushed tomatoes (think of bruschetta) layered with Serrano ham. Happy Hour is from 5pm to 8p.m., and 11p.m. to 1a.m., with two for one wine by the glass and draught beers.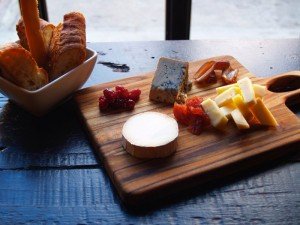 El Boqueron | Astoria | elboquerontapas.com | Take the N Train to Broadway
You might wonder what you've gotten yourself into when you find El Boqueron under the Q train. Established over 10 years ago, this rustic and inviting tapas bar offers inexpensive ($9) traditional and tasty tapas (appetizer portions) and larger plates that range from $21 to $29. The specials, like bacalao croquets, are recommended. Don't pass on their delicious stuffed mushrooms, savory meatballs, or Spanish chorizo. El Boqueron is more of a sit-down restaurant but that doesn't mean there isn't a seat for you at the bar. Consider the $22 pitchers of white or red sangria or champagne sangria for $30.
Lola's | 153 14th St., Hoboken | lolas-tapas-wine-bar-hoboken.com | Take the Path Train or NY Waterway Ferry to Hoboken
Don't be hoodwinked by folks who say traveling from Manhattan to Hoboken is a long, worthless trek. It's just not true. Lola's is all about the authentic Spanish dining experience, with its Spanish courtyard, stone floors, tableside fountain, ceramic tiles and extensive list of both traditional and modernized tapas. If you're feeling brave enough, take a chance with Lola's specialty, "Buey el Volcan" filet mignon served in a volcano. Volcano? You'll just have to see for yourself. From hot and cold to meat and seafood and favorites like croquetas, tortilla a la Espanola and patatas bravas, there is something here for everyone, couples and families alike.