The eco-friendly label is shrinking–in size that is–and appearing on more clothing, accessories, toys, and even spa menus tailored to kids (yes, really). We at offMetro are so into this, that we also covered the latest gear in solar energy for your travels. But in this post, we'll focus on a green guide for kids. Little ones are a pretty sensitive bunch so choosing organic fabrics and picking out wooden toys and other necessities with non-toxic finishes can make life a little less worrisome for parents (since you know said wooden toy is going to end up in baby's mouth at some point). Another aspect of staying eco-friendly is the ability to reuse products – try a quality baby swing, and then when it's outgrown, donate it to another family for future use.
With that in mind, we asked Paige Wolf, author of Spit That Out! The Overly Informed Parent's Guide to Raising Children in the Age of Environmental Guilt (spitthatoutthebook.com) and mom to 18-month-old Sam, to take us on a tour of her native Philadelphia–home to many emerging eco designers and brands–and point out her seven favorite green spots for kids along the way.

Big Green Earth Store | biggreenearthstore.com | 934 South St; The Shops at Liberty Place | 267. 909.8661
Best For: All The Baby Basics
The Big Green Earth Store is a fabulous green general store with two locations in Center City. They carry a great variety of essentials for kids of all ages, but I especially love the cable knit baby throws in pastel colors made with 100 percent certified organic cotton ($42.99) and the reusable ThinkBaby bottles and sippy cups ($9.99 each) designed from No. 5 plastic–it's a material that's completely free of BPA and other potentially toxic chemicals. Plus it's dishwasher safe!
One Fish Two Fish | onefishphilly.com | 741 S. 4th St. | 267.687.7356
Best For: Budget-friendly items
One Fish Two Fish is a consignment shop offering gently used clothing, books, toys, and shoes for babies and children. I actually just bought my friend's little girl a pair of shiny Mary Jane's for $11. I've also picked up a Fisher Price See N Say for $5 instead of buying it new for $13, and seen adorable clothing by Calvin Klein and Paul Frank. Buying used is just about the greenest thing you can do, and it's easy to score amazing finds here.
Outside In at the The Academy of Natural Sciences | ansp.org | 1900 Benjamin Franklin Parkway | 215.299.1000
Best For: Earthly Discoveries
"One of my favorite hidden gems for a rainy day, Outside In is the children's nature museum at The Academy of Natural Sciences (admission: free for kids under 3; $10 for kids 3-12; $12 for adults). This hands-on discovery center includes artifacts, specimens, and activities great for curious minds. Kids can visit a forest, mountain pond, ocean shore, and even meet live animals–but don't worry, they can't take them home."
Lolli Lolli and Happily Ever After | lollilolli.net | 713 Walnut St, 215.625.2655; Happily Ever After | happily.com | 1010 Pine St. | 215.627.5790

Best For: Toys Galore!
Philly's local toy shops offer a great selection of sustainable brands. Check out Lolli Lolli and Happily Ever After for eco-friendly favorites, like Plan Toys, which makes toys meant to stimulate a baby's intellectual curiosity and development–think puzzles, buildable robots, and play parks crafted from replenishable rubberwood that's preservative free, naturally processed, and painted with water-based colors. I also like Green Toys recycled plastic blocks, chef sets, and dumpster trucks and the European wood toys from HABA.
JuJu Organics | jujusalon.com | 728 S. 4th St. | 215.922.3235
Best For: Being Spoiled!
This Bella Vista spa and salon specializes in plant-based, organic treatments, and has an excellent Mommy & Me Manicure ($32). It's is not always listed on the menu but offered on request. You and your little one get your nails cleaned, groomed and pampered with botanical creams and non-toxic polishes from ZOYA. Sometimes the spa even gives the kids a mani for free during certain times of the year, so call ahead to ask.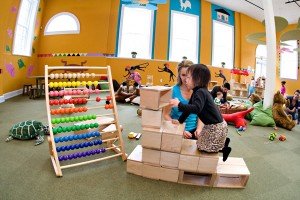 The Little Treehouse | treehouseplaycafe.com | 10 West Gravers Lane, Chestnut Hill, 215-247-3637
Best For: Playing Around
The Little Treehouse is the perfect place for an indoor play date, located about 30 minutes from downtown Philadelphia (admission: $8.50 per child, adults free). It's filled with high-quality wooden toys and play structures like slides and swings, and the adjacent cafe offers wholesome meals and organic snacks, including Alternative Bakery vegan cookies and Dave's Homemade Ice Cream, which is made locally in Bucks County. They also just started a Saturday night entertainment series with a rotating lineup of children's performers, like Key Wilde & Mr. Clark who play bluegrass and punk-rock tunes designed to make families dance and laugh. The Little Treehouse is accessible by SEPTA Regional Rail or bus routes from both the City Transit Division (23, 77 and L) and the Suburban Division (94 and 134)."
How to get there: Consult our Public Transportation Advisor for Manhattan to Philadelphia.
Photo credit: R. Kennedy for GPTMC