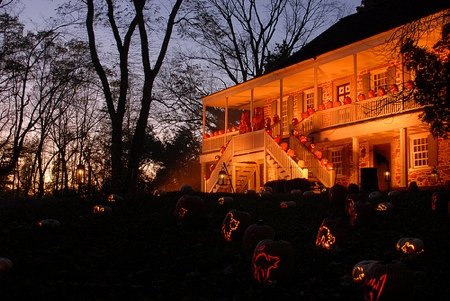 This October, take advantage of the spooky holiday to get the kids enjoying a little (educational) adventure outside the city streets. From a Haunted Sea-Fari House at an aquarium to the Horseman's Sleepy Hollow experience at a historic mansion and a creepy carnival in the park, consider these seven Halloween events in New York, which promise plenty of fun—even before the first piece of candy is unwrapped.

The Great Jack O'Lantern Blaze | hudsonvalley.org
Where: Van Cortlandt Manor, 525 South Riverside Avenue, Croton-on-Hudson, N.Y.
When: October 2-3, 8-11, 15-17, 21-24, 28-31
Why: It's not every Halloween that you see 4,000 hand-carved and illuminated jack o' lanterns in an 18th century riverside setting. Not to mention the usual slithering snakes, spider webs, ghosts and mummy exhibits. All admissions are by timed ticket only, which must be purchased in advance. Adults: $16; children 5-17: $12; free for children under 5
How to get there: Take a Metro North train to Croton-Harmon station (under an hour from Manhattan) where cabs wait to meet each train. Van Cortlandt Manor is a five-minute cab ride or 10-minute walk away (The walk is not too pedestrian friendly). Check the train schedule online, or call 1-800-METRO-INFO. The Croton-Harmon station is also an Amtrak stop. Check the Amtrak schedule , or call 1-800-USA-RAIL.

Boo at the Zoo | bronxzoo.com

Where: The Bronx Zoo

When: October weekends

Why: Boo at the Zoo is an annual extravaganza, complete with a haunted safari, an animal-themed magic show, a hay maze and Treat Stations to sweeten the deal. This event has just the right amount of fear factor for even very little ones. Let the kids wear their costume, and admission will be free for one child per full-priced adult ticket.
How to get there: #2 or #5 train to East Tremont Ave/West Farms Square. At street level, walk straight ahead (follow train uptown) on Boston Road 21?2 blocks to the Zoo's Asia gate entrance (Gate A).
A freaky afternoon on a farm | queensfarm.org
Where: Queens County Farm Museum
When: Pumpkin Patch and Maze each Saturday and Sunday in October. October 31 is the annual Children's Fall Festival, when kids are invited to wear their costumes and get spooked in the Haunted House, partake in traditional games, ride a pony and romp in the petting zoo from 11 a.m. to 4 p.m.
Why: If you have never visited this working farm in Queens, October is the time to do it. Wander through the pumpkin patch, searching for your jack-o-lantern and get lost in The Amazing Maize Maze, a challenging interactive corn maze.
How to get there: E or F Train to Kew Gardens/Union Turnpike Station Q46 Bus (eastbound on Union Tpk.) to Little Neck Parkway Stop. Cross Union Turnpike and walk North on Little Neck Parkway three blocks to the museum entrance. More information about the farm can be found at queensfarm.org.
The A-Scarium | nyaquarium.com

Where: The New York Aquarium, Surf Avenue and West 8th Street, Brooklyn
When: Halloween events are scheduled for October 23-24 and 30-31.
Why: Explore this holiday by the sea, as you learn about preserving marine life without sacrificing fun. Halloween at the A-Scarium will thrill you in the Haunted Sea-Fari haunted house. Watch pumpkins get carved into animal shapes and rock out to the sounds of Annie and the Natural Wonder band as they perform Halloween-themed songs about sea creatures. The Curse of the Skull Rock, a 4D family-friendly Halloween adventure film will be screening at the aquarium's theater. No visit to the aquarium is complete without watching the sea otter feeding, so be sure to allow time.
How to get there: F or Q train to the West 8th Street Station, or the N or D to Coney Island-Stillwell Avenue Station and walk 2 blocks to Surf Avenue.
Halloween Harvest in Old Brooklyn | wyckoffassociation.org
Where: The Wyckoff Farmhouse Museum, 5816 Clarendon Road, Brooklyn
When: Saturday, October 17, Rain date October 23.
Why: This is a wonderful place to appreciate what life in rural Brooklyn was like for the original European settlers. It is a fitting location for Halloween Harvest in Old Brooklyn. The Wyckoff Farmhouse is the only surviving structure in the city from the period of New Amsterdam, so expect old-fashioned fun. Feast on freshly-popped popcorn, apples dipped in chocolate and hot and cold pressed cider. Enjoy crafts, live music, stories of what life in old Brooklyn was all about and a spooky house tour.
The annual costume exchange will be taking place. What better way is there for your child to learn about the benefits of recycling than to let him or her see it in action? One kid's discarded costume is sure to be another kid's crown jewel at this practical event.

How to get there: D/M or N Lines to 18th Avenue Station. Take the B8 bus northbound toward Rockaway Avenue. Other subway and bus options can be found on the website above.
Halloween Haunted Walk and Carnival | prospectpark.org

Where: Prospect Park, Brooklyn
Where: Nethermead meadow
When: Saturday, October 30 and Sunday, October 31
Why: Get spooked in Prospect Park, as zombies, witches and wolfmen lurk while you stroll this urban oasis. The walk is suitable for all ages, so don't anticipate anything too scary. Seasonal crafts, games and treats will be on hand. Head over to the carousel for a haunted spin. Chilling Halloween music, creepy bats and spiders will be along for the ride. The Haunted Walk and Carnival are free, the Carousel is $2 per ride.
How to get there: The following subways will all get you to the park: F train at 7th Ave. station, 15th St./Prospect Park station and Fort Hamilton Parkway station. 2 or 3 train at Grand Army Plaza station. Q train at Parkside Ave. station and Prospect Park station. ?S train at Prospect Park station. B train at Prospect Park station.
Horseman's Hollow | hudsonvalley.org
Where: Phillipsburg Manor, Sleepy Hollow, NY
When: October 15-16, 22-24 and 28-30, after twilight.
Why: What time of year could be more fitting to relive the Tale of the Legend of Sleepy Hollow? This stunningly spooky historic mansion will be transformed into a terrifying landscape where witches, ghosts, vampires and the guest of honor, the headless horseman himself, will lurk behind every shadow. You will walk the ground's haunted trail, where state-of-the-art special effects and professional actors should give you the fright of your life. This is the event's inaugural year, but the fear factor is rumored to be high, so this is not for small fries. Tweens and teens should find the gruesome factor to their liking.
How to get there: Metro-North's Hudson Line from Grand Central Terminal in Manhattan to Tarrytown (36 minutes from Manhattan) where cabs wait to meet trains. The cab ride to Philipsburg Manor is approximately 5 minutes.
Photo: Courtesy of Bryan Haeffele
Allison is a native New Yorker, who has lived in Rome, Tuscany, Melbourne, Toronto and Los Angeles. She frequently contributes travel pieces to Family Travel Forum, using her own children as guinea pigs as they travel the globe. She is fluent in Italian and Spanish and laughably adequate in French. Her background as an Early Childhood Educator gives her an added understanding of what it takes to travel with kids in tow. She firmly believes that the most important part of education takes place outside of the classroom, on the road, around the world. She never misses a chance to sample local delicacies, as her love for travel goes hand-in-hand with her love for food and wine. Follow Allison at @gourmetrav.