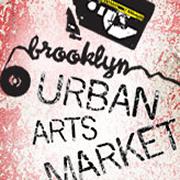 What: Brooklyn Urban Arts Market organized by Afro-Punk, BAM and MARP
Where: Clinton Hill, Myrtle Ave. between Grand St. and Emerson Pl.

When: Sept 7th and 21st, 12:00-8:00 p.m.
Why: There are two things that have always gone well together: music and shopping. While DJ's Afrika Bambaataa and Rich Medina man the turntables, explore the collections of over 50 local entrepreneurs, whose work includes handmade stencil tees, eco-friendly accessories, vintage clothing, and an eclectic array of innovative art. This outdoor market provides a sense of community in a borough built upon mom and pop shops.  While the conscious adult can attend to support neighborhood businesses, the teen in you can come out and play. After all, you're no square. Either way, you'll leave with a dent in your wallet, feeling like the coolest kid in town.
Cost: Free
How to get there: Take the 7 or V from Manhattan to the Brooklyn bound G train. Exit at Classon near the intersection of Lafayette and Classon. Walk north on Classon to Myrtle. Left on Myrtle to Grand. Click on the HopStop link below for alternate express train options and exact directions to this location from anywhere on Manhattan. (Brooklyn Urban Arts Market, brooklynurbanartsmarket.ning.com)