The thick fog had not yet lifted at Robert Moses Beach, about an hour and a half east of Manhattan past Queens and high rises. Outside the Suffolk Bus, the seascape was a blur, almost dreamlike; with no horizon in sight, the crashing waves and lifeguard whistles led us on in the direction towards Field 3. As the concrete path softened into sand, the ocean's surf grew louder, a pack of seagulls appeared near the dunes, and soon beyond that, signs of human life.
On the western end of the Fire Island National Seashore, there lies five miles of beach, multiple picnic areas, an 18-hole pitch-and-putt golf course, a reasonably priced food shack, shops, four bathhouses, a boat basin and top-notch surfing when the right swell rolls in. The journey to Robert Moses Beach—named after an urban planning mastermind of the mid-20th century—begins at Penn Station aboard the LIRR (see instructions below or here for the Robert Moses Package) and before you have finished an iPod mix or the Dining & Wine section, the giant pencil-like water tower will have come into view, and with it, Long Island's oldest state park.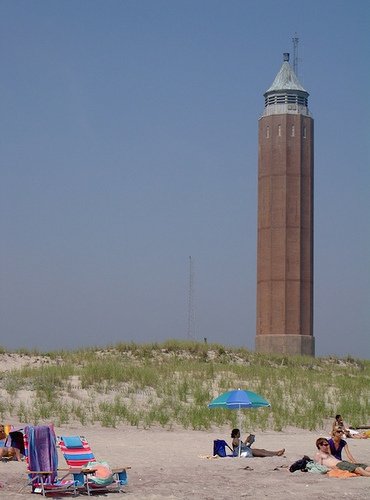 Not too long after our arrival, as the sun burned off the dense fog, summer's typical shoreline scene emerged: colorful umbrellas, tootling toddlers and a cluster of topless foreign women—to the pleasant surprise of several teenage locals and the shock of at least one disgruntled mother. We stood not knowing where to get situated: close to the water and the threatening high tide? Near the nipples? On either side of the green flags that marked the swim zone, a vista lay vacant of people, just stretches of sand and tall, bowing reeds as far as the eye could see. We settled for a little taste of every spot, and let the day slip away, free of the dictates of time.
Robert Moses Beach can be ideal both for an intimate getaway and those seeking a family friendly place easily accessible from New York. There are five beaches to choose from, all lightly trafficked compared to neighboring Jones Beach. Whether you've come to finish a book, play volleyball or fish, there is plenty of activity and tranquil corners to make Manhattan feel very far away.
This Fire Island haven is a slice of life out of Virginia Woolf's To The Lighthouse, when she writes of the "children making mud pies or pelting each other with handfuls of grass, something out of harmony with this jocundity and this serenity."
How to get there: From Penn Station, take the LIRR to Babylon Station. Head downstairs to catch the S-47 Suffolk Bus, which will bring you to Robert Moses State Park, Field 3, in about 20 minutes. LIRR offers a package from June 18th to September 1st, that combines the train and bus fare for $17 round-trip. Taking public transportation also avoids the $8 summer season car parking fee. Buses operate approximately every half hour on weekends and hourly on weekdays. Visit the LIRR website for train schedule and more details. (Robert Moses State Park, Babylon, NY 11702, 631.669.0449)