Smaller, lesser-known cities—yes, even the ones without subway systems—are often hidden gems. This past weekend, I had a chance to explore an important connector on the Long Island Sound between New York and Boston. New Haven, Connecticut, a city with a rich history of architecture, a reputation for great food, industry and home to Yale University, is one Metro-North stop worth checking out.
Many "college towns" are just that—a suburb that houses a large university, which in turn spurs a downtown development with restaurants and shopping, mostly to provide services to the student body and capitalize on their spending potential. The area's "urban-ness" is often only a byproduct of the academics. New Haven is different. While Yale's huge effect on the local economy cannot be ignored, New Haven was always an urban area. In fact, its current downtown street grid and central green, laid out in 1638, is one of the first examples of urban planning in the country. Nearly a century before the academia of Yale set foot in the city, New Haven's downtown was already in motion.
Departing from Grand Central station with a $35 round trip ticket (or $46.50 peak) on the New Haven line in hand, you'll arrive at Union Street in just over an hour and a half. Make your way north, walking under the highway, heading towards the main downtown area. Cruising along Union St. take a left on Crown Street—about a five minute walk from the train station. On Crown St, you can make your first pit stop at ArtSpace, a nonprofit gallery space for local and national artists. Visit their website for various wine and cheese events during open house. Across the street is a residential development with ground-floor restaurants and some restored older industrial buildings. This spot is only mid-way between the train station and the New Haven Green—you are not yet in the heart of downtown. However development like this is evidence of the expanding revitalization of New Haven, steadily growing into the outskirts.
Continue on Crown until you reach Temple St., then turn right and climb to John Davenport's on the 19th floor of the Omni-Hotel for sweeping views and creative cocktails.
For a string of great restaurants, stay on Crown two more blocks until you get to College Street. The view up College Street is classic downtown—outdoor cafes, beautiful buildings and a thriving atmosphere, bustling with people. On the corner of Crown and College is Latin seafood spot Pacifico. Turn right on College Street for a number of great eateries, or keep going on Crown and duck into BAR a New Haven classic with great pizza and local brews.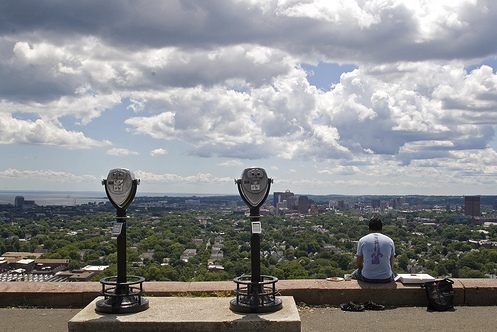 BAR, housed in a former garage with an industrial vibe, pulls together heavy wood picnic tables for munching, pool tables, a worn steel-top bar with just the right amount of rust around the beer taps, and exposed brick. Together, the elements make BAR just industrial enough to still feel warm. The crowd makes anyone feel at home—couples at the bar, families at the tables, young groups of friends playing pool. Grab some pizza for a snack at the bar and go crazy on the toppings—meatballs, fresh littleneck clams, mashed potatoes, or hot cherry peppers, to name a few.
Across the street from BAR on the corner of High Street is Soul de Cuba. Sojourn here for mojitos, Cuban and Caribbean cuisine, and a vibrant Afro-Cuban vibe.
If you continue on High Street and make another right on Chapel, you'll be headed toward the south edge of the locally treasured New Haven Green, a must-see for any visitor. The Green, a perfect sunny spot for a picnic in the grass, was declared a National Historic Landmark in 1970. It is home to three historic churches, and is the true center of downtown. A live performance is never quite as good as when it's outdoors on a breezy summer evening—the Green hosts concerts, performances and festivals throughout the warmer months. Check out the schedule of events on the Green and in the rest of New Haven.
Be lazy on the lawn before turning back onto Chapel toward the corner of College Street. The INFO New Haven center is in the corner space—pop in for maps, guides and friendly people who will answer your questions about navigating downtown.
At dinner time, try out Prime 16—a delicious place with a devotion to beer (60+) and burgers. The decor is dark, warm and earthy, with trendy undercurrents. Their Apricot Ale is light and tart with hints of fruit. Interesting and eclectic appetizers run the gamut from meatloaf muffins to pork flatbread pizza. There's something for everyone on the burger menu—even non beef-eaters can eat happy with a mahi-mahi burger, salmon burger, or veggie patty.
Between the downtown restaurants, theaters (historic Shubert Theater is located at 247 College St.), outdoor music and concerts, cafes and great bars, you can easily fill a weekend in New Haven.
New Haven has that appealing mix of a preppy college town combined with urban grittiness. It's a post-industrial city, with revitalization and adaptive re-use of old architecture blossoming at every turn.
Where to Stay:
Try the Omni Hotel, located just a few blocks from the Green on Temple Street (and home to John Davenport's) or head to the Study at Yale for a studious-chic vibe.
How to get there: Take Megabus or the Metro-North Railroad, on the New Haven Line, to the New Haven station.

Featured Locations Map
You can also check out our New Haven Architecure Walking Tour piece, and The Best Things to do in New Haven. Header photo by David Richards