The word "Brazil" conjures up long curving tropical beaches, thick entangled jungles, and soccer mania. Yet due impart to half-naked rhinestone-studded women, no image of Brazil captures the imagination more than the pulsating, primal frenzy of carnaval in Rio de Janeiro. Every year at the peak of South America's summer, thousands of people converge in Rio for a four-day pre-Lent celebration that ends on the Tuesday before Ash Wednesday (Feb 21-24 in 2009). For many Brazilians living in New York, carnaval is an opportunity to celebrate their heritage, promote their culture and language, and yes, Samba.
Carnaval originated with an ancient Greek spring festival honoring the wine god Dionysus. Under the Roman Catholic Church, the event evolved into a massive sacred ritual with food, alcohol, and music followed by forty days of personal reflection, abstinence, and fasting. Many people now interpret carnaval as a rite for cultivating their senses. This weekend, if you can't experience the real thing, plan an easy trip to Queens or Brooklyn and discover what one of the world's oldest and hottest parties is all about.
Comida (Food)
In a single bite of Brazilian food you are tasting a rich, international blend of ingredients rooted in Africa, America, Asia, and Europe. The flavors take your palate on a distinct adventure that underscores the essence of culinary art. Brazilian cuisine can be divided by region, and two popular cooking styles have been successfully transplanted to New York from the Brazilian states of Bahia and Rio Grande do Sul.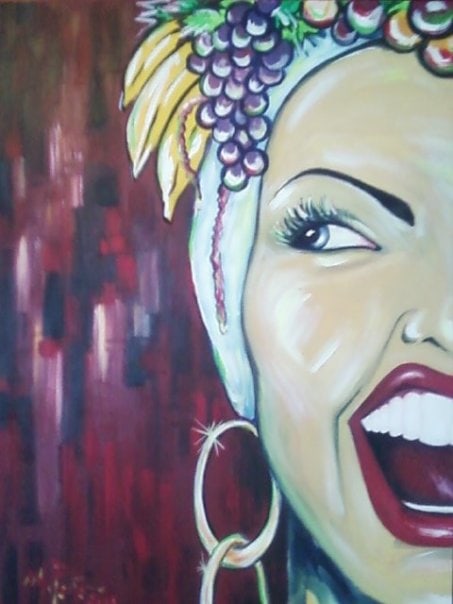 Malagueta | 2535 36th Ave, Long Island City | 718.937.4821 | malaguetany.com
Named after the hot chili pepper that is a primary component in Bahian cooking, this congenial restaurant combines elements from African and traditional Portuguese dishes. Treat your tongue to their signature Moqueca de Camarão (a shrimp stew with palm oil, onions, peppers, coconut milk and cilantro).
Point Brazil Restaurant | 38-01 31st Ave, Astoria | 718.278.1934
This comfortable and discrete family restaurant is an inexpensive option for vegetarians and carnivores alike. Their self-service buffet allows you to assemble your own dishes for a fixed rate per pound. Choose from 15 different salads and veggies, or from a succulent selection of meats, including top sirloin and hanger steak.
Bebida (Drink)
Much more than an alcoholic beverage, Cachaça has become an enduring symbol of Brazilian pride and culture. This rum-like spirit made from fresh sugar cane flows abundantly at many local bars and lounges in a variety of drinks, including caipirinhas (a mixture of cachaça, limes, and sugar) and batidas (cold cocktails made from fruit juices or pulps mixed with cachaça, sugar, and crushed ice.) Originally popular amongst Brazilian slaves and sugar mill workers in the 1500s, cachaça is now aged longer and is significantly easier on the palate. Some chefs and sophisticated mixed-drink specialists in the U.S. have been innovating their cocktails by substituting traditional hard liquors like vodka, tequila, and rum with cachaça.
Miss Favela | 57 South Fifth St, Brooklyn |  missfavela.com
Outfitted like a traditional working-class botequim (a neighborhood bar-store in Brazil), this small outpost attracts a diverse assortment of patrons who want to satisfy their craving for caipirinhas, Brazilian food, and music. Try their fried yucca, codfish croquettes, and pastel de queijo (fried thin dough stuffed with cheese) with a bottle of Brahma beer, or a fresh fruit caipirinha with cachaça called Sagatiba.
Dançar Samba (Samba Dance)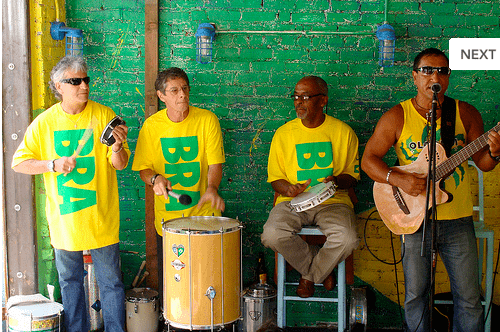 Samba can be traced back to the Sixteenth century when Portuguese settlers first imported slaves from Southwestern Africa to work on the plantations of Bahia in Northeastern Brazil. These slaves brought with them a traditional couples dance from Angola and the Congo that is considered to be one of the sources of Samba dance and music. Many slaves also used the rhythms of samba music to invoke their personal gods or saints. The idea of summoning a higher sense of self or consciousness still remains contemporary in samba, as many sambistas speak out in favor of social causes, and have transformed the genre into a populist medium for Brazilian pride and heritage.
Samba Nation | 133 Schenectady Ave, Brooklyn | 718.484.1801 | sambanation.org
Rise above your inhibitions and sign up for weekly Samba percussion and dance lessons with a dynamic Brazilian duo that engages students of all levels in Brooklyn and Manhattan. Carlos Oliveira and Leticia Taylor also produce Brazilian-themed nights at many clubs and restaurants throughout NYC. Catch one of their samba performances at an upcoming event listed on their website.
Black Betty | 366 Metropolitan Ave, Brooklyn | blackbetty.net
DJs Greg Caz and Sean Marquand host Williamsburg's longest running weekly Brazilian beat party. Both wallflowers and jetsetters alike are moved on the dance floor by samba, soul, and funk from the 60s and 70s. On any given Sunday, Samba enthusiasts will be delighted by songs from Tim Maia, Elis Regina, Gal Costa, Erasmo Carlos, and Marcos Valle. Don't miss their Samba v. Salsa party on March 1st, inspired by the Jamaican sound clashes that feature four DJs and four turntables.
While it is highly recommended that you experience first hand the revelry of carnaval amidst the wild colorful crowds in Pátio de São Pedro Square, the easily accessible and culturally diverse setting of New York City makes Brazil seem only a subway stop away.
How to get there: All locations are accessible via subway, and are mapped out below for your convenience.
Map of Featured Locations
Photos: Courtesy of  Samba Nation, Simno, ANVRecife, and Heudes Regis