I stepped out of the Brighton Beach subway stop to meet a clear blue sky and endless horizon, a scene untouched by skyscrapers and cars; there was a strong unfamiliar smell of pastries and kebabs, and the screech of seagulls. This was my escape from Manhattan. "Dos Vedanya!" one woman yelled as she waved to someone still underground. Russian? Then I noticed the Cyrillic signage, the guttural sound of the language swirling through the air along with the salty sea breeze. This will be more than I bargained for.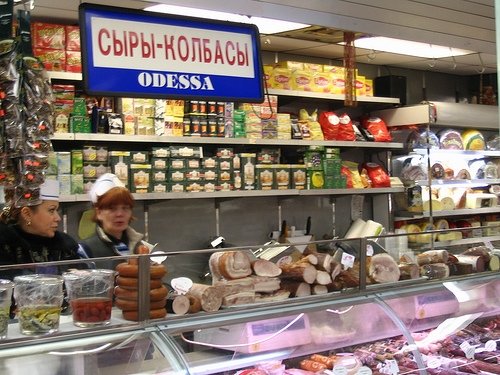 Brighton Beach, known also as "Little Odessa," takes its Russian-speaking roots from Russian Jews who immigrated to the neighborhood in the late 1960s from the former Soviet Union. Located (somewhat ironically) a few blocks from the Americana-saturated boardwalks of Coney Island, the Russian-speaking community of Brighton Beach has since attracted a wide variety of Eastern European and Slavic people, earning it its reputation as a Russian enclave.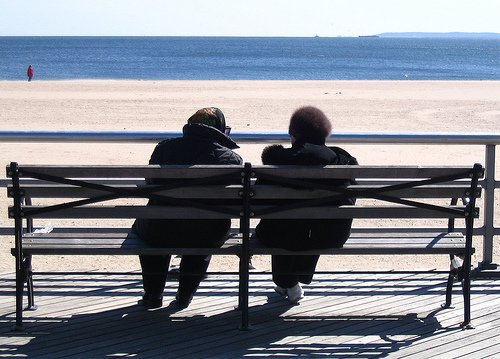 (Above: a Russian woman waits for her next hungry customer. Below: a stretch of the boardwalk at Brighton Beach.)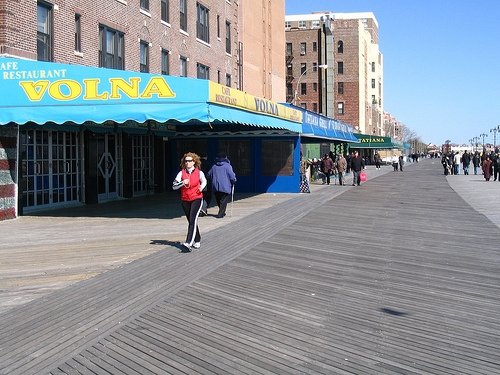 Unlike many of the watered-down "ethnic communities" across the United States, Brighton Beach is unapologetically Russian and makes no visible effort to cater to tourists. A stroll down Brighton Beach Avenue, the neighborhood's main thoroughfare, is all the proof one needs. Dappled with Russian delis, butchers, vegetable grocers, cafés, book stores, and clothing boutiques, Brighton Beach Avenue is a bustling street where even Walgreen's has Cyrillic lettering on their storefront signs. When entering any of these stores you are addressed first in Russian and then in English once the store clerk has read the confusion on your face.
Two blocks over, at the beach itself, old men can be found huddled around a chess game on one of the benches facing the ocean and fur-clad women can be seen walking in fours along the boardwalk, seemingly unbothered by the biting ocean wind. The beach is in beautiful condition and along the boardwalk are a few Russian restaurants that boast large patio areas.
Not wanting to sit down at a restaurant, I opted to order some classic Russian food to go. Lured into one of the local delis between Brighton 4th and Brighton 6th street (where dining is best and comes with great people watching), I chose a selection of delicacies to eat on the boardwalk. The grab bag lunch was full of surprises: a small cup of solyanka beef soup, potato, and meat-filled pockets called pirozhki, and thick pancakes called oladi served with honey and berry preserves. While the flavors were not all immediately welcomed to my Americanized palate, I thought it only fitting that my food should be as unpredictable as my surroundings.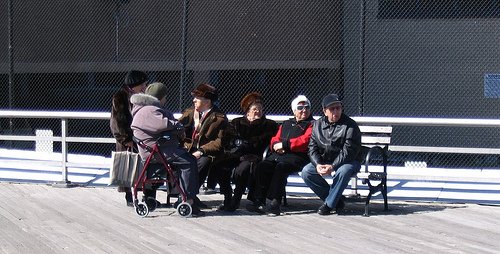 When it comes to nightlife in Brighton, there is really only one option: the supper club. These establishments are restaurants by day and clubs by night (you can't drink vodka without a good meal in you) and are host to a range of performances ranging from contortionists to Russian pop singers. The National is a popular spot.
If you prefer to listen to this post instead of reading through – click this video:
Some may find the insularity of a place like this unappealing, but without it Brighton Beach would not retain its authenticity, which is what makes it worth the visit. Having traveled in Eastern Europe myself I can say
with confidence that it is the closest to Russia you can get without a passport.
The National | 273 Brighton Beach Ave., Brooklyn, NY | 718.646.1225
How to get there: Take the Q or B to the Brighton Beach stop. For exact directions from anywhere in Manhattan, click on the HopStop link below.

Photos: Courtesy of Sean Lavelle.