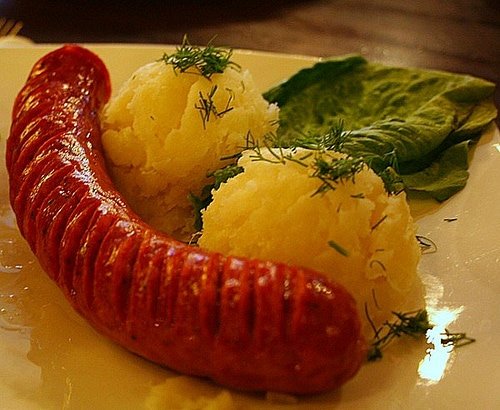 Tired of Manhattan's default pizza, deli, and sushi diet? Christina's Restaurant in Greenpoint, Brooklyn will plate Polish food that will surprise even your Jean-Georgian and Momofuku-tested palate. From the quickstep of Manhattan to the bohemian calm of an eastern European community, the thirty-minute ride on the L and G is well worth your time. As you make your way from the station, expect to see grandmothers with unnatural orange hair pushing shopping carts side-by-side while engaging in dialogues that waver between argument and gossip. They meander toward Kiszka Meat Market, whose windows are strung with links of sausages.
You will find Christina's a few blocks north of the Greenpoint station on Manhattan Ave. It opens its doors daily from 8:00 am to 8:00 pm. Dim-tinted windows and a worn awning mark the modest exterior. The veiled ambiance continues on the other side of the door, where dark wood tables, booths, and counters offer dated décor with a refreshing, muted coziness, somewhat diminished by a tacky, miniature waterfall on the back wall. A bevy of tall, leggy waitresses greet entering customers, and those who appear to be Slavic are honored with a chorus of Polish greetings. They hustle patrons through the tiny space to appropriated tables, and promptly deposit the menus.
Be prepared to get only a moment to skim through the bilingual options before your fetching waitress will check up on you with "And you have decided now?" Happily, the menu is neither long nor complex, offering Polish standards such as borscht (beet soup with a healthy dollop of sour cream), chicken livers with onions, boiled pig knuckles, pierogis, blintzes, and fried or boiled kielbasa (surely a cholesterol cluster-bomb, but how often do you dine in Greenpoint?). A side of vegetables and French fries or mashed potatoes sprinkled with dill accompanies all entrees. While three varieties of pierogis (potato and cheese, meat and cabbage, and mushroom) top the list of best-loved dishes, there is always the option of a hamburger or standard cheese sandwich for the less adventurous foodie.
Seemingly seconds after you've placed your order and uncorked your own wine (thanks to the BYOB policy), the feast has arrived. In contrast to the haste in which the food was ordered and delivered, you are left in peace to enjoy your meal. The food embodies the tasteful earthy flavors of eastern Europe and the portions are satisfying. Still, for those with more robust appetites, there are several dessert options including apple cake, rice pudding, and Jell-O. (Yes, Jell-O is no longer relegated to geriatrics, and diners actually do order this squirmy delight, especially after the fried sour-cream topped entrées.) Finish the meal with a good cup of coffee and wait about twenty seconds for the bill. The place is cash-only, but averaging $8.50 per entrée, you will head back to Manhattan with a full stomach and dent-free wallet.
How to get there: Christina's is easily accessed from Manhattan via subway. Click on the HopStop link below for step-by-step directions. (Christina's Restaurant, 853 Manhattan Ave., Brooklyn, NY, 718.383.4382, christinaspolishrestaurant.com)
Photos: Courtesy of Peter Graves.