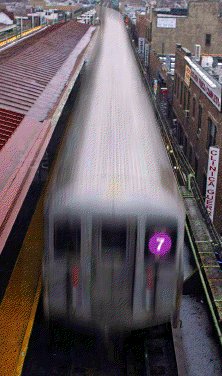 What: Queens Art Express Festival

Where: Along the No. 7 Subway Line

When: June 10-13th
Why: Queens is seeking to take over the reign as Borough of Arts with the second installment of its annual arts festival, Queens Art Express (QAX). With nearly half of Queens' population being foreign born, there is no better borough to showcase the diversity of culture than this four-day program sampling 38 venues and 80 local merchants along the No.7 train.

Jackson Heights
Feel free to loiter underground in Jackson Heights Friday and Saturday for MTA Arts for Transit, featuring sounds of Latin and South American artists. Leisure in the neighborhood on Saturday and visit the all-day multi-neighborhood outdoor exhibit "On The Fence." By evening, head to the Jackson Diner for the anticipated QUILL literary event where a host of poets along with author Meera Nair will read Asian-American themed literature. Top off the four-day weekend with the opening night of Live at the Gantries, celebrating emerging music out of Queens.
Sunnyside & Woodside
Visit Sunnyside Friday to Sunday for the Thalia Spanish Theatre's Spanish presentation of the award winning one woman tragicomedy, "Prostitutes will Precede You in the Kingdom of Heaven." Green thumbs should head to Woodside Sunday afternoon for a free multi-media tour of urban mushrooms with mycologist Gary Lincoff.
Long Island City
QAX has programmed a cultural itinerary that will take you throughout its main communities. Opening night, stop in Long Island City at LPAC for the free event "Growing Up Queens" with author and hip-hop poet Kahlil Almustafa, followed by a free screening slate of short films, including one about the No.7 train: Seven Word Pairs for the #7 Train. Saturday, return to this neighborhood for a showcase of emerging artists presented by P.S.1 Contemporary Art Center in conjunction with MoMA, or visit Project Luz, a workshop and photography exhibition, and get a free self portrait.
Corona
Head to Corona on Friday evening when students from 25 schools perform a free program of self-penned short plays. If you fancy sleeping in Saturday morning, arrive by midday to the Queens Museum of Art for the Heart of Corona Artful Tastes tours where you can fill your brunch appetite on the artist-led tour of local culinary eats. Finish your afternoon with Jazz in the garden at the Louis Armstrong House Museum.
How to get there: To catch the 7 train into Queens take the A/C/4/5/6 to 42nd street. For maps, updates and more information about the event, visit queensartexpress.com