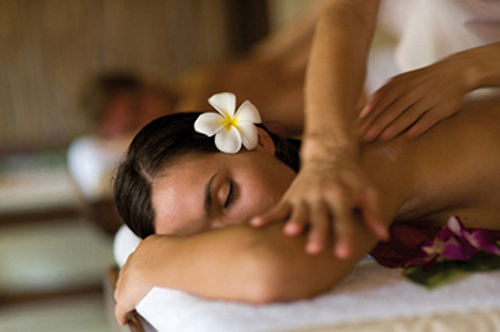 Last year at this time, we wrote about spa week with an idealist vision of rejuvenation. The unstable economy left most of us with a lot of muscle tension and little to spend on luxury items. But this spring, come to think of it, we've earned our exfoliating sojourn in spa la la land.
Spa week 2010 starts nationwide April 12 to April 18, so book your $50 treatments accordingly. With a nod to Earth Day, we selected three eco-minded spas in NYC that are offering great deals for you and the planet.
The Green Spa & Wellness Center | 8804 Third Ave., Brooklyn | 718.921.6100 | greenspany.com
Remind yourself what relaxing is supposed to feel like when you do the 45-minute Go Green Vegan Body Exfoliation with Eucalyptus Aromatherapy. Or if your feet need some love, get the Go Green Vegan Spa Pedicure with Eucalyptus Aromatherapy for 60 minutes.
Ascend Day Spa | 82-62 Austin St., Kew Gardens | 718.846.4601 | ascendspa.com
If you want to be ready for those harsh sun rays, get the 50-minute Collagen Drenched Fire and Ice Facial—fresh apple and grape pulp will be fused with paprika to stimulate circulation and detoxify the skin—or the Pumpkin and Yam Enzyme Peel. If you're feeling a little adventurous, try the 50-minute Volcanic Pumice Body Polish, which uses finely ground volcanic rock to help reverse dry skin. Or you could always opt for that hot stone massage, which is normally $95.
The Secret Garden | 702 Forest Ave., Staten Island | 718.815.5900 | secretgardenbeauty.com
If your hair looks good and that's all that matters, take the free ferry to Staten Island for the Eco Hair Color and Blowout or a Cut and Moroccan Hair Treatment. Other spa week offers include a 45-minute Eight Greens Organic Facial or 45-minute Organic Cotton Microdermabrasion.
For a full listing of locations participating in New York spa week, visit http://www.spaweek.com/spas/New-York/
The co-founder and editor-at-large at offMetro, Lauren is a sustainable travel specialist and freelance journalist with frequent bylines in National Geographic, Bicycling Magazine and Shape. Follow Lauren's adventures at @laurenmati.