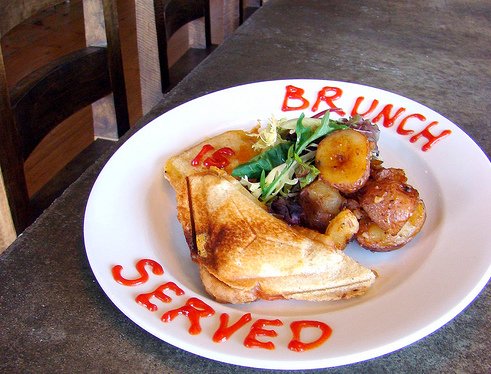 What: The Brunch Experiment
Where: The Bell House, Gowanus, Brooklyn
When: Sunday, March 28th, 12-4 p.m.
Why: Nearly four years ago, Slate dated the development of New York brunch culture to the early 80's and a six-block stretch of Amsterdam on the Upper West Side. These days in New York, having a meal is not just a basic human need it's an event. Big Apple foodies have shown they will travel tedious hours, hopping 'hoods, and standing in sidewalk lines for the taste of something special. And we have people like cook-off organizers Nick Suarez and Theodore Peck to thank for giving us such culinary adventures like the Brooklyn Beer, Cheese, and Chocolate Experiments, and now this, the fifth installment of their Brooklyn-based Food Experiment: Brunch. 
As past chef-testants themselves, Suarez and Peck are aware of the broad spectrum of ingredients that the 20 chefs must choose from. Yet their advice is simple. "Make sure your dish is highly seasoned and balanced, logistically possible given the parameters. And the food could be transported and re-heated using a chafing dish," said Suarez.
Suarez, who enjoys brunching in his own kitchen or at Bark Hot Dogs, said he is particularly egg-cited about a contestant who might do a mini-drink or go the molecular gastronomy route with an egg quiche using uni and sous-vide techniques.
With Stonyfield donating yogurt and milk, and Organic Valley providing the eggs, cream, and butter, contestants will have ample supplies to wow judges like Andrew Knowlton, Iron Chef judge and restaurant editor at Bon Appétit Magazine, chef Sean Remboldt from Diner/Marlow and Sons, plus a surprise judge.
The stakes are higher than ever for this spring's Food Experiment. The amateur chef who gets the majority of the 300 attendees to swoon and subsequently vote for their table will win delicious prizes, including a night's stay at Le Parker Meridian, a brunch for two at Norma's, and two round trip tickets from Jet Blue.
"We are looking for the perfect bite, not a whole brunch meal," said Suarez.
Cost: $20 Advance (free after party). A portion of ticket sales will help support Ovarian Cancer Research.
How to get there: Take the F train to Brooklyn. Exit 4th Avenue near 9th street. Walk North on 4th avenue towards 8th street. Turn left on 7th to the address. (The Bell House, 149 7th Street, Gowanus, Brooklyn, 718.643.6510, thefoodexperiments.com)