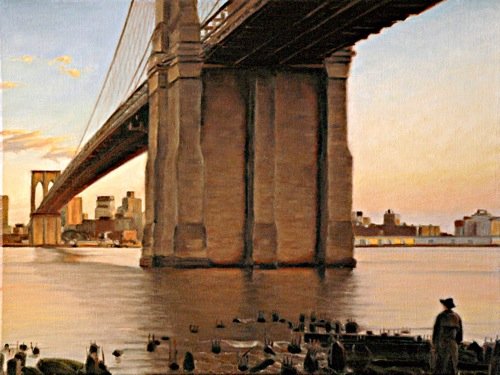 Brooklyn Waterfront Artists Coalition's opening reception for the National Juried Art Show is this Saturday in Red Hook. [BWAC.org]
Bikers were especially pedal-happy this week when news broke of the "Bike There" feature in Google Maps. [TreeHugger]
The Folk Music Society of New York is producing an all-day Festival of Traditional Music in Jackson Heights this Saturday; Oscar Brand, WNYC host of "Folksong Festival," is being honored for having the world's longest-running radio show. [FolkMusicSociety]
President Barack Obama plans to tap Robert A. Harding, a former Army intelligence officer, to man the Transportation Security Administration post.
Brooklyn Restaurant Week begins Monday, March 15 with $25 three-course meals; consider dining at a venue like iCi (their garden opens April 15th) that also gives to New York City Coalition Against Hunger and the Food Bank for NYC. [VisitBK.org]
$20 prix-fixe lunches and $28 prix-fixe dinners are on the menu at 141 restaurants participating in Hudson Valley Restaurant week, which also starts Monday, March 15.  [HVRW]
The co-founder and editor-at-large at offMetro, Lauren is a sustainable travel specialist and freelance journalist with frequent bylines in National Geographic, Bicycling Magazine and Shape. Follow Lauren's adventures at @laurenmati.