When the warmer winds of March begin to wind their way around the skyscrapers, you know it's time to spring forth from Manhattan, traveling in the direction of some small charming town surrounded by lots of green space. Margaretville might come to mind. Located in the Catskill Mountains, it's an easy-to-reach recreational paradise. In two and a half hours by bus, your work woes will have slipped off your shoulders as you step down into a truly pristine place.
Getting the Lay of the Lodge
Margaretville Lodging owns four properties in the Catskills that offer a wide range of accommodations. Looking for a romantic Bed and Breakfast? The Margaretville Mountain Inn is a Queen Anne Victorian style beauty—and listed on the National Register of Historic Places—so you can expect antiques and period décor at this lovingly restored inn. Carol Molnar is the owner, and her exquisite touches are everywhere, from the gourmet breakfast served on fine china to the plush towels in the bathrooms of the individually decorated rooms and suites. The website offers various discounted specials, like room and breakfast for two for $69 mid-week and $99.50 on weekends with a two-night minimum stay. Single weekend night rack rates start at $115.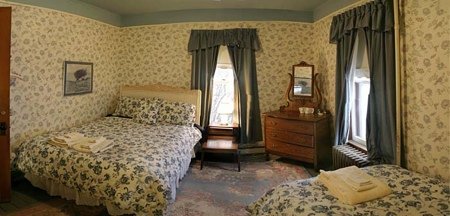 Cozy rooms, an in-town location, and low prices are on the menu at the Margaretville Motel. The staff will gladly help you rent bikes and helmets as staying here will put you in perfect position to pedal around town. Groups and families may want to consider Village Suites and Suites on Main. Walking distance from quaint shops and village restaurants like bridge-perched Binnekill Square (try the Schnitzel menu on the weekends for $12.75 per person, including soup or salad, and dessert), these apartment-style accommodations come with fully equipped kitchens in studio, one and two bedroom configurations. They offer weekly rentals from $350 up to $700 per week, plus a cleaning fee and tax.
A Year-Round Sportsman's Haven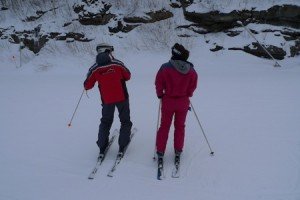 Try your hand at golf, fly and trout fishing, or hike and bike the extensive network of trails provided by Catskill Mountain State Park's lush and scenic setting. You can walk to many of these activities, but if you prefer to rent a car, let Margaretville Lodging know and they will pre-arrange a local car rental for you, waiting when you arrive. Rates run less than $30 per day.
Don't count winter sports out just yet. The massive quantities of snow that Mother Nature provided should have skiers on the slopes at nearby Platekill and Belleayre Mountains until mid-April. Margaretville Lodging is offering discounted (how does $24 per couple sound?) lift tickets for guests at both mountains.
Activities Galore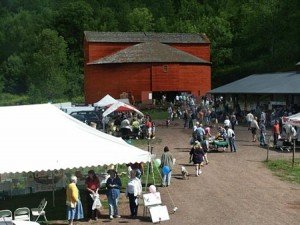 In summer, Margaretville's Americana-style charm shines. Sporty-types will be kept busy, but culture cravers will not be left out. Stroll Main Street and you will find an assortment of antique stores and just maybe the perfect one-of-a-kind handmade bag at the Catskill Mountain Artisans Guild Shop, a cooperative gallery of regional artists. Go on a tour of the Stone & Thistle Farm and stay for a delicious and seriously fresh prix-fixe feast ($28/per person) on either April 10 or May 8 inside an 1860 Greek Revival Farmhouse. Or attend a concert at the Belleayre Music Festival, which promises an eclectic line-up of performers. Kids of all ages will love Margaretville's small town 4th of July celebration, complete with fireworks and a weeklong carnival.
This is leaf peeping country, and nature's autumn display is spectacular. Come in late September for the town's annual Cauliflower Festival. Margaretville's unique and historic connection to cauliflower is celebrated in a one-day extravaganza. Food, crafts and music should put you in a festive mood. Margaretville Lodging owners Peter and Carol Molnar can give you details on the festival, as Carol founded this source of great local pride eight years ago.
How to get there: Take the Trailways bus from Port Authority that will get you to Margaretville in 2.5 hours. For more information on Catskills lodging, visit margaretvillelodging.com. (Margaretville Mountain Inn, 1478 Margaretville Mountain Road Margaretville, NY, 845.586.3933)
Map of Catskills Lodging Area

View Margaretville Lodging Review: A Getaway to the Catskill Mountains in NY in a larger map