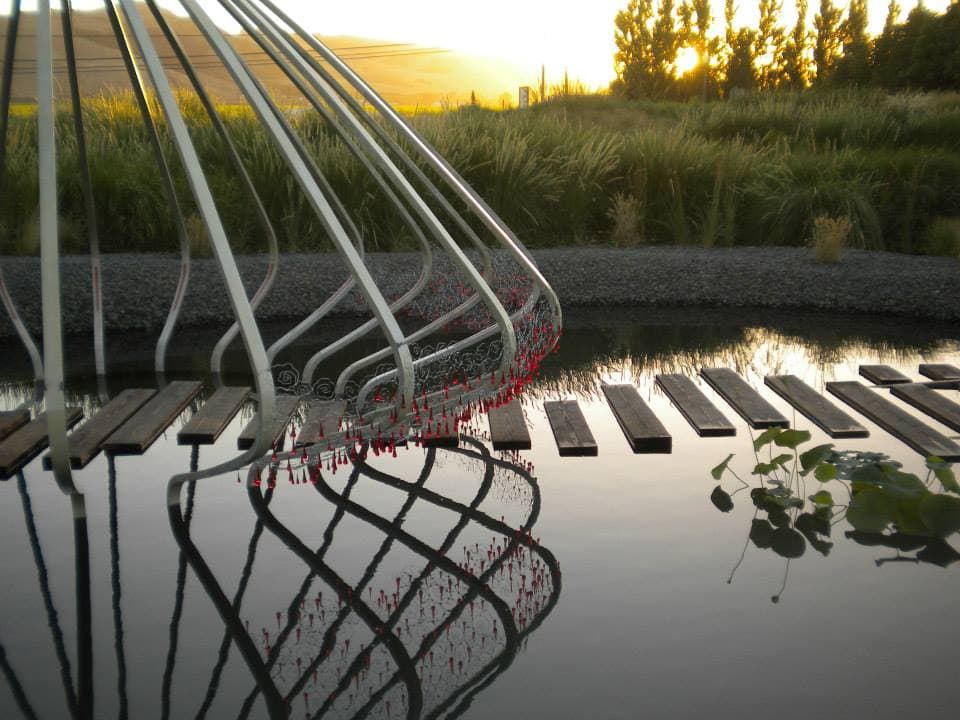 It's impossible to pigeonhole Cornerstone Sonoma. Part garden, part out-of-doors art gallery—with food, wine, and shopping thrown in the mix—this one-of-a-kind destination begs a visit (or several) to capture its essence.
When it opened in 2004, Cornerstone Sonoma was the first "gallery-style garden" in the United States. The property took its inspiration from  International Garden Festival at Chaumont-sur-Loire in France, and to this day it holds true to its original mission: "to create a cultural and creative haven, celebrating the connection between art, architecture and nature." Today, 26 unique Public Landscape Architecture Gardens spread across nine gorgeous acres, and it's easy to feel like you've fallen into your own personal secret garden in any one of them.
Like nature itself, things at Cornerstone are constantly changing, with some gardens remaining only a season and others delighting for several. Either way, there is always something new to see, and whether it pays tribute to immigrant workers or aspires to visceral serenity, each garden is not only utterly unique but say something significant about art, garden design, or both.
Great Gardens
Cornerstone's newest garden, Ecology of Place by Suzanne Biaggi, opened to the public on July 18th, and weaves the issues of restoration and renewal throughout its snaking pathway. A significant element of said restoration is the sculptural tree by New Zealand-based landscape architect Regan Gentry, which sits in the same place once occupied by Cornerstone's iconic and beloved Blue Tree (which was taken down in 2007 for safety reasons).
For Biaggi, however, the everything works together to convey the garden's interplay of past, present and future. The water running through it reminds us that Sonoma once had wetlands (thanks to San Pablo Bay), while sculptural vineyards represent the monoculture of vineyards that now exists in the area. Likewise, plants native to the wetlands provide a sense of hope for future regeneration.
While Ecology of Place celebrates natural past, Andy Cao and Xavier Perrot's Red Lantern pays homage people, specifically the Chinese migrants who helped build the Central Pacific Railroad. Wooden beams resembling a railroad track serve as stepping-stones for visitors to reach the large lantern in the center of the pond.
Eucalyptus Soliloquy, by Walter Hood and Alma Dusolier celebrates immigrants of a different kind: eucalyptus trees, which seem native to California but were actually brought from Australia (to provide wood for, of all things, railroad ties). Too soft for their intended task, the trees stuck around, and for better or worse have become iconic California. In the garden, one can sit in chairs made from eucalyptus while gazing at the lily pond and the hills and vineyards in the distance.
Life's a Picnic
The grass field in the center of Cornerston makes for a lovely picnic spot—and Park 121 makes forgetting your basket a worthwhile mistake. The restaurant offers a seasonal menu of culinary delights that showcase Sonoma's agricultural bounty. You might opt to take a delicious BLT and brownie to go, or savor Joe's Sweet Pea & Ricotta Ravioli (of Petaluma fame) and a game of bocce ball. Either way, it's almost required to pair your lunch with a glass of wine from one of the wineries onsite.
Objects of Desire
It's safe to say you won't want to leave Cornerstone's beauty behind you. Unfortunately, you must, but you can bring some of the magic home with you. The facility includes several unique shops offering a variety of vintage and handcrafted treasures. Scrounge up something special at Artefact Design & Salvage or check out the Garden Gallery that is Potter Green. 
Directions: Given the remote location of Conerstone Sonoma, it is best to drive.
Photos: Cornerston Sonoma, superde1uxe
[mappress mapid="105″]