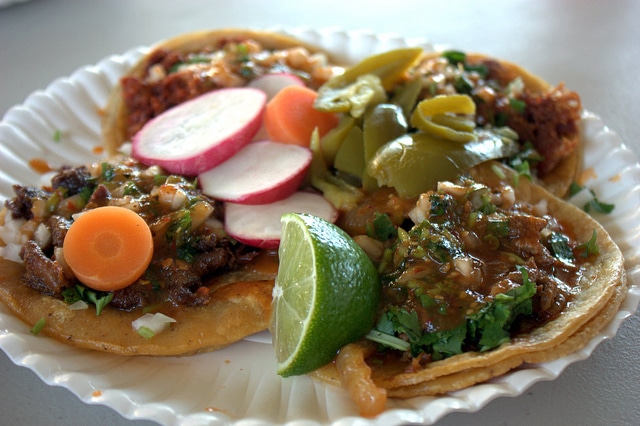 Sure, it may not give you that post-vacation glow, but the East Bay serves up a whole buffet of food trucks to satisfy your south-of-the-border cravings, the local way. In fact, International Boulevard in Oakland's Fruitvale district has become the street devoted to Mexican street food. Trucks do what's become known as the "Comida Corridor," and the throngs line up for authentic (and cheap) eats.
The real trick to unraveling Fruitvale's web of taco trucks comes with grit, curiosity, and exploration. To get you started, we've created this guide to Fruitval taco trucks. And don't be shy—with most tacos starting at just $1 a pop, loading up with chow from multiple trucks is not just acceptable, it's encouraged.
1. El Novilla | 1001 Fruitvale Avenue
Your taco crawl begins with BART's savory next-door neighbor, El Novillo. Arguably one of Oakland's finest, this truck needs no frills to lure in customers. Its fresh ingredients and hefty portions speak for themselves. Regulars rave about the burritos, but it's hard to go wrong here, so get creative with the sopes, or stick to basics with some al pastor.
Not quite as carnivorous as your average taco truck aficionado? Don't hesitate to order a cheese-based item, since the homemade salsas and baggies of pickled jalapeños and carrots will make sure you don't miss out on any of the flavor.

2. Casa Jiminez |4345 International Boulevard
Don't mistake Casa Jiminez for anything less than a culinary powerhouse just because it's on wheels. While the atmosphere may be unpretentious, this spot has been dishing out delicious fare since 1973. It's home to some of the tastiest (and cheapest!) tacos de lengua in the area, in addition to the unique pupusa, a melty, pillowy tortilla stuffed with cheese and pork.
3. Mi Grullense | Goodwill Parking Lot at E 14th Street
Same owner, same food, two trucks. That's how good this place is. Nestled side-by-side in the Goodwill parking lot, Mi Grullense 1 & 2 have a cult following for consistently cheap and delicious grub. Come for a chorizo breakfast burrito in the morning, or a light and fresh ceviche tostada in the afternoon. The staff is generous with sides, so don't be afraid to ask for that extra lime wedge.
4. El Ojo de Agua | 3132 E. 12th Street at Fruitvale Avenue
Another local favorite, El Ojo de Agua, offers a lengthy list of creative tortas, meaning those looking for a little Latin lovin' sans tortilla have a friend in the business. For the complete experience, wash it all down with a specialty drink like Sangria Senorial (a sangria-flavored soda).
5. Palate Cleanser
A quick jaunt down either International Boulevard or Fruitvale Avenue affords the perfect break in between visiting the four-wheeled taco mavens, allowing just enough space to squeeze in another loaded torta, or some juicy carnitas before the trip home. Break things up with a sweetly spiced horchata or a detour to one the many fruit vendors lining the sidewalks of International Boulevard.
5. Taqueria Sinaloa | 2138 International Boulevard
If you've got the time (or the stomach!), the popular Taqueria Sinaloa sits on the outer edge of town, and its flame orange truck and equally fiery traditional Mexican fare beckon. With menu options like tacos de tripa and tacos de cabeza, it's a wonder you don't have to carry your passport to get here. Outdoor seating makes the trek well worth your time.
Directions: Take BART to the Fruitvale Station on the Dublin/Pleasanton or Fremont line.
Photos: goodiesfirst, Rebecca Podesta
[mappress mapid="112″]