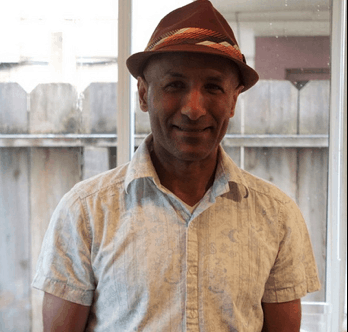 Eskender Aseged came to America when he was nineteen, knowing hardly any English after fleeing Ethiopia as a refugee. Known as the "Nomadic Chef," Eskender is now the founder and chef of the San Francisco up-and-coming hangout Radio Africa & Kitchen. The name Radio Africa & Kitchen comes from Eskender's experience growing up in Ethiopia where neighbors gathered around the town radio for meals and conversation. The nomadic chef talks about being the rebellious son, playing DJ, and where he goes to get out of the kitchen.
Eskender, you started out as an engineer, how'd you become a chef?
My brother and I were both engineers. But I've always loved people and food. I started Radio Africa & Kitchen out of my garage. At first I was inviting fifteen to twenty friends, and then pretty soon I realized keeping it in my kitchen wasn't sustainable. People talked about it so much that even the San Francisco mayor's office contacted me about [Radio Africa & Kitchen]. So we started selling at Velo Rouge Cafe two days a week and gradually added more days. Then, in 2012, we opened Radio Africa & Kitchen in Bayview.
So how did your parents respond when their engineer son said he wanted to start a restaurant?
At first, not very well at all. Because, it's not culturally normal. But once they saw that it was successful, they started to come around and say, "Okay, yeah, maybe this can work."
So, are you the younger brother?
Ah, well, I'm actually the older brother. But my brother, he likes to think he's the older one. You know, because he's much more conservative, traditional, he has a house – whereas I'm more bohemian. I just want to see as many places and meet as many people as I can.
There are many people who have dreams but have a hard time taking the leap. What keeps you motivated?
It's a labor of love in the beginning. People get discouraged, people get exhausted. I think I had a good stamina. And it was perfect timing. People wanted something different and Radio Africa & Kitchen was totally new.
What's the best piece of advice someone gave you when Radio Africa & Kitchen was starting out?
Let's see, probably the best advice is to find that one thing that makes you really happy and put all your passion into it. If you have too many interests, you'll just get distracted. I have a lot of interests – science, music, nature – but cooking is the thing that makes me really, really happy. You have to find that one thing and go for it.
Why did you start Radio Africa & Kitchen in Bayiew?
I live in the Mission District, which you know, is the fancy area. There are already a lot of restaurants and cafes over there. We're about empowering people and we wanted to do something new. People from this neighborhood work at the restaurant, and we try to offer good food at reasonable prices. We also work with the farmers and fishmongers in the area to use what they have, what's in season. I get bored of making the same things so we change up the menu every week. It's the equivalent of having a DJ instead of an iPod.
Do you have any favorite places to getaway in California?
I love Santa Cruz, all the restaurants. Sonoma is great. I love being in the country with all the farms and wineries. I love learning about new foods and really enjoy Mazzocco Winery; it's a beautiful place to get away.