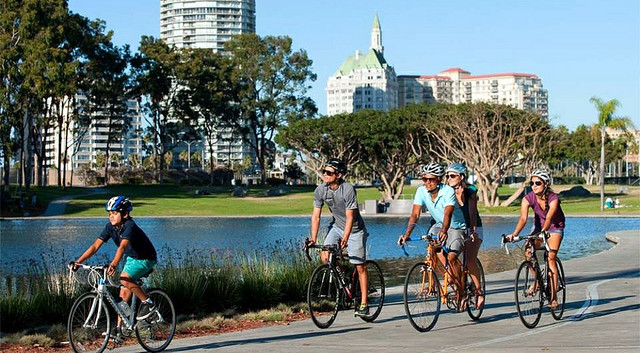 Long Beach is a city of half a million residents located on the southern fringe of Los Angeles County. It's a busy port with a laid-back vibe that is pure California coast. Long Beach welcomes visitors whose preferred mode of exploration is cycling like few others. This two-wheeled utopia's hidden charms, urban flair and beach town friendliness are best explored from the perch of a bicycle.
Pedal-Friendly Initiatives
With 345 days of sunshine annually, cycling provides an active mode of transportation that perfectly meshes with this seaside city's breezy outdoor lifestyle. The city is working hard to reach its goal of being the most bike-friendly urban center in the nation, as a host of progressive initiatives illustrate.
Maverick civic leaders understand that a thriving bike culture requires the foundation of bicycle-friendly roads. With over 60 miles of bike-only routes and 20 miles of new designated bike boulevards, Long Beach is dedicated to creating a safe and solid infrastructure for Active Travel. On two new protected downtown bikeways, ridership has increased by 33% and bike accidents are down by 80% just one year after implementation.
The local cycling community got a big boost when Long Beach rolls out its new bike share program. Pick up a bike at any station and return it within the network of stations.
Bike Saturdays is helping to increase casual weekend bike traffic. Pedal to dozens of local eateries and shops on Saturdays and receive cyclist-only discounts.
Die-hard bikers already know that pedal power is beautiful, but Long Beach takes aesthetics to the next level. 200 colorful works of art are actually municipal bike racks. These functional sculptures are spread around town, providing a decorative place to park your bike while you shop, dine or sightsee.
Bikestation Long Beach is a valet-attended indoor bicycle parking station, rental and repair shop, the first facility of its kind in the country. It is strategically located on the First Street Transit Mall, the city's public transportation hub. This seamlessly connects cyclists to other transportation modes, perfectly complimenting a car-free lifestyle.
The Rides
Long Beach's diverse terrain has a ride for everyone, from lazy Sunday cruisers to the hard-core cyclist. This city of distinct neighborhoods presents a smorgasbord of rides to choose from. Check out the city's bike map to help guide you.
The Ride: Shoreline Bike Path
The Distance: 5½ miles
Level: Easy
Fun factor: This flat beachfront path is separate from the walking path, so it's a perfect ride for novices and families. You'll feel the Pacific Ocean breeze throughout the entire coast-hugging route from Shoreline Village to Belmont Shore. The easy-to-follow path takes you by shops, the lighthouse and the Downtown Marina.
The Ride: A Spin Through Naples
The Distance: 2.2 miles
Level: Easy
Fun factor: This Italian-inspired neighborhood is loaded with Venetian-style, fairytale-pretty canals. Start and finish the ride at the Long Beach Yacht Club on Appian Way. You will pedal along the waterfront sidewalks, where the scenery includes stunning Mediterranean-inspired homes, boats, floating gondolas, paddle boarders and kayakers. Crisscross the canals five bridges, each one offering camera-worthy views.
The Ride: Historic East 1st Street and the Beach Path Below the Bluffs
The Distance: 4.2 miles
Level: Easy-to-moderate
Fun factor: Architecture buffs can go for a scenic whirl that starts and ends at leafy Bixby Park. Pedal the designated bike lane as you spy some pristine examples of California Craftsman homes and Art Deco-style apartment buildings. For sport's fans, you'll see the Belmont Plaza Pool, where the 1968 and '76 U.S. Olympic Swim Trials were held. At Belmont Pier, you can glimpse Catalina Island on clear days. Pedal a nice stretch on the Beach Path Below the Bluffs before you circle back to the park.
The Ride: Shoreline Village to the Los Angeles River Bicycle Path
The Distance: 16 miles
Level: Moderate-to-difficult
Fun factor: This ride starts at Shoreline Village. Head Northwest for several miles until you reach the Los Angeles River Bicycle Path. Pedal riverside for a few miles and you may see waterfowl and other wildlife. On the way back, you'll pass Rancho Los Cerritos. You can take a short detour to Bixby Knolls, an up-and-coming neighborhood loaded with shops and restaurants. For the super-ambitious ride, the Los Angeles River path will take you all the way to the City of Angels.
The Tourist Trail
There are several attractions that are worth getting off your bike to visit. The impeccably preserved ocean liner Queen Mary is a piece of maritime history. Explore this hulking 20th century seafaring vessel's nooks and crannies and see just how glam travel used to be.
The Aquarium of the Pacific is the place to learn about Pacific Ocean life. The Behind-the-Scenes Tour will take you backstage to see what it takes to successfully care for and feed thousands of sea creatures each day. The aquarium is a must if you're traveling with kids.
The Museum of Latin American Art is the only museum West of the Mississippi to feature art exclusively from Latin America and the Spanish-speaking Caribbean. Environmentally concerned culture vultures should note that it is one of the first California museums to use solar energy with a photovoltaic energy system.
Walk Around Town
Long Beach was named one of the top pedestrian-friendly cities by Walkscore.com, and its modest size and near-perfect climate equals excellent strolling. Trend seekers won't want to miss browsing the East Village Arts District, with its cutting-edge shops and galleries. 4th Street Retro Row is the place for vintage shoppers and antique lovers. Belmont Shore's 2nd Street is bustling with shops and dining choices, popular with families and students. For something more exotic, Cambodia Town is home to the largest Cambodian population outside Southeast Asia. Discover shops selling distinctive handcrafted jewelry and authentic eateries that feature this nation's delicate cuisine.
Where to Stay

At the aptly named Hotel Maya, rooms are decorated with colorful textiles and bold accents that will transport you to a market in Oaxaca. They rent beach cruisers, plus it's located on a car-free path that brings you to the Queen Mary in minutes. If you choose to ride public transportation, the free Passport Bus and the seasonal Aquabus both stop here. Ask for a Marina-facing room, and wake up to a vision of sailboats gently rocking in the waves against a backdrop of the stately Queen Mary. The hotel is the perfectly balanced launch pad for exploring the city or relaxing. During the day, swim in the waterfront pool, read in a floating cabana, play beach volleyball, tennis or bocce. In the evening, warm up in front of the fire pit and stargaze on the hotel's own soft-sand Playa Maya. Re-hydrate yourself with a shot of tequila at Fuego, the hotel's festive restaurant, which has one of the largest tequila selections in California.
Other Modes of Transportation
The Passport shuttle bus is free and efficient, making its rounds every eight minutes. It will get you to all major attractions and you can bring your bike on board. Seasonal services include the AquaBus water taxi and the AquaLink, a catamaran that carries 69 passengers while perfectly exploiting the town's waterfront location.
How to Get Here: Ride Amtrak's Coast Starlight to Los Angeles' Union Station. Connect to Metro Rail Blue Line at the 7th Street Metro Center Station and you'll be in Long Beach in under an hour.
Most airports are places to flee as fast as you can, but the Long Beach Airport is a destination in itself, thanks to a recent $140 million renovation. The vintage Art Deco terminal is a stylish and low-stress way to enter town. The food court concessions are 100% local restaurants. There is even a wine bar and with outdoor fire pits. JetBlue has its hub here, and it will get you here from SFO in just over an hour.
For trip planning information, go to Visit Long Beach. For cycling hints, go to Bike Long Beach.
Photos: waltarrrrr, Visit Long Beach, Tom Ipri, fredcamino, AK Rando