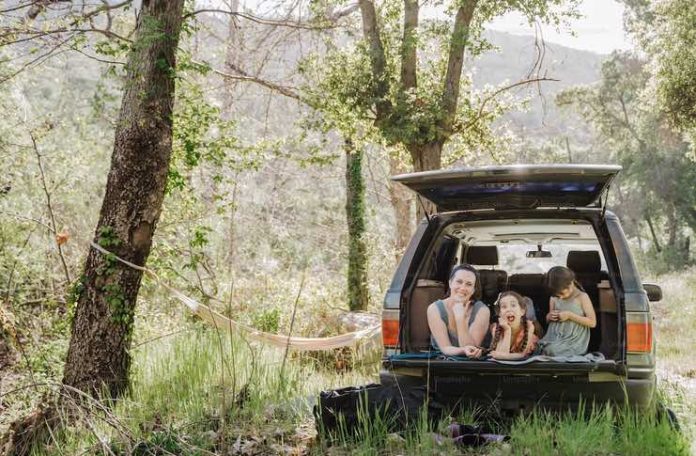 Buckle up, fellow adventurers, and get ready to embark on an epic road trip along the stunning West Coast, from the sunny shores of California to the picturesque landscapes of Washington. With breathtaking vistas, hidden gems, and exciting experiences awaiting you at every turn, this journey will be etched in your memories forever. Rev up your engines, roll down the windows, and let's hit the road.
1. Santa Barbara, California: A Coastal Paradise
Our road trip begins in the charming city of Santa Barbara, where sun-kissed beaches, Spanish-inspired architecture, and a vibrant food scene await. Take a leisurely stroll along the iconic Stearns Wharf, indulge in delicious seafood, and soak up the California sunshine on East Beach.

Don't miss a visit to the Santa Barbara Mission, a stunning architectural gem that offers a glimpse into the city's rich history. My personal highlight was exploring the Santa Barbara Urban Wine Trail, where I sipped on exquisite wines and discovered hidden tasting rooms tucked away in downtown alleys.
Watch this video for things to do in Santa Barbara:
2. Big Sur, California: Nature's Masterpiece
Prepare to have your breath taken away as you traverse the iconic Highway 1 and enter the majestic realm of Big Sur. Admire the rugged coastline, towering cliffs, and ancient redwood forests that make this stretch of road one of the most scenic in the world.

Make a stop at McWay Falls, a mesmerizing waterfall that cascades onto a pristine beach, creating a picture-perfect scene. During my visit, I hiked through Pfeiffer Big Sur State Park, immersing myself in nature's tranquility and marveling at the towering redwoods.
Watch this video to get a glimpse:
By the way, on this particular trip, I rented a car, rather than drive my own. If you're asking why, read this:

Why leasing a car for your road trip could be the better option
Convenience

: Renting a car eliminates the wear and tear on your own vehicle, ensuring it remains in good condition for everyday use.

Variety

: Renting a car allows you to choose the perfect vehicle for your road trip, whether it's a spacious SUV for a family adventure or a sleek convertible for a scenic coastal drive.

Safety

: Short-term rental cars are well-maintained and safe for long-distance drives. You can also access

free vehicle history

reports from online tools to verify the vehicle's maintenance records and ensure peace of mind.

Reliability

: Rental cars are typically newer and undergo regular maintenance, reducing the chances of mechanical breakdowns during your trip.

Cost savings

: Renting a car can be more cost-effective than using your own vehicle when considering factors such as mileage, fuel efficiency, and potential maintenance expenses.

Flexibility

: Renting a car gives you the freedom to select a vehicle that suits your specific needs and desires, allowing you to explore different terrain or travel in comfort.

Insurance coverage

: Rental car companies offer insurance options that can provide additional protection during your road trip, giving you peace of mind.

Reduced mileage on your own vehicle

: Renting a car helps preserve the value of your personal vehicle by avoiding excessive mileage accumulation.

Avoiding wear and tear

: Road trips often involve long distances and various road conditions that can put a strain on your vehicle. Renting a car allows you to preserve the condition of your own car.
Generally, taking a rental car is a great option for long road trips. Let's continue now with our unforgettable Road Trip Stops from California to Washington
3. Monterey, California: Coastal Delights
Next on our journey is Monterey, a coastal gem known for its marine life and charming waterfront. Explore the world-famous Monterey Bay Aquarium, where you can get up close and personal with mesmerizing sea creatures.
Take a scenic drive along the 17-Mile Drive, marveling at iconic landmarks like the Lone Cypress and Pebble Beach Golf Links. For a touch of history, visit Cannery Row, once a bustling sardine canning district, now transformed into a vibrant waterfront district with shops, restaurants, and lively atmosphere.
Watch this video to get a glimpse:
4. San Francisco, California: The City by the Bay
No West Coast road trip is complete without a visit to the vibrant city of San Francisco. Cross the iconic Golden Gate Bridge, explore the lively neighborhoods of Chinatown and Haight-Ashbury, and ride the historic cable cars up and down the city's hilly streets.

Indulge in culinary delights at the Ferry Building Marketplace or embark on a sea adventure to Alcatraz Island. During my stay, I couldn't resist biking across the Golden Gate Bridge and soaking in the city's breathtaking skyline from the Marin Headlands.
5. Napa Valley, California: Wine Country Bliss
Prepare to indulge your taste buds as we venture into the renowned Napa Valley, a paradise for wine enthusiasts. Spend your days hopping between world-class wineries, savoring exceptional vintages, and immersing yourself in the region's lush vineyards.
Treat yourself to a hot air balloon ride over the valley, witnessing the picturesque landscapes from above. My personal favorite was visiting Castello di Amorosa, a medieval-inspired winery where I felt like I had stepped into a fairy tale.
Watch this video for the best things to do in Napa Valley:
6. Redwood National and State Parks, California: Majestic Giants
As we make our way north, a rendezvous with towering giants awaits in the Redwood National and State Parks. Lose yourself in the enchanting forest of ancient redwoods, some of the tallest trees on Earth. Hike through Fern Canyon, a magical oasis lined with lush ferns and cascading waterfalls. Walking among these majestic giants was a humbling experience that reminded me of the grandeur and resilience of nature.

Watch this video to get a glimpse:
7. Portland, Oregon: Quirky Vibes and Artistic Delights
Welcome to the quirky and eclectic city of Portland, where creativity thrives and individuality is celebrated. Explore the lively neighborhoods of Hawthorne and Alberta, filled with unique boutiques, vintage shops, and colorful street art.
Satisfy your taste buds at the famous food carts scattered throughout the city, offering a plethora of culinary delights. I spent a delightful afternoon wandering through Powell's City of Books, a haven for book lovers, and indulging in artisanal ice cream at Salt & Straw.
8. Olympic National Park, Washington: Nature's Wonderland
Crossing into the evergreen state of Washington, we find ourselves in the captivating Olympic National Park. Immerse yourself in diverse ecosystems, from lush rainforests to rugged mountain ranges and serene coastal beaches.
Explore the enchanting Hoh Rainforest, where moss-draped trees create a fairy tale atmosphere. Witness the power and beauty of Sol Duc Falls as it cascades into a turquoise pool. During my visit, I embarked on a breathtaking hike to Hurricane Ridge, where panoramic views of the surrounding peaks took my breath away.
Watch this National Geographic video to get a glimpse:
9. Seattle, Washington: Emerald City Charms
Our final stop brings us to the vibrant and eclectic city of Seattle, known for its iconic Space Needle, thriving coffee culture, and lively music scene. Sip on artisanal coffee at the original Starbucks in Pike Place Market, and don't forget to catch a glimpse of the famous fishmongers tossing fish.


Take a leisurely stroll through the beautiful Chihuly Garden and Glass, where stunning glass sculptures create a whimsical atmosphere. During my time in Seattle, I couldn't resist exploring the city's unique neighborhoods, from the colorful houses of Fremont to the hipster vibes of Capitol Hill.
Endnote
As we reach the end of our epic West Coast adventure, we reflect on the breathtaking sights, unforgettable experiences, and cherished memories created along the way. From the coastal beauty of California to the majestic wonders of Washington, each road trip stop offered a unique blend of nature, culture, and adventure. Pack your bags, fuel up your vehicle, and hit the road to discover the incredible beauty that awaits you on this unforgettable journey.
Want some more tips? How about visiting some of the most beautiful golf courses in California?