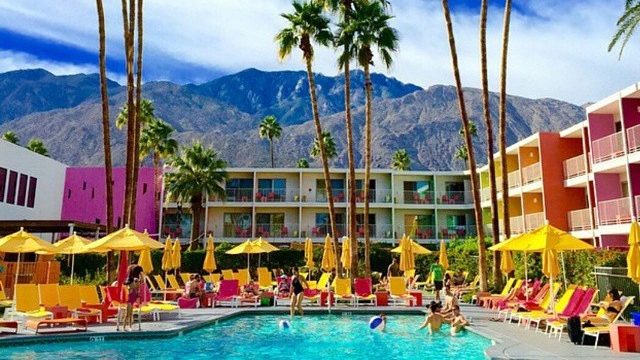 Palm Springs is a desert paradise with an urban sensibility. Visually striking, the natural scenery and deep blue sky form a perfect backdrop for this vibrant city's eclectic display of modern architecture. Sun-starved? Look no further, as this Coachella Valley community, nestled in the San Jacinto Mountains, enjoys 350 days of sunshine annually.
Outdoor activities rule here, whether you want to hike, bike, hot air balloon or just lie by your hotel's pool. A cosmopolitan dining scene, sophisticated arts community and a genuine embrace of all types of lifestyles means that everyone will be comfortable. This palm-studded oasis is just a one hour non-stop flight from San Francisco, making it a quick and easy car-free weekend getaway.
Things to do in the great outdoors
Explore flora and fauna and wonder at the largest natural palm oasis in North America at the majestic Indian Canyons. A variety of hikes suit all fitness levels, and even the novice one-mile trek glimpses meandering streams, towering California Fan Palms, otherworldly rock formations and stunning vistas. Although it is an easy bike ride to the canyons from town, remember to bring water and your wallet (a small fee is charged to enter).
The Palm Springs Aerial Tramway is a lengthy bike ride from downtown, but well worth the 10-minute taxi trip to the Valley Station departure point. This state-of-the art, Swiss-made tram's rotating car allows for incredible views as you are transported from the desert floor to the alpine forest at 8,516 feet. Bring a cozy jacket because it's considerably cooler up there, and is often blanketed with snow, creating a dramatic contrast with the desert heat below. Once you arrive, you can rent snowshoes or cross-country skis during cooler months, even if you have just been swimming in your hotel pool. The ride takes only 10 minutes, but allow plenty of time at the summit to savor the surrounding wilderness and views.
Drift over the scenic desert landscape in a hot air balloon. Balloons Above the Desert offers a complimentary shuttle from your hotel to the launch site. Your pilot will give you a guided tour as you float in the breeze, glass of champagne in hand.
Golf and tennis are popular pastimes in the Coachella Valley, and you will have your pick from over 100 lush golf courses in the area. If your hotel doesn't have its own tennis court, night-lit ones are free and open to the public at Palm Springs High School on Ramon Road and at Ruth Hardy Park.
Mid-Century modern rules
Palm Springs has an eye-catching collection of meticulously preserved mid-century modern architecture. Desert Modernism is notable for its use of glass, clean lines and indoor/outdoor spaces. There are plenty of examples of Jetsonsesque homes and public spaces by respected architects such as Richard Neutra, Donald Wexler and Albert Frey. Stroll the Uptown Design District, where you can purchase your very own piece of mid-century modern mystique to bring home at one of the dozens of hip furniture boutiques and antique shops.
Arts and entertainment
Awe-inspiring scenery and fabulous light draw many artists to the area. The Palm Springs Art Museum is at the center of the desert's art community. Its impressive permanent collection focuses on international Modern and Contemporary painting and sculpture, with works by artists such as Henry Moore, Robert Bechtle and Helen Frankenthaler, plus some amazing studio glass works by Dale Chihuly. The collection is housed in a recently renovated building designed by E. Stewart Williams, and the structure's modern aesthetic perfectly suits the collection. The numerous temporary exhibits change frequently, so there is always something new for your eyes to feast on.
The Fabulous Palm Springs Follies is an often sold-out revue that runs November-May. Super-fit senior citizen showgirls put on a nostalgic vaudeville-style romp and their buff physiques cause audience members half their age to drool.
Each Thursday evening, downtown Palm Springs is transformed into a street fair called VillageFest. Artists, craftsmen and jewelry makers present their handcrafted wares along with inexpensive food and free entertainment.
If gambling is your style, you will find 24-hour gaming and entertainment downtown at the Spa Resort Casino. However, online gambling may be a better for those that want to experience the thrill of playing live casino games while at home. There are plenty of mobile casino apps that you can download that function just like a traditional casino.
Hollywood, past and present
Some are lured to Palm Springs for its rich Hollywood legacy– Sinatra and the rest of the Rat Pack used it as their personal playground, and loads of celebrities continue to live or vacation in this idyllic hideaway. Stop by Melvyn's, the famed former Rat Pack hang out, to get a glimpse of old-school glamour, where the piano bar and dancing continue until the wee hours.
Palm Springs' proximity to Los Angeles, a two-hour drive west, helps to explain the wealth of film festivals year round. The Palm Springs International Film Festival is a star-studded event, but the ShortFest, Film Noir, Cinema Diverse (LGBT) and brand new American Documentary Film Festival are all big draws with excellent programming.
LGBT visitors
Anything goes in Palm Springs, and this open-minded community warmly welcomes the LGBT community. Palm Springs is a top vacation destination for gay and lesbian travelers all year, but there are some special events. The Dinah, named after long-time resident Dinah Shore, is an annual springtime all-girl shindig considered the biggest gathering of lesbians in the world. Jane Lynch, Chaka Khan and the Pussycat Dolls have all attended. Held each April, the White Party Weekend is one of the premiere events of the year. In 2012, over 30,000 revelers partied to the max, with a white-only dress code bash held at the Convention Center on Saturday night crowning things off. Greater Palm Springs Pride is a two-day cultural event, complete with a parade, held in early November.
Where to sleep
Your hotel choice is important in Palm Springs, as you'll likely want to spend a lot of time unwinding by the pool under seemingly eternal sunshine. There is something to suit every taste and budget, with bargains galore during the sultry summer months. If you stay at the newly refurbished 245-room Saguaro (from $139), the bold color palate will have you feeling like Dorothy stepping into the Land of Oz. Enter the Technicolor pool area where the hot pink towels, blinding yellow chaise lounge and in-your-face orange and purple bar stools let you know that this crowd is ready to party. Music and merriment rule this non-stop poolside scene, with toddlers splashing next to tattooed hipsters. Tapas are truly tasty at Tinto, the innovative on-site restaurant run by Iron Chef Jose Garces. Don't stay up too late, because morning yoga at 8a.m. is worth waking up for. The hotel has free shuttle van service and bikes.
On the opposite end of the accommodation spectrum is Los Arboles, located in the heart of the trendy Uptown Design District. This 21-room boutique hotel is a romantic sanctuary of calm and tranquility. Each room feels like an individual casita, with colorful Mexican tile accents, Jacuzzi tubs and fireplaces. The elegant pool area is surrounded by jasmine, rosemary, sugar cane and bougainvillea. If you need anything, the owners are at your service. Otherwise you experience here will be private and discreet. The lovely on-site restaurant, El Mirasol, is a destination in itself.
Where to eat

Starting your day with a freshly squeezed glass of orange juice and farm-fresh eggs is de rigueur at Cheeky's, a popular, mostly organic eatery. It opens at 8 am, and lengthy waits for a table are common, so arrive early. It is located in the Uptown Design District, so if you are staying at Los Arboles you can practically roll out of bed. Meat lovers won't want to miss the bacon flight sampler. Cheeky's closes at 2p.m.
Woody's is a casual burger joint, where you can eat at the counter as you sit on a swivel stool and watch the grill man prepare your order. Choose a full-sized burger, or a slider, which packs a bold punch of juicy flavor despite its diminutive size, thanks to beef that is ground daily. Sweet potato fries and addictive beer-battered onion rings have a cult-like following. Woody's features live music several nights per week.
For mouth-watering Mexican food, El Mirasol beckons. Family owned and operated, its classic Central Mexican dishes should not be missed. Shrimp Pipián, Chicken Mole and Chile Relleno are all authentically prepared, but with heart-healthy oils instead of lard. Vegetarians have lots of choices, and the spinach enchiladas are certain to delight. The Margaritas are gigantic, and the hot sauce so popular they now sell it to take home. If flan is on the dessert menu, don't refuse it.
If you need a mid-day caffeine fix, Koffi offers two house blends, mild and bold, and a lovely garden setting to enjoy either. Home-baked muffins and giant cookies are the perfect go-with.
Getting around town
Biking is a good way to get around town, and many hotels offer free or rental bikes. If yours doesn't, try renting one at Bike Palm Springs, located in the Uptown Design District. They rent a variety of well-serviced bikes, including cruisers, tandems and kid-sized. The streets here are flat, but do try and avoid mid-day riding, as the sun is strong and summer temperatures routinely sizzle over 100 degrees.
Some hotels offer airport and downtown shuttles. If yours does not, the public SunBus will get you where you want to go efficiently.
Directions: Virgin America recently initiated non-stop flights to Palm Springs from SFO, so you should be able to score a bargain-priced fare. Alaska Airlines, American, United and Delta fly non-stop too. For more vacation planning information, check out Visit Palm Springs, and don't miss its 'Weekly Deals' listings for last-minute bargains.
Photos: The Saguaro, Balloons Above the Desert, JoeInSouthernCA, El Mirasol