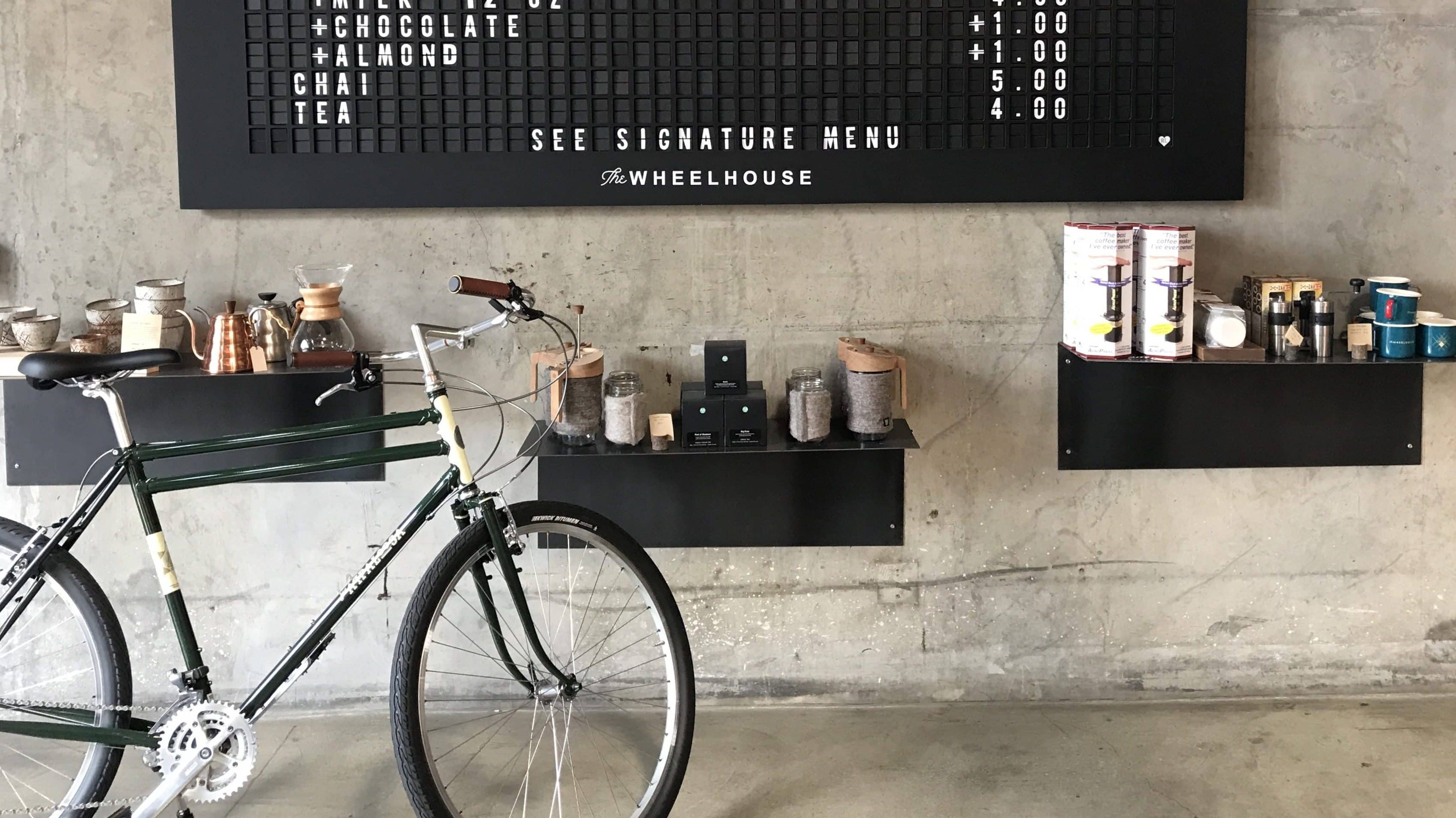 In the book, How to Cycle, published in 1892, Dr. K.K. Doty wrote that "Cyclers see considerable more of this beautiful world than any other class of citizens. A good bicycle, well applied, will cure most ills this flesh is heir to." A number of good bicycles, recently applied regularly, have in fact, helped to heal a nagging knee injury, to mend a broken heart, to provide a newfound sense of freedom, and to open up a whole new Los Angeles life for this recent transplant to this historically car-dependent city. Those living in the area, or visiting the City of Angels would be well-advised to take a page out of Doty's book (and in this case, mine) and take themselves a two-wheeled adventure this summer.
There is a continually growing network of bike lanes, paths, and routes in Los Angeles from the popular LA River Bike Path where serious cycles speed past in high cadence groups clad in lycra and aerodynamic helmets to the Venice Beach boardwalk where a cruiser is key as is a knack for avoiding roller bladders and curious children, and numerous spots, in between. But this summer, Downtown Los Angeles (DTLA) and its neighboring Arts District is truly the place to ride.
Your Biketinerary
First, you need some wheels. If you're already the neighborhood, head over to DTLA Bikes to get outfitted as they just might have the largest bike rental fleet in Los Angeles. They, like so many others in the local cycling community are on an inspiring mission to provide cost effective and green transportation alternatives to everyone in, and visiting, downtown. For just $30 (for the full day), they'll set you up with a DTLA City Bike, and for $10 more, you can ride around on a fixie (single speed) and be well on your way to local hipster-dom. I kid, but they are incredibly stylish and chic. You can also visit the Metro Bike Share station on Factory Place, just a fifty yards or so from the popular restaurant Factory Kitchen, LA Boulders indoor rock climbing gym, and even The Los Angeles Gun Club. DTLA Bikes address: 425 S Broadway, Los Angeles.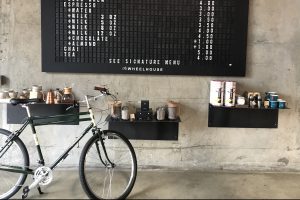 Once you've got your bicycle, you're ready to ride and you'll definitely want some fuel to get you properly fortified for your ride about town. The Wheelhouse on Factory Place is a bike plus coffee shop who sell everything from the best iced/hot green tea in the entire Arts District and gourmet frosted pop tarts, to all of the bike extras you could dream of, from buttery leather seat satchels to brass bike bells and more. On Thursday evenings at 6:30pm when the weather is perfect – as it so often is in Los Angeles – The Wheelhouse team leads a bike ride to happy hour, each week to a different bar in the area. New for this summer is affordable, fresh, and tasty takeaway meals and pastries from local Superba Food & bread.. Follow their expertly curated Instagram at @thewheelhousela; it will make you want to live inside their shop and remind you that biking in the city should be part of your everyday lifestyle. Address: 1375 E 6th Street, Ste 6, Los Angeles.
Now that you're fully caffeinated, hop back on the bike for your own personal street art tour of the eye-catching, wildly creative and colorful murals in the Arts District. There is a reason this place is called the Arts District. According to the LA Conservancy, in the 1970s, a group of artists, many of whom were being priced out of the increasingly expensive Venice and Hollywood art scenes, saw opportunity in the forgotten buildings in the Arts District.
Vacant warehouses made for massive live/work studios at incredibly low prices, and the once drab, gray sides of those buildings became artist canvases to express their creative visions of life's seasons, of love, loss, tribute, joy, and protest. Murals not-to-miss include the intimate moment by artists Fanakapan and Angelina Christina on 4th Street at Merrick; the front, side, and entire building of Angel City Brewery; the newly colorful and renovated full side of a building on S Alameda, just passed the Metro Station on the right hand side heading towards Factory Place; and the fairly new installations from WRDSMTH in the Café Gratitude shopping complex on Santa Fe Avenue.
After the art, its time for the wine. And, popcorn. From Santa Fe Ave, cycle back towards Mateo Street (where you'll also find Zinc Café & Market, and Bar Mateo; Blue Bottle Coffee; and The Spirit Guild Distillery where they offer 45 minute tours and a tasting for just $10 that also includes a $5 discount toward the purchase of a bottle of your choice), and take a right onto Industrial Street to find Pour Haus Wine Bar, a hip yet cozy spot offering snacks and cheeses paired with wines from around the globe that you can both sip on there, and purchase bottles to take home with you (especially now that you've got your buttery leather wine holder satchel from The Wheelhouse). You can play all of the best board games (Connect Four, Scrabble, and Boggle!) while you eat your tapas and savor your $5 "DrinkyPoo" choice of wines, sommelier's choice when you select "Red, White, Sparkling or Sangria" from the happy hour menu. Pour Haus Wine Bar Address: 1820 Industrial St, Los Angeles.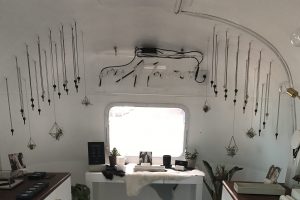 If the combination of these indulgences and that clarity of thinking you feel when you're on your bicycle have you wanting to now do something nice for someone else, look no farther than The Giving Keys. The Giving Keys, a pay it forward company that exists to employ those transitioning out of homelessness here in Los Angeles to make key necklaces and other jewelry out of repurposed keys, is also based nearby. You can visit their semi-permanent pop-up shop housed in a vintage airstream trailer that is housed right next door to their offices and workshop where the keys and jewelry are made. Purchase a key for you with a word stamped on it that speaks to you (HOPE, LOVE, STRENGTH, DREAM, CREATE, INSPIRE…), wear that key and embody that word with what is means for you, and when you've soaked up all the good bits of that word and they've had an impact on your life, take your key off and give it to someone else who might need that word of HOPE, LOVE, STRENGTH, not to mention that small yet powerful act of kindness. The Giving Keys security guard, Newton, will likely even watch your bike for you while you pop into the trailer. You should buy him a coffee as a thank you at Groundwork across the street. Newton likes Americanos. Address: 836 Traction Ave, Los Angeles. 
LA Biking 101
In the City of Los Angeles, you are actually allowed to ride on the sidewalk unless, according to Metro it is done "with a willful or wanton disregard for the safety of persons or property," but, please, don't be that guy or gal. Downtown is full of bike lanes, and in the places we're taking you for a ride, there aren't massive amounts of cars or traffic, so strap on your helmet, manifest that inner confidence, and don't have so many biking day beers that you can't stay within the lines.
Most importantly, tag your Los Angeles Bike  pics with @offmetrosf, and you may even get featured on our Instagram page thus making all your friends jealous and your kids will see how cool you are and you'll have helped us prove that we all really can make Los Angeles bike friendly, always. Cycle on, friends.