LA Metro launched the Expo Line, offering Los Angelenos easy, car-free, access to Santa Monica's expansive beach. Taking the train to the very last stop drops you off in downtown Santa Monica where streets, lined with shops and restaurants, will carry you to the sandy beachfront and the iconic Santa Monica Pier. Whether looking for relaxation or adventure (or both) Santa Monica offers it all with endless sunshine to boot.
The Adventure
For the classic SoCal experience, head straight to the beach to swim or surf. The break at Santa Monica isn't as popular as its neighbor surf spots in Venice Beach or Malibu which means it can be less crowded and more beginner friendly. Zuma Surf is one school that offers not only beginner surf lessons but open water swimming coaches for those training for triathlons or simply interested in long ocean swims.
Bad surf report? No worries – the most unique adventure to be had in Santa Monica is slacklining at the Santa Monica Slackline Park just south of the Pier. As one of the only dedicated slackline parks in the U.S. there is a strong feeling of community at the park. Don't worry if you're a beginner, there's a whole community of strangers-turned-friends to cheer you on.
The Eats
Luckily, in Santa Monica it's not hard to find farm-to-table fares or in the case of Herringbone, ocean-to-table. Here Top Chef finalist Brian Malarkey cooks up a rotating menu of fresh fish alongside farmers market sourced vegetables. For another farmer's market spin, head to 1212 Santa Monica for the foraging mule, a sweet cocktail made from seasonal berries, arugula, rosemary, mint, aloe vera liqueur, and ginger.
For dessert, stop by Sidecar Doughnuts and Coffee where the daily and seasonal doughnut menus will keep your curious palate sated. The conservative eater can usually find a chocolate or vanilla flavor while the adventurous ones will get to try everything from a ham & cheese doughnut to a geranium doughnut.
Stay Here
For stylish design and a relaxing, plant-filled space head to the ultra-sustainable Ambrose hotel.  Not only is it beautiful decorated and comfortable from check-in to hotel room, the Ambrose is LEED certified and at the forefront of pushing the boundaries on sustainability in the hospitality industry (they even compost!) Enjoy natural bath products, whole food snacks, or even the use of their electric bikes to get around town. Rooms start at $300 a night and include all-natural continental breakfast.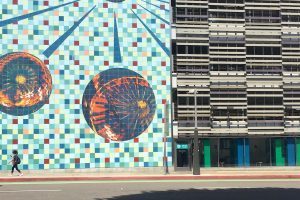 Getting around
Getting to Santa Monica from downtown LA is now a breeze thanks to the Expo Line. Once you're there, you'll find most of the area walkable with options to use the Big Blue Bus ($1.25) or the local bike share ($7/hour) for longer distances.