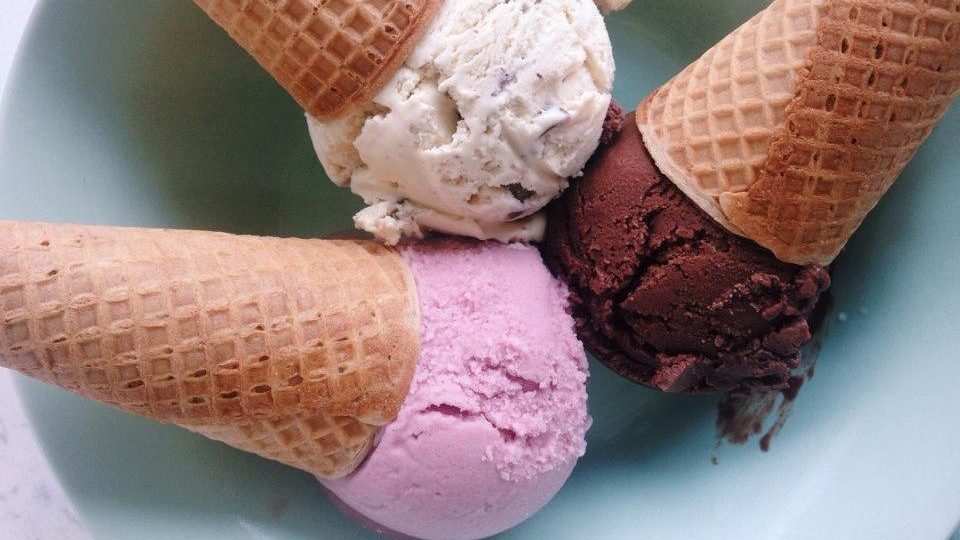 The name Temescal is said to be derived from "temescalli," an Aztec word for sweat lodge, but I didn't see any of those as I wandered past flower-adorned gardens toward the Temescal Sunday Farmers Market in the parking lot of the DMV.
Having come from the heart of San Francisco's hustle and bustle, I found the quiet, calm feel of this Oakland hamlet somewhat startling upon stepping out of the Rockridge BART station.
I was lured to Temescal by Edible Excursions, a company offering walking food tours in Oakland and San Francisco. The tour I attended was led by Sarah Henry, a food writer and local resident who explained that, until about 100 years ago, Temescal was an Italian neighborhood, and before that it was inhabited by the Ohlone people. Since then, Temescal has become home to a number of other ethnic communities — and today it is a hipster hot spot and a foodie's fantasy.
Here is where to make all your foodie dreams come true.
1. Cholita Linda is located at 4923 Telegraph Avenue, but I visited their stand at the Temescal Farmers' Market.  Their market stands serve tacos and juices, whereas the restaurant offers an expanded menu—but it's hard to imagine that Cholita Linda's tacos, specifically the Baja fish taco, could be beat. "Cholita Linda" is a Peruvian term for a pretty, mixed heritage girl, and it's often applied to the women who work the markets in Peru. Vanessa Chavez, the restaurant's founder, said the name is always used as a term of endearment, which is why she felt it an apt title to represent the food she serves. "A meal is an experience, something to come together and share," said Chavez.
2. Starter Bakery (1552 Beach, Suite R) is relatively fresh on the Oakland food scene, but its tasty pastries are quickly developing a "near-cult" following. When I found the Starter Bakery stand, just steps away from Cholita Linda at the Farmers Market, they were all about their Kougin-Ammans (koo-ine ah-mahn). The name, like the pastry itself, hails from a northern region of France at a time when the people spoke Breton, a form of Celtic language. But don't let the fancy name fool you—the Kougin-Amann is made of ingredients even the most red-blooded American is sure to love: flour, butter, sugar, and then more butter and sugar. Imagine a croissant folded up into a tightly knit bun, and topped with an additional dollop of butter-sugar. That little taste of heaven may be Starter Bakery's best-selling item, but the shop also bakes everything from baguettes to bran muffins, but mostly they make Kougin-Amanns, and still, they always sell out.
3. Juhu Beach Club (5179 Telegraph Avenue) sits near the corner of Telegraph and 51st Street. When our Edible Excursions group entered, we found fried potato pav sandwich already waiting for us. The restaurant is named for a beach on the outskirts of Mumbai, where Preeti Mistry, its founder and owner, spent time as a child. Preeti explained that her earliest memories of Juhu Beach have little to do with the sand or the water; she was more interested in the fried street foods that vendors sold. Of course, having a responsible mother, Preeti wasn't allowed to eat as much fried snack food as she wanted. When she chose "Juhu Beach Club" as the name for her restaurant, it was with the intention of making a space to serve the fried, guilty-pleasure foods that kids and adults love.
That being said, Preeti noted that she eats from her own restaurant every day, and therefore she has gone to remarkable lengths to make sure that the food she serves is not just tasty, but also healthy—including the little bread buns on the pav sandwiches in front of us. Pavs are essentially the Indian version of slider-sized hamburger buns. Wishing to follow a traditional pav recipe while using local, top-quality ingredients, Preeti paired up with Starter Bakery, and together they looked over the ingredients of some pavs found at an Indian grocery store. They subtracted the preservatives, colors, and other additives that Preeti wanted to avoid, and then replaced the standard ingredients with organic, local alternatives. The result was a healthy and original pav recipe, only served at Juhu Beach.
4. Curbside Creamery (482 49th Street), Oakland's newest ice cream parlor, likes to toy with its flavors, adding subtle twists to traditional favorites (like bourbon to vanilla) or whipping up original ones (like Thai Iced Tea). They also offer cashew-based vegan ice creams. And if you come to Curbside for the ice cream, you'll want to stay for the location. The shop is situated at the entrance to Temescal Alley, which is worth a stroll if only to take in the sights. Historically, the alley was lined by a row of horse stables, which are today being restored to showcase some of the original aesthetic. But instead of horses, today these house adorable artisan shops. I'd recommend looking into Crimson, a garden and vintage décor boutique where you'll find everything from succulents to jewelry. Or check out In.ter.face Gallery, which offers a free interactive experience to its visitors. Get a cup of coffee from The Cro Cafe and pair it with a Doughnut Dolly just around the corner.
5. Sacred Wheel Cheese & Specialty Shop (4935 Shattuck Avenue) is a corner store unlike any other. As the name suggests, Sacred Wheel is mainly a cheese shop, but it also offers other specialty, locally produced grocery products. Besides wedges of cheese to try (and likely take home), Sacred Wheel also has a cafe menu. I tried their "Burning Mac & Cheese" topped in a honey-siracha glaze, alongside a portion of their "Blue Ribbon Tomato Soup." That's right, mac-and-cheese coated in honey-siracha sauce, and a tomato soup made with a touch of Pabst Blue Ribbon Beer. Just the sound of the dish brought a smile to my face, and the taste was even better.
6. Located right next to Sacred Wheel Abesha (4929 Shattuck Avenue) is a family-owned Ethiopian restaurant that takes its name from "Habesha," an all-inclusive term for the people living within the region of Ethiopia. This friendly spot serves as a gentle reminder to its guests that food is a common ground we all share. Among Abesha's popular dishes are the vegetarian wots (akin to curries made with lentils, garbanzo beans or split peas, and other vegetables) and a beef dish called kifto. Both dishes are traditionally eaten with injera, a spongy flatbread that is commonly torn into pieces by one's hands, and then used to scoop up bites of curry or meat. All of the details together—the tangy flavors of the wots, the feel of the injera in your hand, the sounds of Habesha men conversing at another table—make you think you've slipped into a restaurant on the far side of the Meridian.
7. Bowl'd (4869 Telegraph Avenue) is so fantastic it's taken on a meaning of its own. "Bowl'd" is the act of one or many things being tossed into a bowl (as in: "I prefer my veggies bowl'd"). It's also the state of incapacitation brought on by having eaten so many things out of bowls: "I ate so much Bibimbop for lunch yesterday that I was bowl'd all afternoon." The Korean barbecue restaurant specializes in Bibimbop, a mixed rice bowl filled with a little bit of everything, such as beef and white rice or tofu and mixed-grain rice—along with a whole slew of chopped vegetables and a fried egg mixed in. Korean food is crafted with digestion in mind, hence sides such as the kim-chi pancakes (kim-chi is cabbage that has been fermented and serves as a savory, probiotic snack). For picky eaters, or those with many dietary restrictions, Bowl'd is among the safer options, as if offers a wide range of carnivorous, omnivorous, vegetarian, and even some vegan and gluten-free entrees.
[mappress mapid="134″]
Photos: Respective shops, Sacred Wheel by Neil Conway, Abesha by Rod Waddington