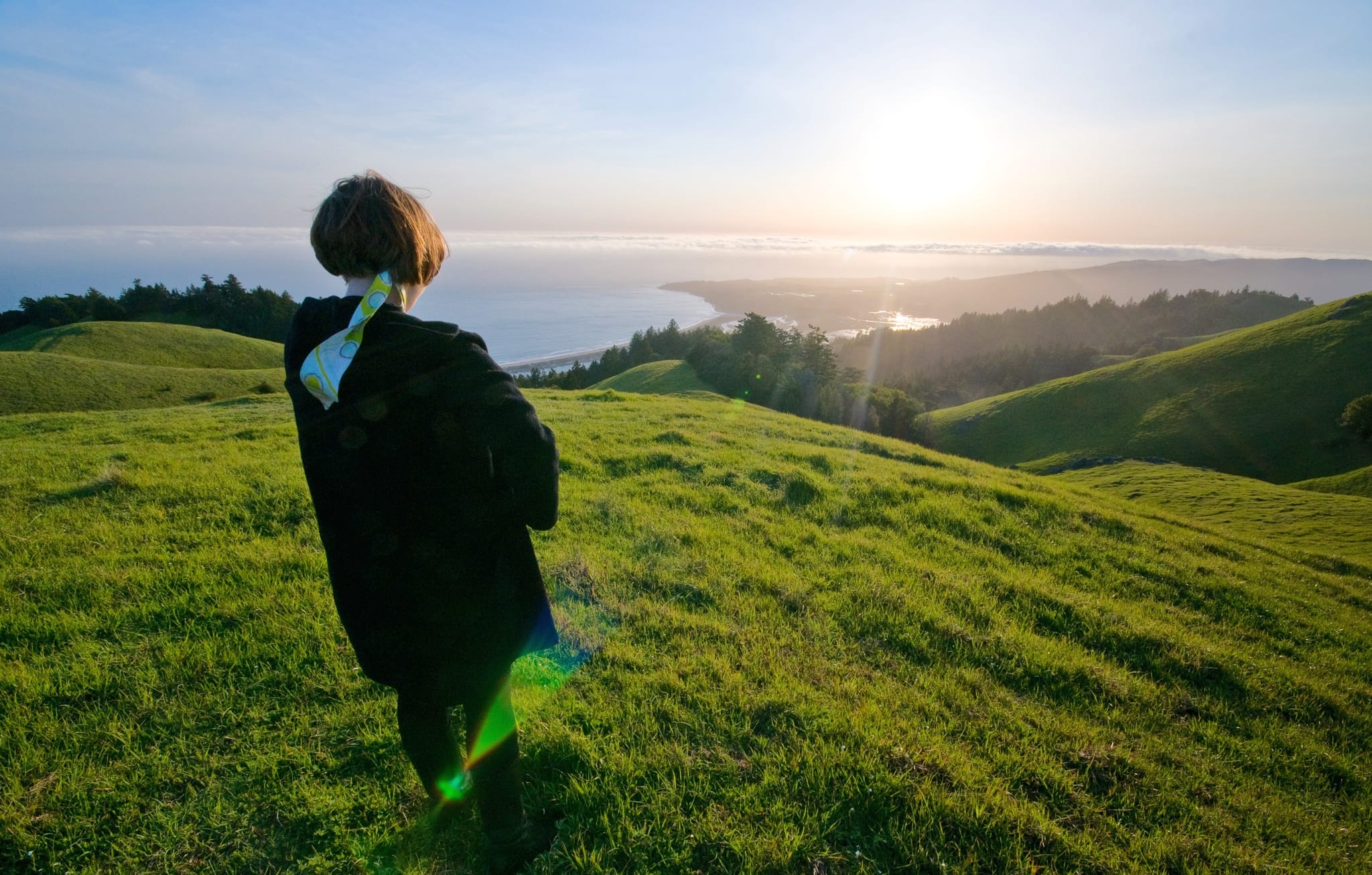 Just over 20 miles north of San Francisco, Stinson Beach is a beautiful free-spirited destination surrounded by jagged coastline and the forested slopes of Mt. Tamalpais.
100 years ago, Stinson Beach wasn't on the map. While the gold rush was booming in San Francisco, Stinson Beach was little more than a camp, only accessible by boat or by foot from Sausalito. It wasn't until 1906, when refugees displaced by the SF earthquake came to the area, that the first permanent structures like a hotel and a few stores were built.
Over the course of the last century, Stinson Beach has expanded and become easily accessible via Highway 1. Yet, with a population of 632 residents, it has managed to maintain its sense of seclusion and remains one of California's lesser known gems—for now.
Get some sand between your toes
The name is no misnomer, Stinson Beach's main attraction is indeed its beach, which is composed of soft white sand and striking red cliffs. A popular local spot for surfers, sun bathers, and beach combers, Stinson Beach's crisp, blue water and 260 days of sunshine are among its most attractive attributes.
Tucked into Bolinas Bay, the waves that crash on Stinson are usually suitable for surfers of all skill levels. However, there are commonly strong tides so make sure to heed warnings when posted. Current and upcoming surf conditions can be checked at surf-forecast.com. Surf boards can be rented locally at Live Water Surf Shop and Stinson Beach Surf and Kayak, which are both within walking distance from the beach.
Make the short trek to Red Rocks beach. Red Rocks is immediately south of Stinson Beach (to the left if you are facing the ocean). You can walk to Red Rocks from Stinson Beach if you don't mind scrambling over the rocky out-cropping on Stinson Beach's southern side. Otherwise, Red Rocks beach is accessible by trail from Highway 1. Head south from Stinson, and you'll see a turn out just a mile out of town (at milepost 11.3). A little Stinson secret, Red Rocks is often enjoyed by locals in the nude.
Explore the lagoon
Just behind the beach, Bolinas Lagoon is an estuary where the ocean water mixes with fresh streams rolling down from the Mt. Tamalpais watershed. The lagoon's calm water makes it an ideal habitat for harbor seals, river otters, leopard sharks, and in the spring, great egrets and great blue herons.
Because the lagoon is protected from the waves and tides of the ocean, it is an ideal spot for a casual swim or kayaking. Kayaks can be rented at the aforementioned surf shops.
Take a hike
Some of the region's most picturesque and acclaimed hiking trails are accessible on foot directly from Stinson Beach.
Winding its way along a gurgling stream under the cover of redwoods, and then rising up the slopes of Mt. Tamalpais to gain expansive views of the Pacific Ocean, the Steep Ravine Trail is among my favorite hikes.
Immediately upon stepping onto the Steep Ravine trail, you'll be immersed in tree cover that is light enough to let in splotches of sunlight, but dense enough to keep all the world's distractions at bay. During spring and into summer, the trail is lined by wildflowers. Myriad shades of green mixed with the chorus of bird calls have a hypnotic effect. If there is a fairy kingdom to be found in California, my bet is it's somewhere along this trail.
The Steep Ravine trailhead connects to Highway 1 at a turnout marked by the Steep Ravine Environmental Campground. It is also accessible via Dipsea trail, which connects to Highway 1 on the southern side of town.
For hikers looking for a work out, the Matt-Davis trail begins from Belvedere Ave, and makes a steeper ascent. Both the Matt-Davis and Steep Ravine trails lead to the Pantoll Campground in Mt. Tamalpais State Park.
For really ambitious hikers, it is possible to trek from Stinson Beach to Muir Woods National Monument and back in a day.
Walk about town
One of the perks of Stinson Beach's small size is that once you're here, everything is a short walk away.
Stinson Beach's downtown (so to speak) consists of a few boutiques, restaurants, art galleries and wellness centers. It's the kind of place where small, succulent gardens and Buddha shrines adorn the front steps of each locally owned business. Visitors looking to eat, drink, buy gifts or get a massage will surely find what they're looking for.
On my most recent visit, I was pleased to find a collection of portraits made entirely from bits and pieces of plastic junk found on the beach in a side-room art gallery attached to Elaine's Boutique. The art on display there changes monthly.
Breaker's Cafe and the Sand Dollar Restaurant serve the best local fare, or for thrifty diners, the Parkside Snack Bar is a suitable spot. Stinson Beach Market has a wide selection of organic food, drinks, and even salt water taffy.
Stinson Beach is a sleepy sort of town where most of the businesses, excluding the restaurants, close by 5pm. If you want to check out the town, it's wise to do so before evening falls.
Stay for a night
For campers, Steep Ravine Environmental Campground is a prime locale. There are seven tent sites as well as nine single-room cabins available. The amenities are simple, a water spigot and an outhouse, but what the campground lacks in luxury it makes up for in natural beauty.
The site sits on a low bluff just over the sea, within eyesight of Stinson Beach. The coastal shrubs surrounding the site make an excellent habitat for local birds, rabbits and deer, and the rocky coves nearby are home to abundant marine life.
From the site on a clear day, you can see the city far off, across the mouth of the bay. However, the ocean mist combined with bird calls and the unobstructed wide-blue sky will have you feeling like you're on another planet. As the sun sinks into the horizon, painting the sea shades of lavender and rose as far as the eye can see, you just may feel like you're living on the edge of the world.
Campsites are $25 per night and cabins are $100. Reservations are often booked in advance, and you can make them at reserveamerica.com.
From Stinson Beach, Steep Ravine Camp is a little over a mile south on Highway 1.
Lodging is also available at Stinson Beach Motel and The Sandpiper (from $130/night), which boasts a beautiful garden and gas fireplaces.
Directions
From San Francisco, follow the 101 north across the Golden Gate. Exit onto Highway 1 toward Mill Valley/Stinson Beach. Follow Highway 1 until you arrive at the beach.
By bus use Golden Gate Transit. Take a bus to Marin City (such as 4, 70, 80 or 101) and then hop on the 61 to Stinson Beach.
For adventurous cyclists, Stinson Beach is bike-able from the city. Cross the bridge and follow signs to Sausalito. Then follow Highway 1 the rest of the way. The ride involves climbing over 2,000 vertical meters in total, but the coastal views offer a distraction from the effort, and the reward of knowing you got there on caloric power alone cannot be beat. Be sure to bring water, layers of clothing for both warm and cold weather, and lights or reflective gear for the Highway riding. For fit bikers, the journey takes 3-4 hours each way.
Photos: Daniel Hoherd, Colleen Proppe, Emily Hoyer, Eye of Kiltron, Dolan Halbrook, Justin Heideman