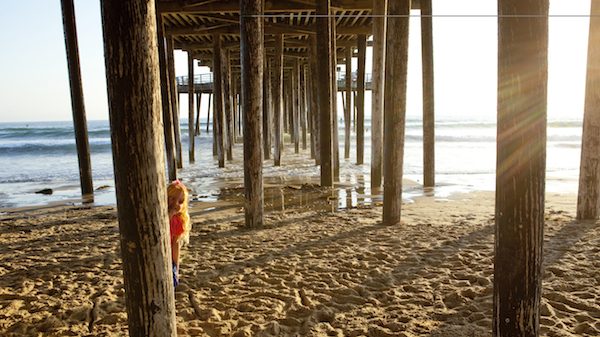 With a few rough edges and a lot of homespun charm, Pismo is the quintessential beach town. It's laid-back and unassuming, much like the people who call it home. There's certainly something about the combination of 310 sunny days year, etched mountains, moody beaches, and a cornucopia of fresh, local foods that makes stress a foreign concept. Whether you lounge in the sun's golden glow or adventure in the surrounding nature, after a few days of Pismo you feel like you've had a month off work.  Here, some great things to do in Pismo Beach. 
What to do
Wave riding. We set sail with Central Coast Kayaks (1879 Shell Beach Road). The company offers kayak and Standup Paddleboard rentals, but we opted for a tour of the coast's hidden caves and coves. After an initial period of gentle paddling— during which we watched sea lions sunbathing on tiny ocean islands and pelicans perched upon craggy rocks, scanning the water for their breakfast—we learned the art of working with the waves to maneuver through the narrow gaps between stacks and arches and make up the rocky coastline. Directions: Bike or take Bus 21.
Set sail. For those who prefer a little less manual labor in their ocean explorations, Avila Beach Boat Charter offers a Seaweed Express shoreline tour, which departs from nearby Port San Luis.  The small size of the speedboat allows access to many of the hidden caves and coves along the coastline. Directions: Take the Avila Beach Trolley.
Apples and grapes. There are several wineries located in nearby Avila Beach and Avila Canyon. Taste and tour one a bike ride along the Bob Jones Trail.
Kelsey Vineyard (1947 See Canyon Road) is nestled in the woods of See Canyon, and easily reachable by bike.  The Kelsey family has owned the winery and tasting room since 1999, sourcing many of their grapes from their vineyard 30 miles north in the small town of Creston. With names like "Red Delicious" and "Golden Delicious," the wines celebrate the fertile area, and the aptly named "Hot Tub" wines even use fermented juice from local apples to create a clean, crisp red or white, the perfect complement to a barbecue dinner followed by a lazy backyard soak.
After a tasting at Kelsey ($5), cruise over to Creekside Farm Orchard (1691 See Canyon Road) to sample some of the apples that make up the wines, and sip on some fresh cider.  used to make these delicious wines at  You can taste a variety of apples, as well as the local cider.
Those who prefer not to ride can still get their fill at the cluster of wineries located in Avila Beach, all accessible by the Avila Beach Trolley, which runs throughout the spring an summer.  For general information about wineries in the area, visit the Avila Wine Trail website.
Where to eat
Breakfast of champions. The adorable Mon Ami (230 Pomeroy Ave.) cafe whips up its delicious crepes right in the dining room.  We opted for a savory (with bacon, eggs and mushrooms) and a sweet (with a symphony of fresh berries).
Sea(food) and sun. Marisol (2757 Shell Beach Road) is an ideal spot for no-fuss lunch and dinner, offering a wide selection of simple meat and seafood dishes like Thai Chicken Lettuce Wraps and Sushi Fried Rice.  There's an outside patio with ocean views, or you can even eat your supper by the poolside.
Windows on the water. With its spectacular coastal views and delicious "coastal fusion" cuisine, Ventana Grill (2575 Price St.) is a great venue for fine dining.  The restaurant is situated on a bluff and juts out over the cliff edge, and its spectacular ocean and sunset views pair perfectly with fresh catches and Mexican spice.
Where to stay
Rooms with views. Although they are a bit removed from the center of town, the oceanfront hotels along Shell Beach Road are tough to beat. Cliffs Resort (2757 Shell Beach Road, from $195 per night) is large and well-landscaped grounds, with a good-sized swimming pool and hot tub as well as gym and spa. The rooms are spacious and modern, and many offer ocean views. Apparently there is also a secret beach (so secret, in fact, that we weren't able to find it!). The resort also offers a complimentary shuttle service from the Amtrak station in San Luis Obispo. Bikes are available for $8 per hour (it's about a 20-minute cycle into the city center), and Bus 21 stops at the nearby Spyglass Inn, and runs into town.
Pier pressure. Set one block from the Pismo Beach Pier, the Pismo Beach Hotel (230 Pomeroy Ave., from $99) is a casual spot offering easy access to the beach and all town activity. This beautifully restored historic hotel was the setting of the Clark Gable film Strange Cargo, filmed here i 1937. Perks include continental breakfast, gas-burning stoves, and a lovely Spanish-style courtyard. The hotel offers an array of rooms, ocean-view suites, and apartment suites with full kitchens.
Getting there
Take Amtrak's Coast Starlight from Jack London Square to San Luis Obispo, and then take Bus 10 to Pismo Beach Premium Outlet Centre (20 minutes, $2), and Bus 24 back into town.
Getting around
It's easy to explore the area without a car.
By bus. A variety of buses run throughout the area, and between March and October, the free Avila Beach Trolley shuttles passengers from the center of Pismo Beach to Avila Beach, stopping at the oceanfront hotels on Shell Beach Road along the way. Visit San Luis Obispo Regional Transit Authority for schedules and information.
By bike. Wheel Fun Rentals (100 Stimson Ave) offers bike rentals ($8 per hour, $25 a day), as well as surreys ($20 per hour), choppers ($10 per hour) and fun cycles ($10 per hour). There are four locations: at the Sandcastle Inn, next to the parking lot by the pier (guided tours available), at SeaCrest Oceanfront Hotel (bikes only), and at Cliffs Resort (bikes only).
Photos: Pismo Beach Conference & Visitors Bureau, Kelsey Quetsch, Central Coast Pictures

[mappress mapid="132″]