The offMetro Guide to Our Favorite National Parks Without a Car
Here at offMetro, we are always looking for car-free ways to explore beautiful and interesting destinations. Some of our favorite places to visit are National Parks, from Acadia to Yosemite and beyond.
Interestingly, the majority of people traveling to National Parks do so by personal vehicle. While increased interest in National Parks has led to more people exploring the outdoors, the beauty and safety of the parks are challenged by the added vehicles. Idling cars from traffic congestion decrease air quality and causes needless carbon dioxide emissions. At Arches National Park in May 2015, state troopers were forced to intermittently close a section of roadway leading to the park's entrance when vehicle capacity was reached within the park and traffic began to back up on the highway. Parking is an additional problem. The Grand Canyon has over 6,000 vehicles competing for 2,400 spots daily during the high season. With parking so limited, illegal parking along the shoulder has led to resource damage.
To get a handle on how the National Parks is dealing with these issues, we spoke with Krista Sherwood, National Park's Transportation Planner. She is currently on a team that created a park planning guide for "active transportation and recreation efforts with National Parks." This guide, which was published in 2018, highlights people-powered parks initiatives and defines best practices for working with partners that offer alternatives to car usage, such as bike sharing programs. "We've got to change the culture and mindset, both within the park services and externally, away from cars being the primary mode of transportation," said Sherwood. "There are other multi-modal options that we need to be providing for."
Currently, the National Park Service often does a good job showing visitors how to travel within the parks without a car. What's missing is advice on getting to the parks by alternative modes of transportation—be it a $2.75 subway ride or a boat trip to a park accessible only by water. offMetro has created the first guide to National Park lands that you can reach without the use of a personal vehicle. This list of our favorite places you can get to without a car will inspire you to reconnect with the great outdoors and discover how feasible it is to travel from urban centers to some of our nation's most rugged and remote places—no car required.
Take note that many of the National Park Service shuttles have limited seasonal schedules and the costs only cover transportation.
Northeast
Maine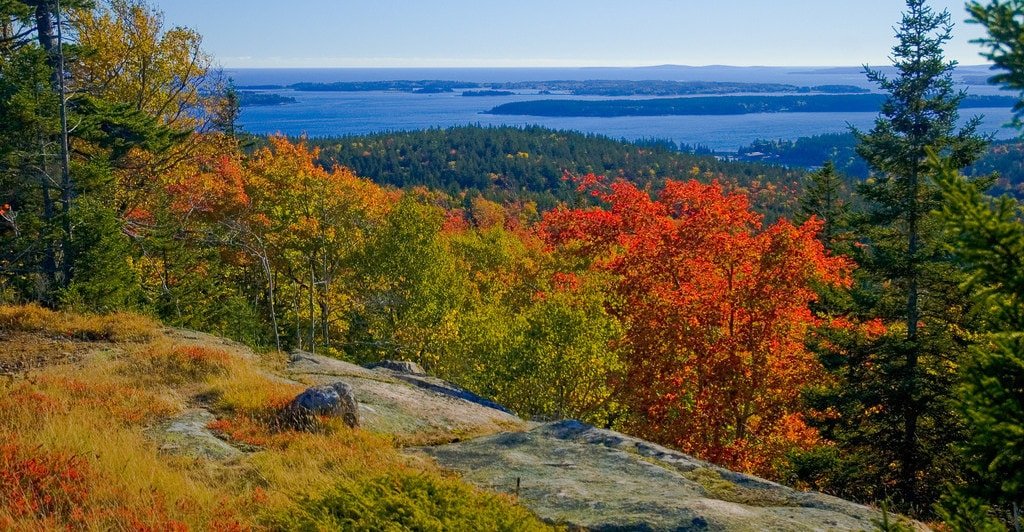 Acadia National Park
Acadia National Park is an outdoor enthusiast's paradise. Travelers flock here for its dramatic landscapes, diverse flora and fauna and miles of carriage roads that are catnip for hikers and bikers. Car-free proponents will appreciate the Island Explorer shuttles that whisk you to the parks remote nooks and crannies.
How to get there: From Boston's South Station take Concord Coach Lines to Bangor. From Bangor, the Downeast Commuter Bus will take you to Bar Harbor.
Cost: $106 round trip includes bus & commuter shuttle.
Adventure: Climbing, hiking, stargazing, swimming.
Tip: The Downeast Trans doesn't run daily so if your plans require it you can book the Bar Harbor Shuttle to connect you from Bangor.
Maryland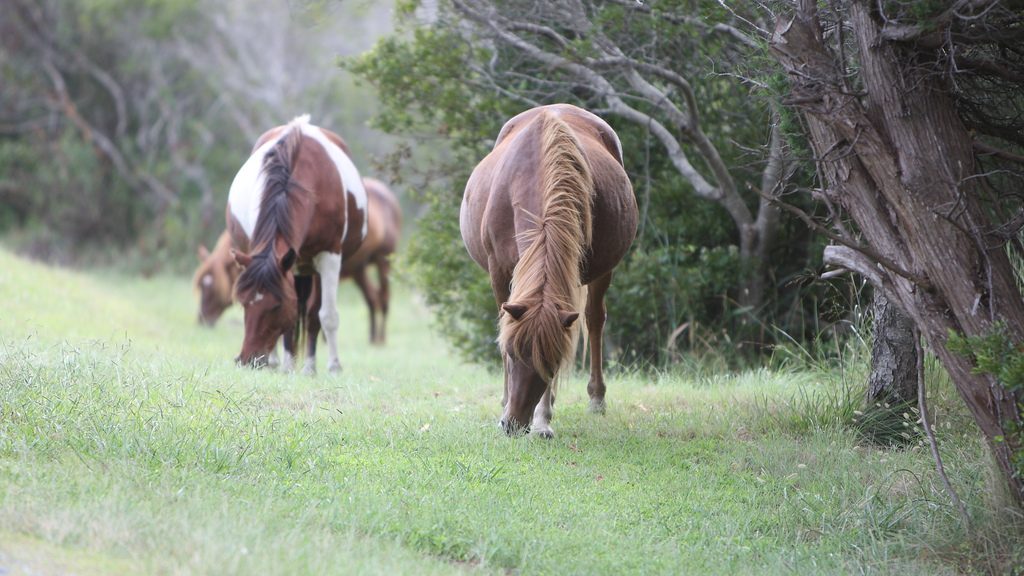 Assateague National Seashore
Assateague is famous for its wild horses, which freely roam the area's beaches. Visitors can enjoy horseback rides, hunting trips, bike excursions and boat tours. Camping is permitted on the island's impressive 37 miles of beach.
How to get there: Take the Greyhound from Baltimore to Ocean City. From Ocean City, rent bikes from Dandy Don and bike the eight-mile trip to Assateague. Alternatively, take the Assateague Adventure.
Cost: $44 round trip by bus, bike rentals vary.
Adventure: Biking, camping, horseback riding, canoeing/kayaking, fishing, swimming.
The Chesapeake and Ohio Canal National Historical Park
Explore both history and nature as they merge to create The Chesapeake and Ohio Canal National Historical Park, most notable for its contiguous, car-free, 184-mile trail. Meander through the trail along the southern edge of Maryland to reach Cumberland Virginia or continue for another 150 miles along the The Great Allegheny Passage all the way to Pittsburgh.
How to get there: Starting in Washington D.C., you can hike & bike along the canal's towpath (where mules used to walk, pulling the boats) all the way to Cumberland Maryland. Alternatively, take the Amtrak Capitol Train to the Cumberland or Harpers Ferry trailheads.
Cost: Free (human-powered transportation), $56 round trip to Cumberland by train.
Adventure: Hiking, biking, camping, history, horseback riding.
Tip: The Chesapeake and Ohio Canal National Park has a mobile app that uses geolocation to connect visitors with nearby points of interest.
Massachusetts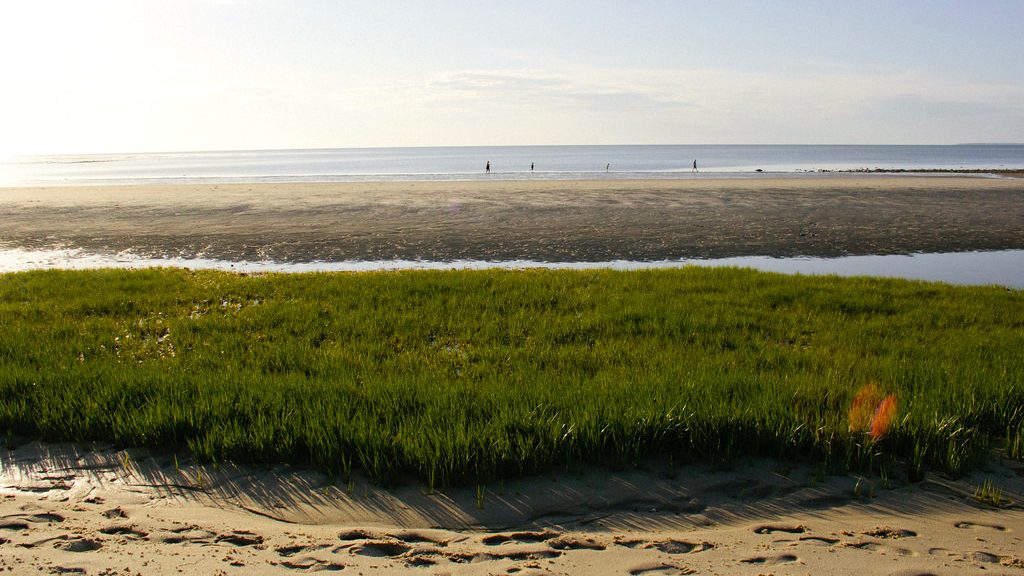 Cape Cod National Seashore
Cape Cod National Seashore is known for its picturesque colonial homes and Old-World American charm. Take a long walk on the beach and admire the views, or participate in water sports, including surfing, kayaking, and fishing. There are bike trails accessible for beginner riders.
How to get there: From Boston, take the Plymouth and Brockton bus to Hyannis. Once in Hyannis, hop on the Cape Cod Transit bus or rent a bike from the Bike Zone.
Cost: $51 round trip.
Adventure: Biking, camping, fishing, swimming, boating Want to check out the bike trails before you go? NPS has both flyover videos and virtual tours online.
New York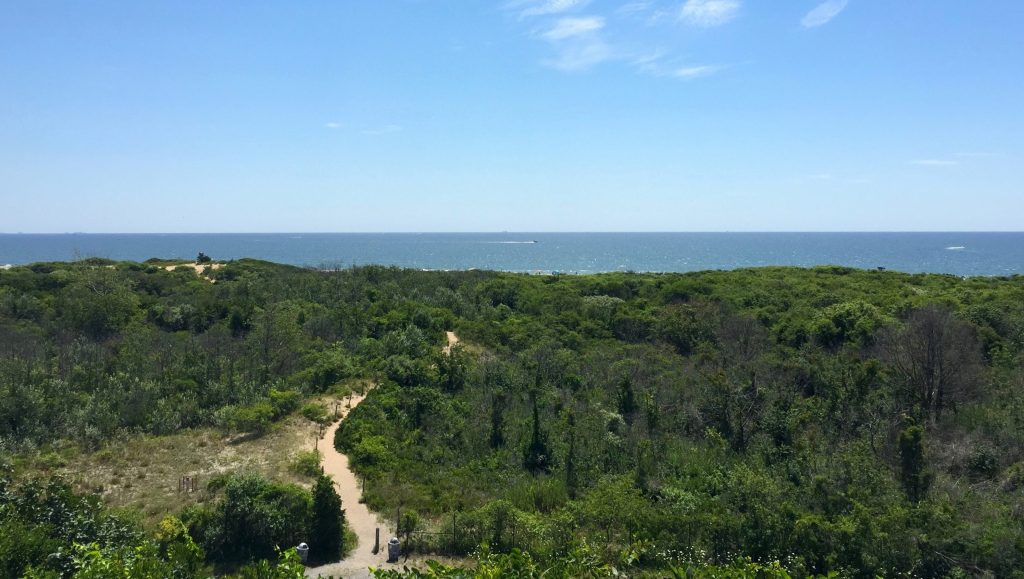 Gateway National Recreation Area
The only park on this list accessible by NYC Subway, the Gateway National Recreation Area's outposts comprise 27,000 acres and can be found in four out of the five boroughs, including Fort Tilden and the Jamaica Bay Wildlife Refuge in Queens, Floyd Bennett Field in Brooklyn and Staten Island's Great Kills Park. Encompassing naval history, a wildlife refuge with over 300 bird species, and the only public campsites in NYC, this is one of the most unique urban parks in the country.
How to get there: Gateway is accessible by numerous bike lanes and the NYC Metropolitan Transportation Authority bus & subway service.
Cost: $5.50 round trip on the MTA.
Adventure: Camping, surfing, paddling, hiking, biking, birding.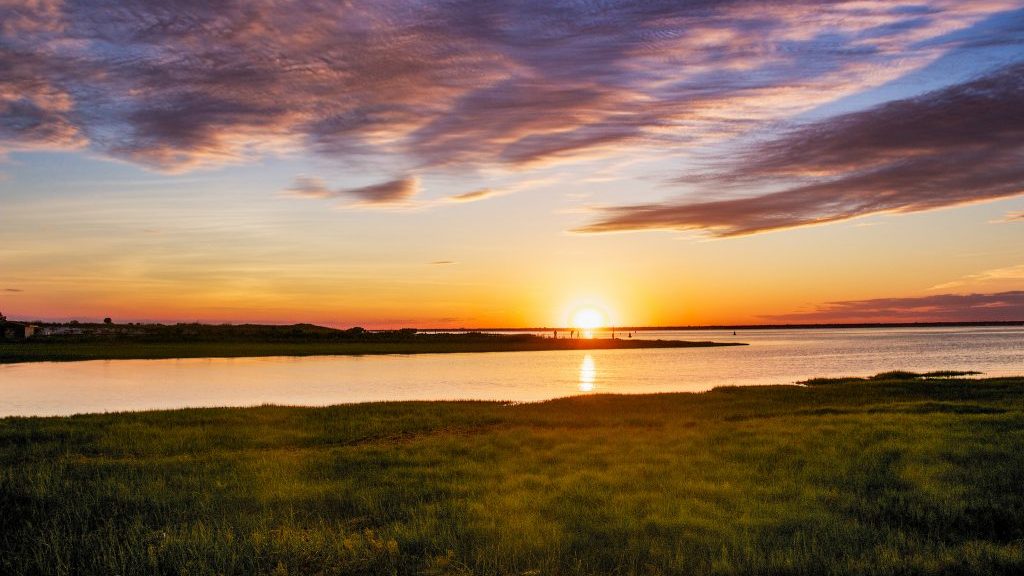 New York Fire Island National Seashore
This 31-mile long barrier island stretching along the southern coast of Long Island doesn't allow motor vehicle access. From secret surf breaks to hiking among 300-year old American Holly trees at Sunken Forest to paved paths for leisurely biking, it offers a truly car-free respite.
How to get there: From NYC, take the Long Island Railroad to Bay Shore. Walk directly to the Fire Island Ferry that goes to Ocean Beach. Once you arrive on Fire Island you can walk or bike everywhere.
Cost: $45 round trip.
Adventure: Surfing, biking, hiking, paddling, camping There are no walk-up or strictly backcountry campground options at Fire Island so make sure to make a reservation in advance.
Midwest
Indiana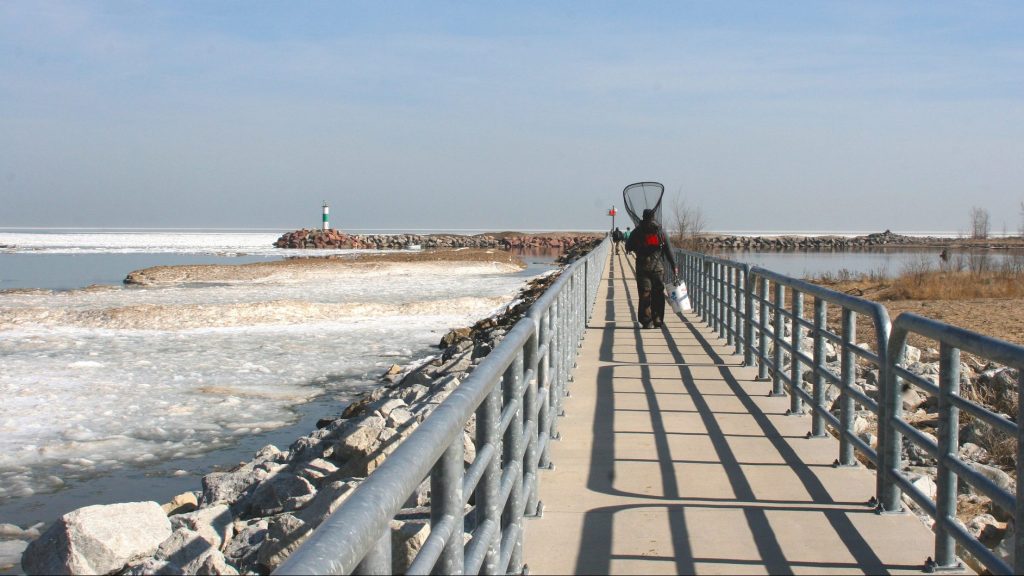 Indiana Dunes National Lakeshore
Indiana Dunes' spectacular sand dunes are its main attraction, best explored by foot through one of the lakeshore's hiking trails. Nature lovers will enjoy a great diversity of plant life, 15 miles of coastline and a freshwater lake for fishing, swimming, kayaking and sailing. It also offers skiing and snowshoeing trails and ice fishing in the wintertime. All of this is just a quick day trip from Chicago.
How to get there: From Chicago, take the South Shore line to Dune Park. Once in the park, take the free Dune Buggy.
Cost: $13 round trip.
Adventure: Beach-going, boating, fishing, biking, hiking, camping, horseback riding, cross-country skiing and snowshoeing (must rent from outside the park).
Ohio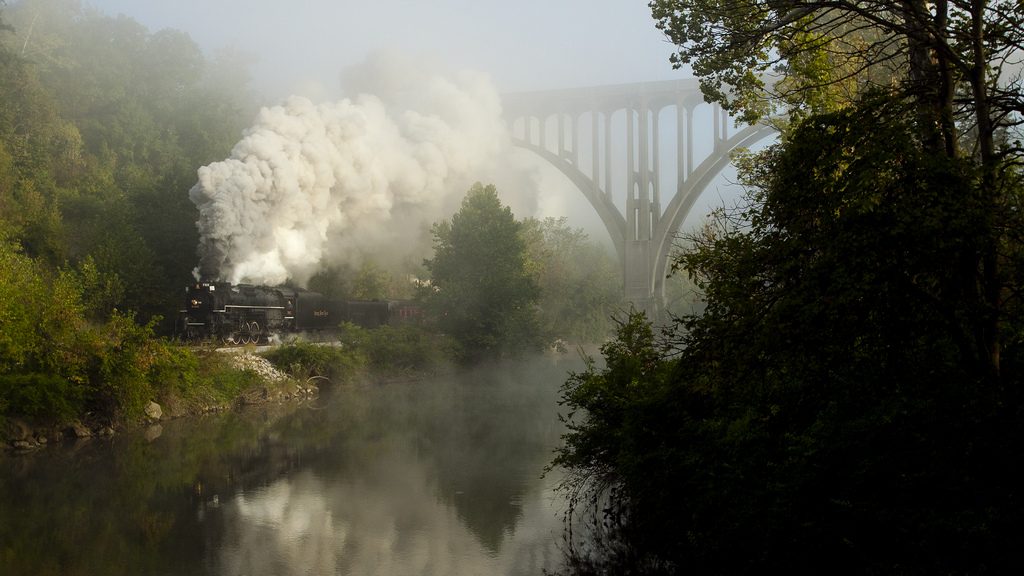 Cuyahoga Valley National Park
Cuyahoga Valley National Park hosts unique "questing" and EarthCaching programs for locations such as Brandywine Falls and Ice Box Cave that allow participants to uncover secrets of the park. Visitors have the unique opportunity to golf at one of four courses within the heart of the park. There's a plethora of additional park activities at Cuyahoga, such as bird watching, horseback riding and kayaking.
How to get there: Take the 77F bus from downtown Cleveland to Brecksville. Once there, take a short taxi ride to the front of the park. Alternatively, take the Baron's Bus to Akron and the CVSR train to the center of the park.
Cost: $36 round trip from Cleveland.
Adventure: EarthCaching (geocaching for natural wonders), camping, canoeing, kayaking, hiking, biking, horseback riding.
South
Arkansas

Hot Springs National Park
Hot Springs National Park offers visitors a dip in thermal pools, averaging 143 degrees Fahrenheit, that some believe hold curative powers. Spring water can be found at many drinking stations throughout the park. Those seeking a bit more of a challenge can explore the park's 26 miles of trails and set up camp alongside the river at Gulpha Gorge campground.
How to get there: From Houston, take the Amtrak Texas Eagle route to Little Rock, then transfer to a Greyhound bus bound for Hot Springs.
Cost: $280.
Adventure: Hiking, climbing, camping, hot springs.
Florida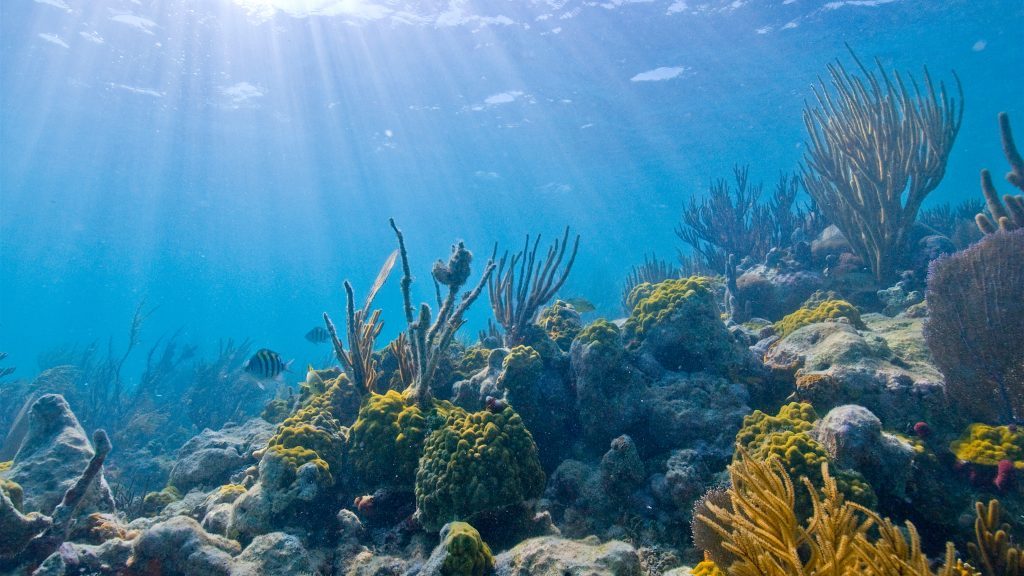 Biscayne National Park
Crisp blue waters and mangrove forests along the shoreline will transport you to another world. Dive in to explore the coral reefs up close and discover shipwrecks along the ocean floor by following the Maritime Heritage Trail. Biscayne National Park is mainly accessible by boat, including the two main campgrounds, which are free from September to May. Expect to see many colorful fish, dolphins, turtles and pelicans as you navigate this tropical paradise.
How to get there: Take the Metrorail orange line from Miami International to Dadeland South. From Dadeland South, take the 38 Max line to the Historic Homestead stop and walk (6 min) to 104 N. Krome Avenue to catch the Homestead National Parks Trolley to Biscayne.
Cost: $4.50 round trip.
Adventure: Diving, snorkeling, fishing, paddling, camping

Dry Tortugas National Park
99% of Dry Tortugas National Park is made up of water, so it's the perfect destination for those looking to snorkel, paddle and swim in its crystal clear waters and coral reefs. Seven small islands scattered throughout the park make up its 1% of landmass. It's where you'll find historic Fort Jefferson as well as one of the most beautiful camping sites in America.
How to get there: From Miami take a Greyhound or the local bus on the scenic 150 mile journey to Key West. From Key West there's one official ferry to the park. Alternatively you can Stand Up Paddleboard from NYC.
Cost: $224 round trip.
Adventure: Snorkeling, paddling, fishing, camping.

Everglades National Park
Across its 1.5 million acres, Everglades National Park showcases a spectacular variety of wildlife in its natural habitat, from panthers to pythons. Florida's famous alligators and crocodiles are found just off the path alongside native plants and jewel-green bayous. Visitors can explore the park via bus, bike, foot, or boat: much of the richness of the wetlands is only accessible by waterway.
How to get there: Take the Metrorail orange line from Miami International to Dadeland South. From Dadeland South, take the 38 Max line to the Historic Homestead stop and walk (6 min) to 104 N. Krome Avenue to catch the Homestead National Parks Trolley.
Cost: $5 round trip.
Adventure: Paddling, fishing, hiking, camping, and slough slogging
West
Arizona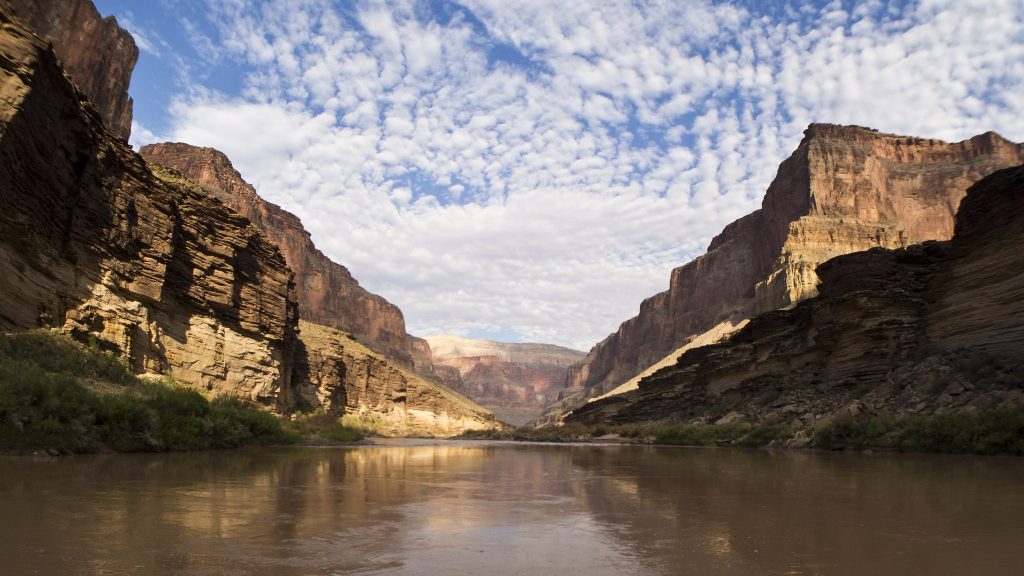 Grand Canyon National Park
Divided into North and South Rim, Grand Canyon has an extensive network of hiking trails suitable to all skill levels. Day, night, backcountry, guided, and winter hikes are available. The park can be toured by foot, bike or bus.
How to get there: Starting in Phoenix, take the Groome Shuttle to Flagstaff, where you'll be able to take the connector straight to the Grand Canyon.
Cost: $90 round trip Phoenix-Flagstaff, $64 Flagstaff-Grand Canyon
Adventure: Hiking, camping, bicycling, art exhibitions.
Alaska
Denali National Park
Denali contains only one road, traversed by buses, and is perhaps the wildest National Park there is. The only park with a sled dog team, Denali is a haven for bird watchers and wildlife photographers and provides a variety of challenging and rewarding mountain hikes. Most visitors come in the summer, but it is possible for experienced outdoor enthusiasts to visit in the winter to hike, snowshoe and camp in the deep snowpack.
How to get there: From Anchorage, take Alaska Railroad's Denali Star, only available in the summer, to the Visitors Center in the park. Once there, you can find additional shuttle options including the Camper Shuttle that transports you to trailheads and campgrounds.
Cost: The train is $319 round trip to the park. The Camper Shuttle is an extra $43.50.
Adventure: Wildlife watching, hiking, camping, flightseeing, biking.
California

Joshua Tree National Park
Spiky twisted trees and piles of bizarrely sculpted rocks cover the inspiring desertscapes of Joshua Tree. Adventurers come to climb, hike and camp. Stay overnight for the renowned stargazing, as the dark skies and limited light pollution offer views of epic celestial landscapes.
How to get there: Start by heading from Los Angeles to Palm Springs via Amtrak's rail and bus thruway combo. From downtown Palm Springs, the local Morongo Basin Transit Authority Bus 12 will bring you straight to Joshua Tree.
Cost: $44 round trip (Amtrak) and $15 round trip MBTA
Adventure: Climbing, bouldering, hiking, camping.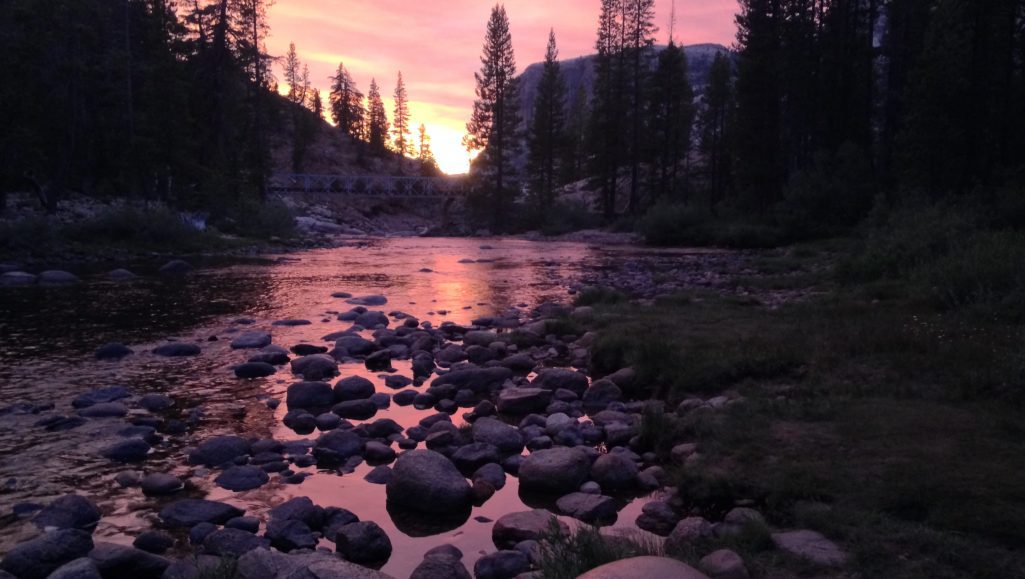 Yosemite National Park
Many consider Yosemite to be the crown jewel of the National Parks system with its
towering granite, waterfalls and vast visas that inspired notables from John Muir to Ansel Adams. A paradise for everyone from big wall rock climbers to backpackers in search of remote trails, Yosemite is a must for any nature enthusiast.
How to get there: Hop on the Amtrak San Joaquin or Greyhound to get to Merced, California where you'll transfer to the YARTS – Yosemite Area Regional Transit – which has numerous routes to different parts of the park, is bike friendly and fares often include free park entry.
Cost: $77 round trip from San Francisco on Amtrak.
Adventure: Rock climbing, hiking, backpacking.
Montana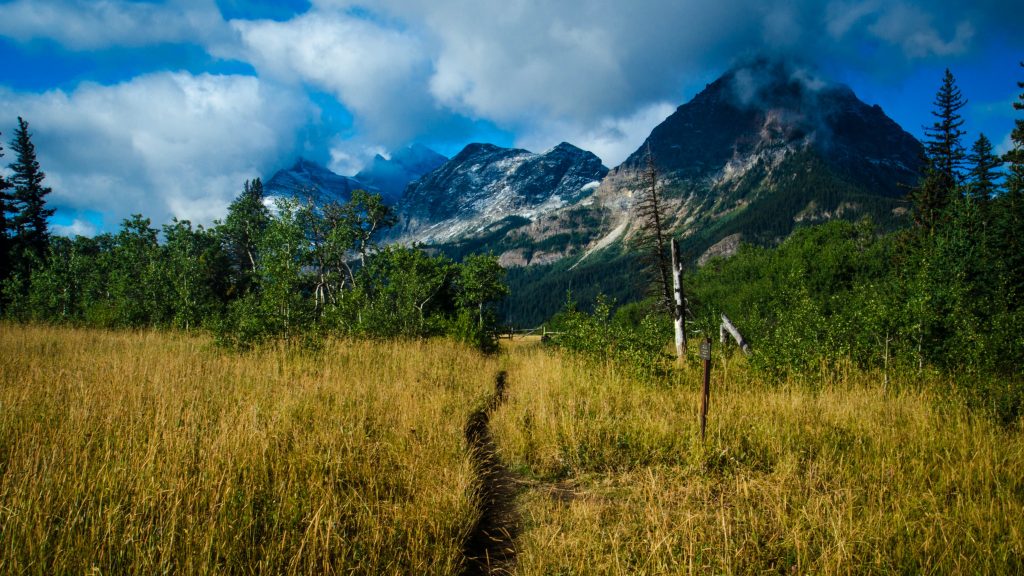 Glacier National Park
Known for its iconic alpine lakes, glacier carved peaks and ancient cedar-hemlocks, Glacier National Park offers a wide variety of adventure options for those who trek to the Northern border of the U.S. Whether you're biking over Glacier's peaks and valleys, paddling to your backcountry campsite or hiking part of its 700-mile trail network, Glacier offers Alps-esque views and unmatched high altitude beauty.
How to get there: From Chicago (Minneapolis, Seattle or Portland) take the Amtrak Empire Builder to the West Glacier station. Here you'll find the Apgar Visitors Center and hiking trails headed into the park. Over the summer a free shuttle connects other parts of the park by road.
Cost: $362 round trip from Chicago.
Adventure: hiking, paddling, biking, backpacking, fishing.
Oregon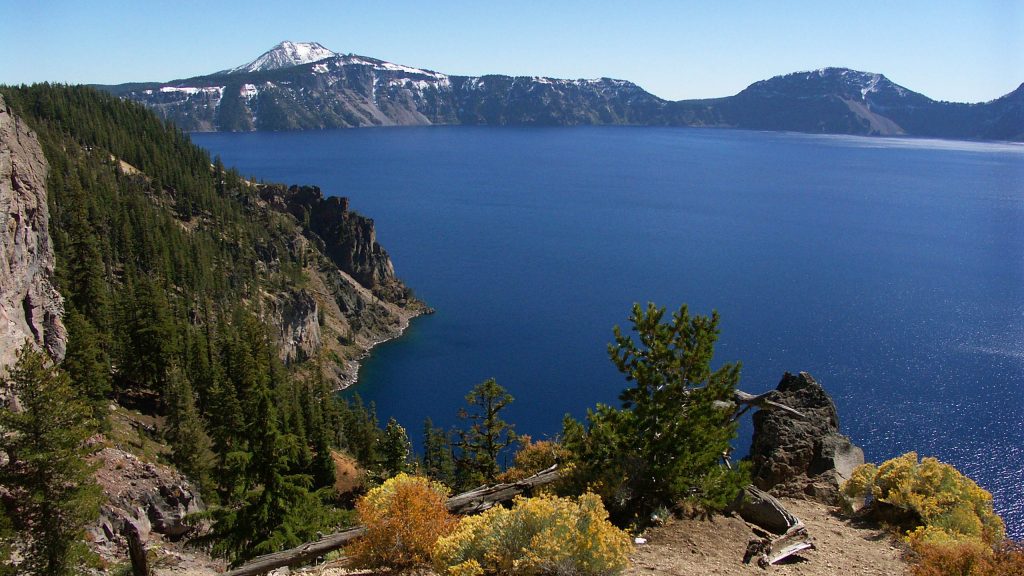 Crater Lake National Park
With a maximum depth of almost 2,000 feet, Crater Lake is the deepest and one of the purest lakes in the country. Visitors may peer down from the rim of a volcano into the dark blue waters of Crater Lake or even take a dip. For those willing to brave cooler temperatures, this park is an incredible sight to see when covered by a blanket of snow.
How to get there: Take the Amtrak Coast Starlight from PDX to Klamath Falls Oregon (there's also a Greyhound to Klamath but it takes about 5 hours longer). from Klamath, jump on the Crater Lake Trolley for a historically infused journey straight to the park.
Cost: $96 round trip.
Adventure: Hiking, swimming, backpacking.
More info: The trolley has seasonal service.
Utah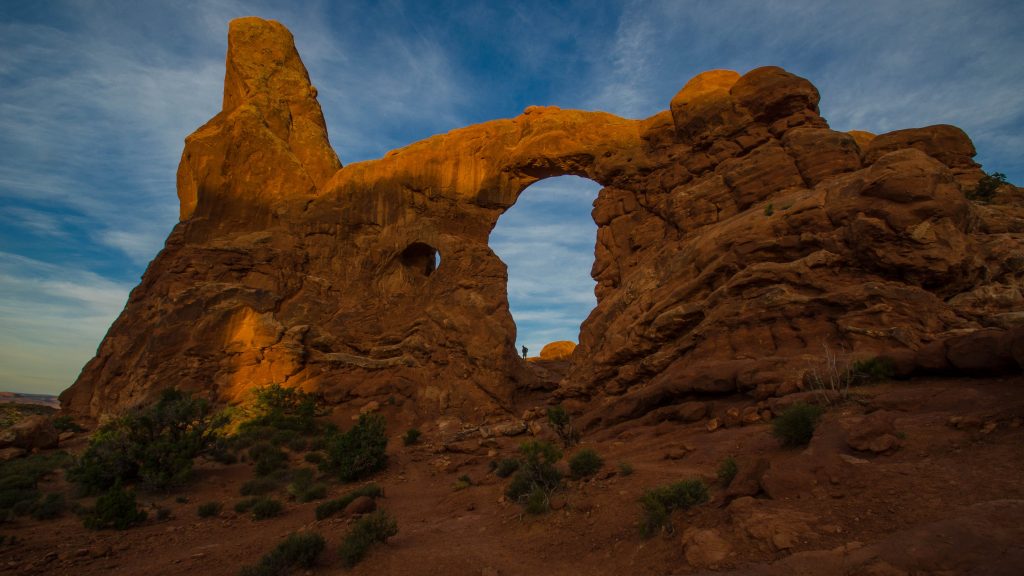 Arches National Park
From natural sandstone bridges that glow golden-red under the sun to rock formations unlike any other and one of the darkest night skies, Arches is understandably one of the most popular parks in the country. Many of the magnificent arches and stone features are fairly accessible to car-free travelers—especially for those on two wheels—so you don't need to venture too far into backcountry for incredible sights.
How to get there: Take a Road Runner Shuttle from Salt Lake City to Moab's Lions Transit Hub. From there, it's a three mile walk or bike ride to the Arches Visitors Center on the new, car-free Moab Canyon Trail built specifically to alleviate traffic and car usage within the park.
Cost: $100 round trip bus from Salt Lake. There is no extra charge for bringing a bike.
Adventure: climbing, slacklining, hiking, biking.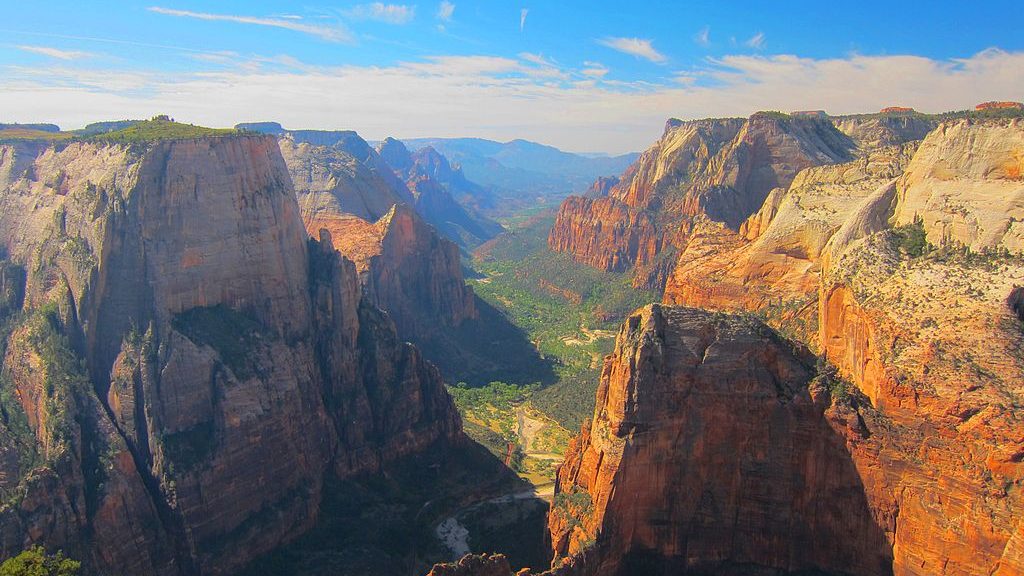 Zion National Park
Rocky red cliffs, sandstone canyons and desert panoramas define the dramatic landscape of Zion National Park. Most well known are the Zion Narrows, the narrowest part of the canyon that is hikable in the summer months.
How to get there: The St. George Shuttle includes routes from both Las Vegas and Salt Lake to Springdale, Utah. In Springdale, free city shuttles run the remaining few miles into the park, where your feet or park shuttles are your best transportation options.
Cost: $205.80 round trip from Las Vegas, $242.80 round trip from Salt Lake City.
Adventure: Canyoneering, hiking, backpacking, climbing, base jumping.
Washington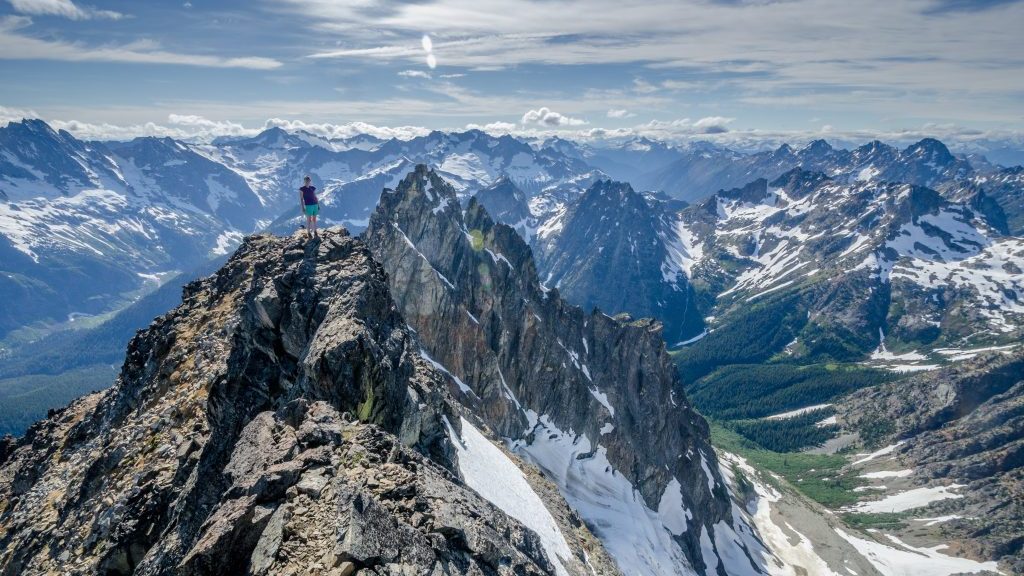 North Cascades National Park
From snow-capped mountaintops to muddy spring trails, the fern and moss covered forests of the North Cascades are shaped by the park's impressive annual precipitation. You'll be able to hike, mountaineer, bike and camp in rugged terrain surrounded by old growth forests and myriad plant species.
How to get there: Sit tight because getting to the North Cascades from Seattle is the hardest transit challenge on the list. But like they say, the journey is the reward, eh? Starting in Seattle, take the Greyhound or the Amtrak Empire Train to Wenatachee (Washington). From there, the local "Link Transit" Bus 21 will deliver you to Lake Chelan, which sits at the Southern end of the Lake Chelan National Recreation Area. You'll have a one-minute walk to the Lake Chelan Boat Dock. Take the Lady of the Lake Ferry north to Stehiken Landing. Here you'll find the Golden West Visitors Center and Ranger Station along with the Valley Shuttle, which will take you from Stehiken Valley to High Bridge. At High Bridge, you will officially have entered the National Park and be able to pick up the Pacific Crest National Scenic Trail.
Cost: $123 round trip including the ferry, shuttle, and bus.
Adventure: Hiking, backpacking, climbing, mountaineering, paddling.
Tip: The Link bus does not run on Sundays.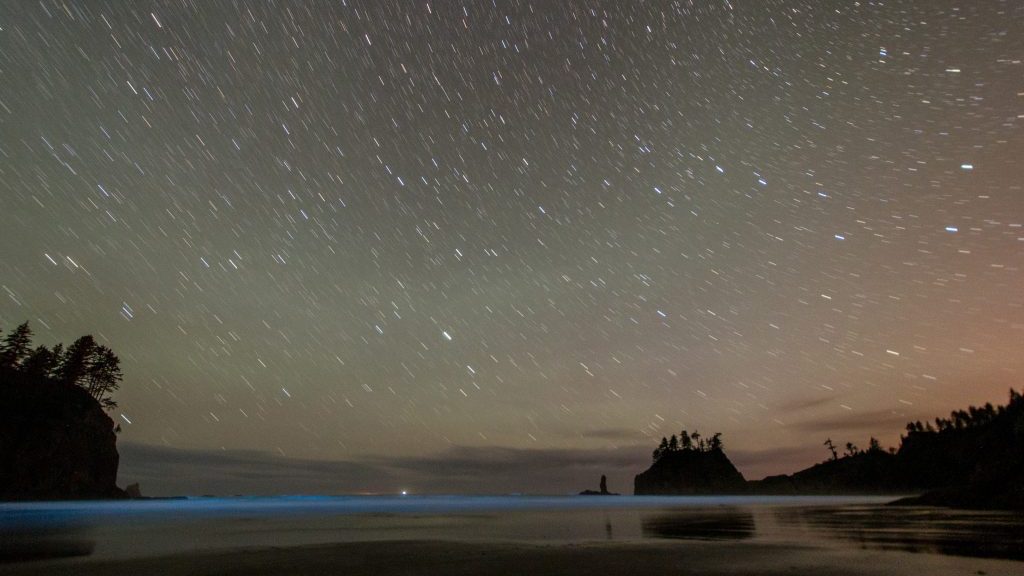 Photo credit: Ryan Kuhar
Olympic National Park
Olympic National Park's diverse landscapes is mind boggling. You've got everything from beaches to rainforest to hot springs, glaciers and snow-covered peaks. Protected as a UNESCO World Heritage Site, Olympic National Park is home to many endangered species, the world's largest spruce trees, and a fascinating array of ecosystems.
How to get there: From Seattle, take the Olympic Bus to the Port Angeles Transit Center (Note: the bus also stops at the Seattle Amtrak if you're coming from further away). Once at the Transit Center there are multiple local transit options depending on where you want to go in the park and have been mapped out by the Olympic Transit Guide.
Cost: $70-80 round trip.
Adventure: Hiking, fishing, backpacking, climbing, mountaineering, paddling.
Wyoming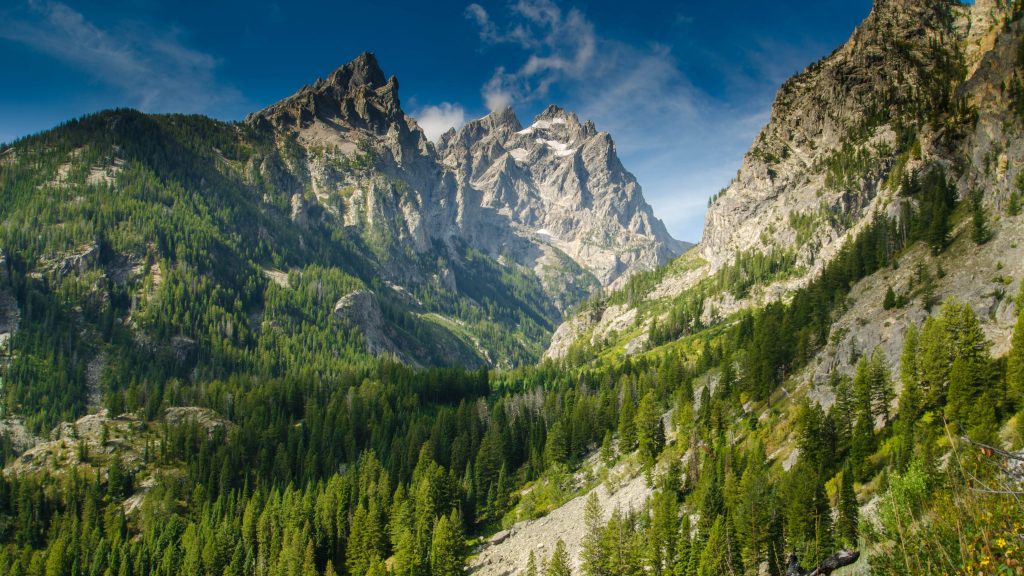 Grand Teton National Park
Grand Teton's famous peaks, including 13,766-foot-tall Grand Teton, provide plenty of uphill challenges for beginners and experts alike. Mountaineers do not need climbing permits within the park, but those undertaking overnight trips must have a backcountry camping permit. From traditional climbing to skiing to fishing on the picturesque Jenny Lake, Grand Teton has it all.
How to get there: Starting in Salt Lake City, Salt Lake Express or the Mountain Express offer daily shuttles straight to downtown Jackson. From Jackson, take the Park Shuttle directly to the Colter Bay Visitor Center in Grand Teton, there you can get boating and backpacking permits as well as ranger information.
Cost: $192 round trip.
Adventure: Skiing/snowboarding (seasonal), climbing/mountaineering, hiking, boating, biking, horseback riding, camping.
Have more to add? Send us a note at contact@offmetro.com with the park and transportation beta.
Contributors: Josh Laskin, Sarah Knapp, Allison Tibaldi, Charlotte Leszinske, Ryan Kuhar