Looking for the most beautiful boating destinations in Florida? You've reached the right place.
Florida is known for its vast coastline stretching over 1,500 miles (approximately 2,400 kilometers) and over 3,000 inland waterways. It provides freshwater and saltwater recreational activities like sailing, canoeing, kayaking, and more. No wonder the 'Sunshine State' is hailed as the boating capital of the world.
Aside from its vast coastline and waterways, Florida has perfect weather conditions for boating and other water activities. The Sunshine State doesn't get too hot or too cold, so there's no reason why you shouldn't be on the water.
Florida is also known for its fantastic fishing spots. There are many bays and rivers where different fish species thrive. But the question is, where should you start your journey?
If you don't know where to begin, you're on the right page! In this post, you'll explore some of the most breathtaking boating destinations Florida offers.
But before proceeding, ensure your boat is up and running in good condition. Call professional services to replace damaged boat parts or visit local Seakeeper dealers for a high-quality, computer-controlled gyroscope, for example.
1. The Florida Keys
The Florida Keys consist of approximately 1,700 islands, from Key West to Sands Key – and is definitely one of the most beautiful boating destinations in Florida. These islands make up a huge part of the southernmost region of continental America.
The Florida Keys have been one of the best spots for anglers and boaters for several years, thanks to their clear waters and tropical weather conditions. Aside from its incredible boating experiences and opportunities, you can enjoy other thrilling activities like paddle boarding, kayaking, and snorkeling.
When you reach the Keys, remember to be conscious of the environment to ensure they stay gorgeous for many years to come.
Watch this video by Life by the Bow to get a glimpse of a boat trip in the Keys:
2. Miami
Miami is one of Florida's most popular tourist spots and a top destination for sailors, boaters, and fishing enthusiasts. And it's easy to see why because of Miami's tropical climate, stunning beaches, mouthwatering restaurants, groovy nightlife, etc.
Miami is known for its pristine white-sand beaches, crystal-clear waters, and tropical palms. It also offers plenty, including exceptional food hubs, sporting events, and clubs. It makes Florida a must-visit destination for adventure seekers.
3. Fort Lauderdale
Also known as the 'Venice of America,' Fort Lauderdale is a must-see destination when it comes to boating. With its coastline stretching over 300 miles (approximately 480 kilometers), it's not hard to see why it's the dream destination of every boater.
Aside from its Italian nickname, Fort Lauderdale is also hailed as the world's yacht capital. Such a moniker is no longer surprising, as the region has approximately 50,000 yachts. And if you want to visit the largest boat show in America, Fort Lauderdale should be on your list of boating destinations.
Watch this video by FAD1010 to get a glimpse of the route:
4. Charlotte Harbor
Among the top destinations in Florida, Charlotte Harbor is the one that's often overlooked despite its Florida Keys feel. This smaller version of the Keys is packed with small islands and unspoiled beaches, making it a dream destination for boaters and anglers alike.
Charlotte Harbor is known for its offshore and inshore fishing and is often the location of many fishing shows. You can explore iconic fishing spots like North Captiva Island, Cayo Costa, Cabbage Key, Boca Grande, Useppa Island, and Sanibel Island here. So, be sure to visit Charlotte Harbor on your next boating trip.
5. Palm Beach
Palm Beach is one of Florida's most breathtaking destinations on the east coast. It has everything a boater could dream of, from gorgeous inshore and offshore fishing to bluish waters. Not to mention, it's close to the northern Bahamas and the Gulf Stream.
In addition, Palm Beach offers plenty of sandbars to explore, sunbathe, and sightsee. You can visit the Palm Beach Inlet for a safe and secure passage.
6. Tampa Bay
Tampa Bay is one of the best places to boat, with plenty of opportunities for boaters and sailors. You can fish offshore, explore the bay, or cruise in downtown Tampa or downtown St. Pete.
You can also visit picturesque islands and relax for the rest of the day. Spots like Passage Key, Egmont Key, Beer Can Island, or Caladesi Island offer plenty of opportunities, sandbars, and shorelines to drop your anchor.
On top of that, don't miss the region's active and energetic culture. You can be whatever you want and join others as you explore Tampa during the famous Gasparilla Weekend event.
Watch this video by Thunder Marine to learn more about boating destinations in Tampa Bay:
7. St. John's River
The St. John's River is a 310-mile river stretching from Indian River County to the Atlantic Ocean in northern Jacksonville. It offers plenty of watercraft activities, such as inshore and offshore fishing and boating activities for sporting events.
Visit the southern point of the river to explore the rural settlements and see the majestic lakes and coves, perfect for various water sports and freshwater fishing. Also, don't forget to check out St. John's freshwater springs, such as Juniper Springs, Salt Springs, and Silver Glen Run. These are accessible by boat, so there's no reason for you to miss any of them.
8. Crystal River
Crystal River deserves to be on this list, although it may seem nothing special at first glance. But what makes it so enticing to boaters is its family-friendly environment and wide range of options.
In Crystal River, you can fish offshore or inshore or switch gears and visit the area's freshwater springs, which are great for swimming and snorkeling, and relaxing after scalloping.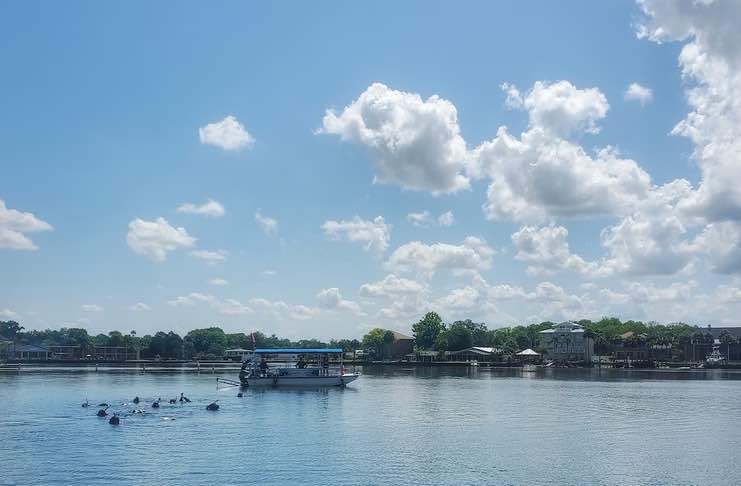 9. St. Augustine
Do you love everything about history? If you do, St. Augustine might be a good boating spot!
Founded in 1565, St. Augustine is America's first seaport and the oldest city in all of America. It has the feel of a European city, with its remarkable historic landmarks and Spanish architecture. If in doubt, check out the oldest masonry fort and Spanish fortress in America, the Castillo de San Marcos.
Watch this video of a boat tour in St. Augustine:
Final Words
Florida is home to some of the best boating destinations in the world. With white-sand beaches, abundant marine life, and crystal-clear waters, it's no surprise why many boating enthusiasts flock to the southern tip of the continental United States.
If you're ready to visit the Sunshine State, create a plan and check your engines before you launch to ensure a one-of-a-kind boating experience you'll never forget.
Want to read more of our latest posts? Check out our short guide to the Historic Croton Aqueduct Trail.