Las Vegas is one of those places that you either love or hate. If you love it, you have probably planned a few trips to enjoy the glitz, lights, and shopping. If you enjoy road trips, Las Vegas is a fantastic destination. We even covered the best things to do in Las Vegas this year. It is a base to strike up when you wish to check out Western U.S. Here are some wonderful Las Vegas road trips to consider trying this year.
1.
Valley of the Fire State Park
This might not be your typical road trip, but it works. It is a wonderful destination if you want a road trip destination close to the city and enjoy camping. Valley of Fire State Park is a gorgeous sight.
It sits on 40,000 acres of beautiful red Aztec sandstone. It features gorgeous petroglyphs and petrified trees that date back over 2,000 years. There is a Visitor Center with exhibits on the ecology, geology, and history of the park and general area.
Valley of Fire State Park had garnered exceptional popularity on social media. You can take some iconic photos for the gram. There are lots of hiking trails connecting geologic areas within the park.
Watch this video to get a glimpse of a road trip in this wonderous place:
In regard to logistics for your road trip, Valley of Fire State Park is easy to access. Two campgrounds sit within the park, and you can reserve them on a first-come, first-served basis.
They are a fantastic destination if you wish to watch the sunrise and sunset in the park. The park is lovely for stargazing as well. Last time we came here, we drove with our own car, and you can do the same – no matter where you are in the country. How come? Since the park is close to the city, the regular price for delivering a vehicle isn't too high. This way, you don't really need to get a car rental for the road trip.
2.
Zion & Bryce Canyon National Parks
One of the best things about Las Vegas is its many national parks. You can visit several within a few hours' drive. Zion National Park is only a few hours northwest of Las Vegas. Consider visiting it as part of a two-national park trip. Bryce Canyon National Park is a fantastic destination as well.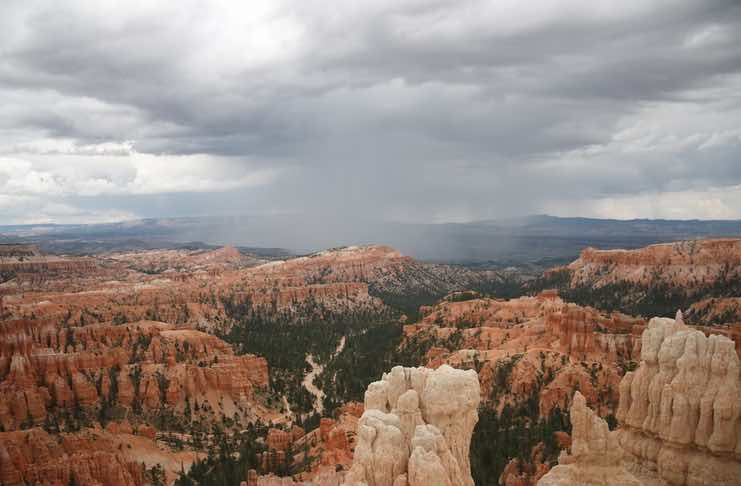 Zion National Park is a haven for bikers and hikers. It is picturesque and colorful, setting you up for a truly unforgettable experience. Hiking is one of Zion's most popular sports. Consider checking out local galleries and museums. You will likely stumble into wonderful masterpieces at LeFave Gallery and Worthington Gallery.
Despite its name, Bryce Canyon National Park isn't a canyon. It is a collection of huge natural amphitheaters. It has hoodoos, and distinctive features that form from the stream erosion of sedimentary rocks and frost weathering. The park has gorgeous white, red, and orange rocks that look great in pictures.
A Las Vegas to Bryce Canyon National park drive is about four hours. Therefore, the two parks are approximately two hours apart. Both parks are fantastic for hikes, and they have gorgeous rock formations. They are both close to reliable accommodations.
Watch this video to see how this road trip will look like:
3.
The Extraterrestrial Highway
The Extraterrestrial (ET) Highway is a dream! If you plan on taking a Las Vegas road trip, it should definitely be on your to-do list. This highway connects Warm Springs to Crystal Springs. However, they aren't towns per se, so starting in Las Vegas is a good idea.
Starting in Las Vegas, drive to Rachel, which is midway on the highway. You can then complete the highway westbound and go south for an overnight drive at Tonopah before heading back to the city.
There are some interesting alien sites to explore on the way. The sign to the Black Mailbox is pretty iconic as well. It is where you can leave notes for Area 51.
You can spot a few unusual yet exciting sights on your return trip. The International Car Forest of the Last Church is an incredible sight. It is the project of Mark Rippie and Chad Sorg, two artists from Nevada. It looks more like a druidic statue than an actual chapel.
Watch this awesome video to get a glimpse:
Today, more than 40 automobiles, including cars, vans, and trucks, delicately balance on their ends. Others are stacked over each other and look like giant toys. The cars have unique designs and paintings. They include politicians' caricatures and skulls.
The Open Air Museum is fascinating as well. It is artistic and seems otherworldly. Check it out if you have time to spare.
4.
Ely & Great Basin National Park
Who doesn't like the Great Basin National Park? Since it's small, you can visit all the main attractions in just two days. Since it's remote, you won't have to deal with large crowds.
You can check out both the Great Basin and Ely. It is an excellent overnight stop. You can ask about the Nevada Northern Railway schedule if you stay longer. They might have some night train rides you might like.
The Ward Charcoal Ovens south of the city and Cathedral Gorge State Park are great sites as well. This is a three to four-day road trip, depending on your interests.
Watch this video to see how this road trip could look like:
5.
Clark County Loop
Consider this option if you want an unconventional Las Vegas road trip. Many people find no interest in the triangle in the south of Nevada. However, it might be more impressive than you imagine. It is a lot less crowded than most popular destinations in the state.
The Clark County Loop is 90 minutes from Laughlin. It can be the base for your adventure-filled day. Hiking and UTVing in the desert should be at the top of your list. You can then loop to Arizona on a short drive to Boulder City.
Watch this video for more ideas:
Consider taking a glass-bottom kayaking excursion and riding Rail Bikes at night. The drive back to Vegas is short. This road trip is fantastic if you want to see parts of the state you don't hear much about.
In conclusion, you have endless options for Las Vegas-based road trips. You have options whether you wish to explore areas close to the city or remote locations. Las Vegas has everything you need for a beautiful road trip-picturesque destinations, hiking, and relaxation opportunities.