Packing is one of the most difficult aspects of preparing for a backpacking trip. In the past we covered the essential travel gear you should always have inside your backpack. However, it's more challenging to determine what to wear when traveling and to avoid overpacking!
Of course, the temperatures you'll experience on your hiking journey will dictate what you bring. Yet, there is essential clothing that every traveler should include in their backpack.
Hence, to lessen the stress of your vacation preparation, we've compiled the best list of what to wear when backpacking. The following backpacking outfit ideas will be useful no matter where you go or how long you stay.
Backpacking Clothing For Women
You'll need a variety of backpacking attire since you'll most likely be undertaking various activities. Having the correct backpacking necessities is critical before embarking on your adventure!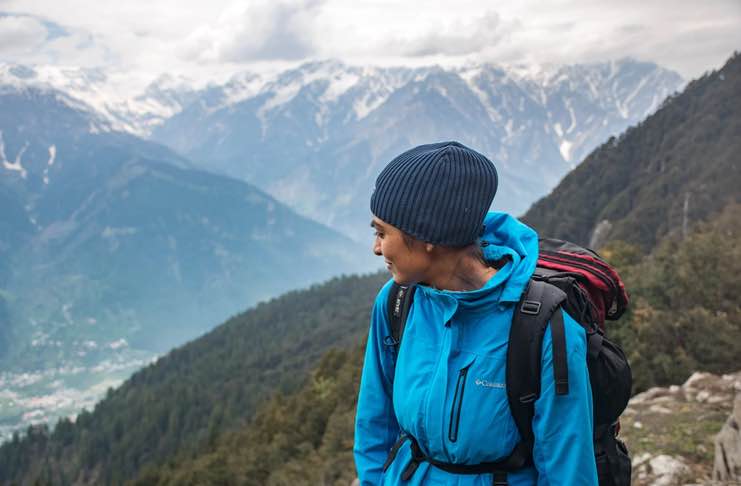 Travel Clothes
You'll spend a lot of time moving from one area to another, whether you're backpacking in Europe, Africa, Asia, or Australia. Most backpackers travel by bus or rail to save money, which usually implies lengthy travels.
As a result, comfort is crucial while spending hours on the road, so bring your coziest clothing for those long journeys.
Leggings – go for fleece-lined leggings. As the weather lowers, these thermal leggings will keep you warm. If you become too hot, the fabric is also breathable and moisture-wicking.
A loose-fitting top – Choose a soft material, such as cotton, that will be soft on your skin. There are several alternatives available here.
Jumper or soft sweater – Pick a sweater that is smooth and comfortable to the touch. A fleece style is an option if you live in a colder climate. The warm, soft, cozy fleece feels like you're cuddling with a fluffy kitten!
Watch this video to get some more ideas:
Hiking Gear
Most backpacking excursions include trekking and time spent in nature. As a result, pack clothing that will keep you cool and dry while protecting you from the sun and bugs, and while hiking in the rain.
Quick-dry stretchy pants – Although yoga pants might be useful for hiking, use cargo hiking pants.
A sun-protective lightweight pullover – Even if you're hiking in the summer, bringing a light pullover is a good idea. But make sure it has UPF sun protection.
City/Town Look
If you're going on a medium to long-term backpacking trip, pack an outfit for the days you won't be in nature. City outfits are important backpacking attire, whether seeing historical sites, browsing art galleries, or having a leisurely lunch in a café.
Summer dress – take advantage of these laid-back days by changing out of my sportswear and yoga pants. Pack a lightweight summer outfit for your town activities if you're camping in a hot location.
Two-piece tracksuit – You'll want to layer up extra if traveling in a colder region. Jeans may be your first idea, but try to avoid taking denim for hiking since they are heavy and thick.
Nightgowns
Several things will determine the nightwear to bring for hiking. For example, you may want warmer sleeping gear if you go camping. If you're staying in a hostel dorm, you won't need to wrap up as much.
Shoes
Shoes are essential to any backpacking trip since you will be on your feet often!
Sturdy hiking boots – Whether hiking, trekking, or hitchhiking, you'll need a good pair of hiking boots that can withstand repeated usage.
Long-lasting flip flops – Flip flops are handy in various settings, including camping, hostel, and the beach.
Men's Backpacking Outfits
Check out these amazing backpacking clothes for guys if you're stuck trying to figure out what you need for hiking as a man!
Travel Clothes
Long-distance travel on public transportation, such as trains and coaches, may be unpleasant, particularly if it is packed and has little legroom.
Your clothing influences your comfort level when traveling, so pack an outfit that feels soft and comfy.
These are some things to watch for:
Soft and comfy tracksuit bottoms – A classic pair of cotton sweatpants are perfect for extended travel excursions.
A hoodie – A jersey pullover hoodie is necessary if you become chilly.
A loose-fitting t-shirt – If the train or bus becomes stuffy, you'll need a breathable tee to keep you cool.
Watch this to get some more ideas:
Hiking Gear
Packing clothing for hiking, climbing, or sports you'll be doing on your vacation is critical. Although soft cotton is ideal for traveling, avoiding it for outdoor activities is better since it retains moisture and dries slowly. Look for backpacking garments that keep you cool and dry while shielding you from the sun and other elements.
Hiking trousers with UPF protection – Look for hiking pants with UPF protection and cuffed ankles. These two characteristics will protect you from the sun and all the bugs on the trail.
Breathable sports tee – Since they are breathable and moisture-wicking, most sports-specific tees are great for hiking.
City/Town Look
If your backpacking journey will take you to towns or cities, bring a few casual clothes to wear while not in the bush.
T-shirt and shorts – A two-piece t-shirt and shorts combination will be both comfortable and fashionable for an urban summer outing. It's lightweight and breathable, making it ideal for trips to the beach, riverbank strolls, or exploring a new city.
Sweater with cargo pants – In colder areas, slim-fit cargo pants are preferable to jeans since they are less bulky.
Nightwear
If you're sleeping at a hostel, you can usually get away with wearing a soft shirt and cotton joggers to bed. Nevertheless, if you're camping in chilly weather, you must think about your sleepwear more carefully.
Long johns and a thermal shirt – While it may not seem the most attractive, a high-quality pair of thermal base layers can keep you warm and comfy if you're camping in cold weather.
Footwear
It is essential to protect your feet on the road; one method to do so is to wear appropriate footwear
Solid hiking boots will protect your feet far more than trainers during trekking and outdoor activities and will last much longer.
Sturdy flip flops – Flops are available at every beach vendor if you're traveling through tropical countries. However, they are often of poor quality and not only last a short time but may also harm your foot. As a result, before your vacation, invest in a high-quality pair. They are more likely to endure the journey and are much more cost-effective.