Traveling singers have a history across the world. Known as troubadours, they first started to appear and become popular as far back as the 11th century. These singers traveled across their own country, and others, to make a living. Unlike traveling minstrels who sang other people's work, a troubadour composed their own music, lyrics, and poetry.
Today, the tradition of singing and traveling still exists, but there are more options for finding work. And instead of hoping your troubadour skills have been heard of in far-off countries, you can look for work on the internet.
As the pandemic stops affecting travel, it could be time to take your singing skills on the road. How do you find singing jobs while traveling when you have no experience?
How do you find singing jobs while traveling?
To make a living from singing should at least become a vocalist of a certain caliber. You don't necessarily need to write and perform your work, but you will have to be able to hold a note and sing in tune. Being able to cover different styles and genres could be useful. Many singing jobs will require the artist to cover existing popular songs.
You may then wish to invest in some vocal coaching before you start your travels. For instance, a search online for lessons in singing rock songs leads to Singing Success and other vocal coaches. But, it might be that you just want to iron out some weaker points in your singing voice.
Once you are prepared to hit the road, you can alert venues that you will be arriving in their city. You can record your music and put it online, and send off messages and links to live music venues. You could also apply for singing jobs online so you have work lined up.
Options for singing while traveling
Instead of wandering from one ale house to another as some troubadours did in the past, you have the internet and can research potential opportunities for your itinerary.
Traveling can be a great experience, and there are beautiful road trips to go on in every part of the US. You could travel across the whole country, visit Canada, or go further afield by air.
Whatever your travel plans are, you'll need an understanding of where you might be able to get singing jobs. Below are just some options that could be viable.
Cruise ship singer

Session singing

Busking

Local live music venues

Bars, pubs, hotels, and restaurants

Contact local musicians
You can contact venues, booking agents, and other musicians before you travel. A local band may need a backing singer and let you perform with them temporarily. You can contact the best live music venues in NY or any other city you are passing through, and send them links to your recordings too.
If you want a more secure position, then cruise ships hire entertainers. You will get regular experience, and benefit from a salary.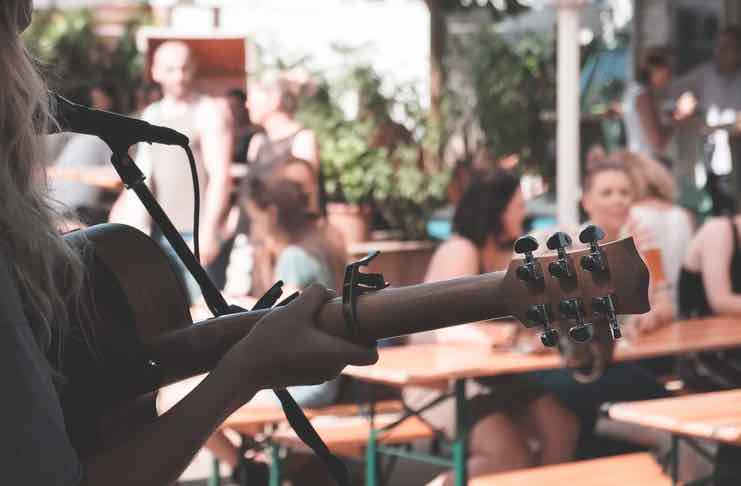 What are the problems for traveling singers?
The biggest problem is finding work. Traveling singers aren't in as much demand as they may have been in the Middle Ages. However, this isn't to say there aren't opportunities. It's just best if you are fully prepared before you travel.
Some problems you can run into are local laws. For instance, Napa, California, has a busking program designed to bring quality street entertainment to designated areas. To join this, you will need a busking program permit.
If you try to perform in certain places in the US, or overseas you could be fined. Early in January this year, 2 Russians were arrested in Thailand for busking as this is seen as a form of begging in that country.
General problems facing traveling singers include:
Finding work

Not earning enough money to travel

Work visa and permit requirements

Vocal problems
One concern is finding enough work, another is overusing your voice. If you get a regular gig, you might not be getting enough rest and your vocal cords can become damaged. You may even lose your voice temporarily and be unable to work.
If you wish to travel and sing independently then you will have to make enough money to cover accommodation, food, water, laundry, and transport, at a minimum.
How much could you expect to earn as a traveling singer?
How well you will be rewarded for your efforts will depend on what country you are in, and what your singing job involves.
If you are lucky enough to be asked to be a session singer for some recordings you will be able to make $100 per hour with a minimum callout time of 3 hours. However, traveling singers normally have more modest options.
Obtaining work as a cruise ship singer can bring stability and a good salary. The upside is that a cruise ship singer can make $45,425 per year in the US according to GlassDoor. You can bring in an extra $12,180 through bonuses, tips, and commissions.
If you intend to try your luck in venues including hospitality then you can see wildly different pay scales. You may get lucky and be offered a set price, other places may give you a percentage of the door too. But, in many tourist towns, you may only be offered food, some drinks, and perhaps accommodation. For young traveling musicians this can be enough, but for others, it won't be sustainable.
Summary
You are highly unlikely to become rich by traveling and singing, but you might get noticed and build something of a reputation. With preparation including vocal training, and recording your singing for uploading, you will help to market yourself.
You will gain huge experience from busking, singing to small audiences, or helping out with backing vocals for local bands. And you should have plenty of fun along the way.