Searching for the most beautiful Sand Dunes in the United States? You've reached the right place. The United States is known for having a wide range of landscapes and terrains that might keep explorers busy for a lifetime. You might have visited lakes and rivers, but have you ever seen the huge rolling sand dunes gently rising and falling?
In the United States, some huge sand dunes are surprisingly different. You can hike, sandboard, watch wildlife, and do other things there. Keep reading to know some of the best sand dunes in the US to visit.
1. Eureka Sand Dunes
It's located at California's Death Valley National Park. Dogs are not allowed here. Eureka Sand Dunes is a Free National Park campground. Here you can see the Eureka Sand Dunes rising a remarkable 600 feet above its valley floor and are surrounded by the even higher Last Chance Mountains, giving the area a stunning Martian-like appearance.
Despite being the driest and hottest location in North America, Eureka Dunes support an unexpectedly large variety of plant life, including some rare species unique to our planet. Those who are prepared to make the 40-mile journey down a dirt road to the dunes can be rewarded with remote camping, hiking, and stargazing opportunities.
Watch this video to get some tips on how to visit Eureka Sand Dunes:
2. Kelso Sand Dunes
It is located at California's Mojave National Preserve. The Kelso Sand Dunes (see the featured image above!) are a convenient getaway for people in Southern California because they are located halfway between Las Vegas and Los Angeles. But since these dunes are so enormous—they span 45 square miles—you'll likely have a sizable portion of the area to explore.
At sunset, hiking to the pinnacle of the dunes can be a great idea as the barren desert landscape bursts with colors you have never seen. Canines are allowed with a leash. It's a free dispersed camping area.
3. Great Sand Dune National Park and Preserve
It is found in Southern Colorado. It is a free primitive camping area in a national park that is reachable by 4×4 high occupancy vehicles. You can bring dogs here on a leash, maintaining area restrictions. The scenery of Great Sand Dunes National Park seems incomparable.
Most visitors spend their time only on the dunes, so those who venture into the nearby ecosystems enjoy solitude and incredible opportunities for wildlife viewing. You might see bighorn sheep, black bears, bison, and mule deer when you are here.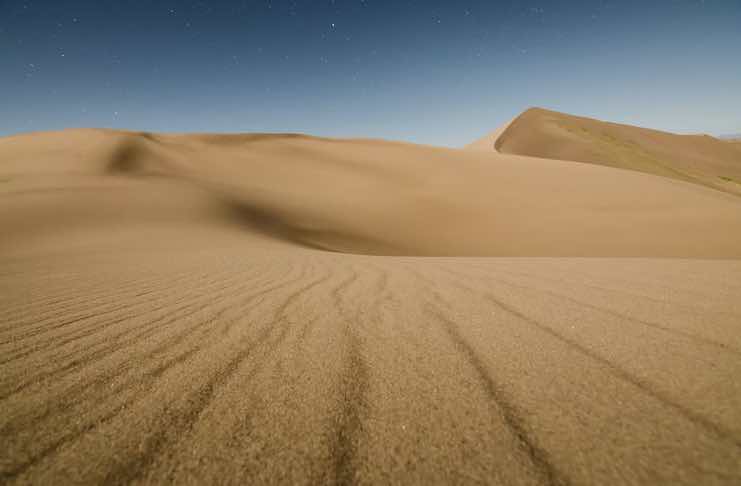 4. Coral Pink Sand Dunes State Park
These gorgeous dunes can be found in the canyon country of Southern Utah, just east of Kanab. They were created by red sandstone's erosion, giving them a stunning reddish-pink hue.
This fine sand playground is among the greatest parts to explore in Kanab and is especially well-liked by enthusiastic folks about ATVs or riding jeeps. I personally drove there once with a Jeep JK, the third generation of the popular Jeep Wrangler. If you are a jeep enthusiast, click on "What does JK stand for on a jeep" to know more and maybe ride one on the rugged road.
Visit the area in the latter part of winter or the early part of spring while the landscape is covered in snow, and the conditions are ideal for winter tubing. This will help you avoid most of the crowds.
Watch this to get a glimpse:
5. Bruneau Sand Dunes State Park
These southwest Colorado dunes are surrounded by diverse landscapes, including tundra, 13,000-foot peaks, wetlands, alpine lakes, and grasslands, in contrast to several other dunes that are found in the driest of desert areas.
An hour's drive from Boise, on the banks of the lovely Snake River, is the Bruneau Sand Dunes State Park. The actual dunes are relatively small compared to the other dunes on this list. However, they are still worth visiting, particularly in the fall when the dunes are encircled by vibrantly colored changing foliage.
Visit the visitor center, which allows you to rent a sandboard and see the local fossils from prehistoric times. Bring a fishing pole with you if you want to catch a few trout in the lake.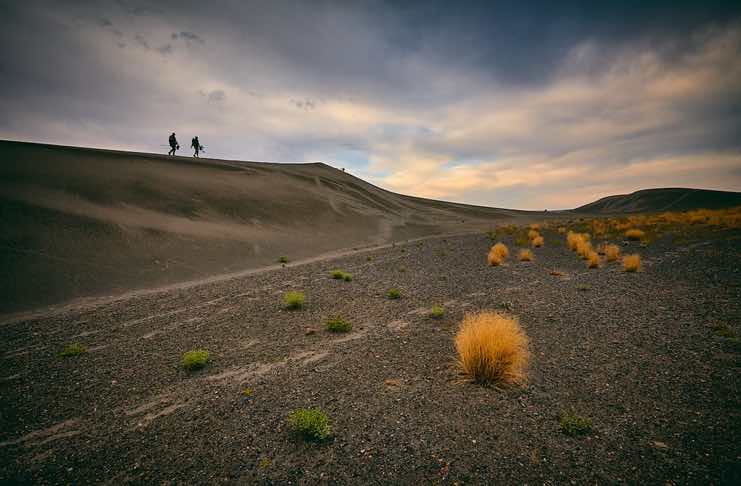 6. Oregon Dunes National Recreation Area
It is located on the Central Oregon Coast. These ocean-front dunes stretch for forty miles along the central Oregon coast and have plenty to offer visitors of all ages and interests. Dune buggy drivers get their rush from the terrain's steep inclines and seemingly never-ending hills.
Those who enjoy being near water can go for a swim in the ocean or arrange a picnic at one of the handfuls of lakes in the area. When exploring the dense coastal forests, hikers can avoid becoming disoriented. You could also choose to do nothing more than relax and take in the breathtaking scenery as the sun sinks below the horizon.
Watch this and you'll want to drive there asap:
7. Jockey's Ridge State Park
Located in Jockey's Ridge State Park are some of the highest sand dunes on the eastern coast of the United States. North Carolina's Outer Banks is home to various exciting outdoor activities, including those listed here. Before venturing out to discover the dunes, it is suggested that you first go to its visitor center to get more information about the ecology of the dunes.
You might also take hang-gliding tutorials from vendors on the shore, float in the water, and spend the day walking along the coastline. Or, you might also like to get out on the water in a stand-up paddleboard or kayak to enjoy your time.
Check out this clip of Jockey's Ridge State Park:
8. White Sands National Park
The location of White Sands National Park is in the southern part of New Mexico and is classified by 275 sq miles of sand dunes made up of white gypsum particles. The park is situated in the Tularosa Basin. It is a unique site and is considered among the best places in the United States to experience sand dunes.
In addition to walking through the dunes, tourists might also drive or ride their bikes along the spectacular Dune Drive, go sledding upon these white sand dunes, and visit the Visitor Center to learn about the fascinating history of this incredible location both in the present and in the past.
9. Indiana Dunes National Park
At the southernmost tip of Lake Michigan is where you'll find Indiana Dunes National Park, which encompasses a shoreline that's 15 miles long. The park features more than 50 miles of sturdy trail passing through wetlands and massive dunes, creating this a diverse and one-of-a-kind destination.
In addition to walking, visitors have access to more than 37 miles of intertwined bicycle trails, endless amounts of sandy beaches, excellent paddling and fishing opportunities, and a large number of guided tours to choose from if they are interested in learning a little about the sand dunes as well as the surrounding area.
If you time your trip just right, you can participate in the annual Festival of Indiana Dunes Outdoor Adventure. This festival, which takes place in September, features a wide variety of exciting activities that take place outdoors.
Watch this to get a glimpse of the dunes:
10. Mesquite Flat Sand Dunes
Death Valley National Park is located only two hours from the bright lights of Las Vegas. Mesquite Flat Sand Dunes is the most visited attraction in the park because of its convenient location. Like the Saline Valley Dunes in the park, only sandboarding can be done on these.
Unfortunately, you won't be able to hire sandboards and sand sleds when you are at the park, so make sure to bring your own. There is a $30 entrance fee per vehicle for seven consecutive days in Death Valley for you to enjoy these dunes.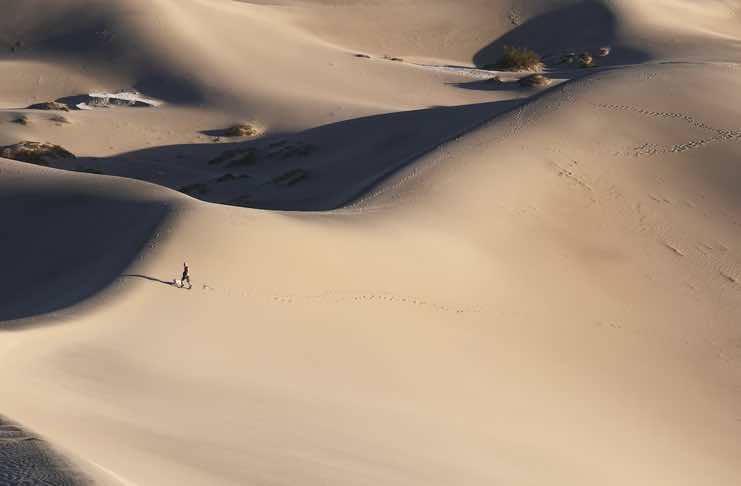 11. Sleeping Bear Dunes National Lakeshore
It is well-known for the enormous sand dunes that ascend nearly vertically from the coastline of Lake Michigan. Visitors can climb these dunes. This region is a dream come true for anyone who enjoys being outside because it has lush forests, towering bluffs, miles of sandy beaches, and clear lakes.
The Dune Climb, found to the north of Empire on M-109, is consistently ranked as one of the park's most well-liked things to do. Climbing to the peak of the lofty white sand dune will reward you with breathtaking views of the surrounding lake.
In addition, Sleeping Bear consists of two islands named South Manitou Island and North Manitou Island, both of which are surrounded by unspoiled nature and can be reached by either a ferry or a private boat.
12. Little Sahara State Park
Inspired by the name of the Sahara Desert, the sand dunes at Little Sahara State Park range from 25 to 75 feet. The park spans an impressive 1,600 acres. This park in Waynoka, Oklahoma, about two hours outside Oklahoma City, has everything you want or need.
You can bring your own dune buggy or ATV or rent one from a vendor near the dunes. Your participation in this enjoyable event will only cost you $10. The park is open around-the-clock, but the office will only be staffed daily between 8 am and 4 pm.
Watch this amazing clip:
Final Words
Now that you know the best sand dunes in the United States, pick your favorites and plan to visit the coming vacation. If you love to explore the different sides of the beauty of nature, visiting the sand dunes can make your trip memorable.