Planning a destination wedding can be overwhelming, but that shouldn't stop you from taking the plunge and doing it! If you're reading this blog post, I will assume that you are in the process of planning (or are thinking about planning) your wedding in Cabo San Lucas, a breathtaking resort city on the southern tip of Mexico's Baja California peninsula. We want to help you get started on this fantastic journey and provide our readers with some valuable information on how to plan an unforgettable destination wedding.
1. Hire a Destination Wedding Planner
A destination wedding planner's job is to help you organize your wedding in Cabo San Lucas. Hiring a professional is key to your wedding day going smoothly and having an enjoyable experience.
They will help with all the planning details, allow you to enjoy the time leading up to the big day, and take care of all the logistics during your special day.
The best people to contact are local planners who have experience in weddings and can provide a personal touch for what you are looking for. They also have contacts in the areas that can be of great help for rentals, musicians, florists, caterers, or any other needs you may have.
Contacting the local chamber of commerce can be helpful to get the names of planners to help you out. Here's a detailed guide on hiring a destination wedding planner.
2. Choose a Cabo San Lucas Location for Your Wedding Ceremony
Cabo San Lucas has a variety of beautiful places to get married. First and foremost, you want to choose a location that best suits your needs and personality.
Do you want an intimate ceremony on the beach? A spectacular wedding at sunset? Or maybe a traditional church wedding?
If you're interested in more than just the beach setting, there are other gorgeous locations, such as the Botanical Gardens or La Valle de Guadalupe. However, if it's just about the beach for you, there are endless beaches all over Cabo San Lucas where you can say your "I do's".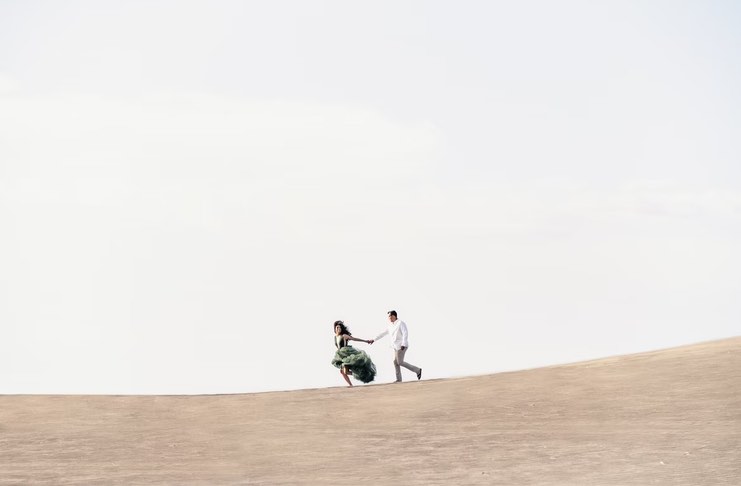 You can also choose to have your civil wedding ceremony on a yacht. This option is over and above the famous beach weddings, but people choose it because it's unique and private.
You'll have the luxury of inviting only the guests you want to share this special moment with, which is the opposite of traditional weddings. Couples love to get married on a yacht because it is not just beautiful, but you'll also be able to sail down into Cabo San Lucas Bay and out into the Pacific Ocean.
It would help if you discussed your options with your planner so they can make suggestions based on what they know will work best for you and your guests.
Getting married in Cabo will be an unforgettable experience for everyone involved.
3. Pick a Cabo San Lucas Location for Your Reception
Once you've decided on a location for your wedding ceremony, you can start thinking about the reception. Cabo San Lucas has a variety of options when it comes to venues.
Some restaurants offer private dining to accommodate your guests and make you feel as special as possible. Some hotels have exclusive use packages for small and large groups alike, so you can ensure that your group will be well taken care of.
There is one key element that is common among all the hotels: stunning views. Many properties in Cabo San Lucas boast beautiful ocean views from their patios and terraces, where there is often space available just for your group.
There is not a bad view in the city, and it's always fun to get excited over where to have the most romantic vista for your wedding reception!
Check out this video to get a glimpse of what a wedding in Cabo San Lucas looks like:
4. Calculate the Cost of Your Cabo San Lucas Wedding
The cost of a destination wedding will vary depending on each couple's specific needs and expectations. The best thing you can do is start thinking about what is most important to you and then reach out to your wedding planner for some suggestions.
Once you determine exactly what you need, talk about which parts of the planning process will be more expensive. Is it something that should be included in your venue package, or should it be an extra charge? Do you want to hire a professional photographer? Do you have any specific standards that must be met? Consider giving yourself some leeway at this point if necessary, but know that any additional costs will significantly impact the overall budget.
5. Arrange Your Transportation from the Airport to Your Hotel
If you're looking for more than just a quick, one-day trip to Cabo San Lucas, then we suggest you book somewhere that includes airport transportation. This way, you don't have to worry about getting to or from the airport and can concentrate on other important details of your wedding planning.
You'll be assigned a private driver who will be available throughout your stay in Cabo San Lucas for any needs you may have. Hotel limousine service works for those who urgently need transportation to their hotel or who prefer a luxurious experience. For those staying at a villa or other resort, you should contact the resort directly and ask about their availability of transportation services.
Planning a wedding in Cabo San Lucas doesn't have to be difficult if you know what to expect and have the help of the right professionals. The most important thing to do is take your time and enjoy every step of your planning process. This way, you'll be more relaxed during your big day and get exactly what you want out of it.