Planning to go backpacking in one of the US National Parks? Searching for useful tips? you've reached the right place. The US has an abundance of beautiful national parks to explore. There are more than 390 sites that need to be discovered. Whether you are on the south coast or somewhere on the north, there are more than enough outdoor sites with different and stunning features to be visited.
National parks are great for hiking and backpacking adventures due to the wonderful hiking trails, wildlife, kayaking opportunities, watching sunsets in mesmerizing landscapes, and beautiful campsites. These sites are perfect for relaxing and enjoying nature.
In this article, we'll focus on the essential items to pack when going on a backpacking trip.
Essential Gear for Backpacking in National Parks
National Parks are a perfect backpacking route that travels through high mountain peaks and low valleys. Along the route, you will see beautiful landscapes, cloudy skies, endemic wildlife roaming the parks, and scenic views.
The following gear is essential when backpacking the National Parks:
Sleeping Bag
The sleeping bag is the number 1 item to bring on a backpacking trip in any national park. The last thing you want is to lay down on the cold ground and freeze throughout the night. A quality sleeping bag comes with features like synthetic or down fill, pocket sizes, zippers or no zippers, etc.
Types of sleeping bags to consider:
Mummy bag – designed to keep backpackers warm in colder weather conditions;

Quilts – lighter, versatile, and comfortable bags;

Rectangular sleeping bag – practical, with one zip on the side;

Zipless – suitable for anyone who tends to move around a lot;
Once you've chosen the bag, it's time to consider the sleeping pad. This will provide you with an extra layer of warmth and coziness. These backpacking sleeping pads will insulate your body and protect it from the cold ground. Thermo pads are leading the charge for years when it comes to quality gear.
Just in case: You can pack an inflatable pillow!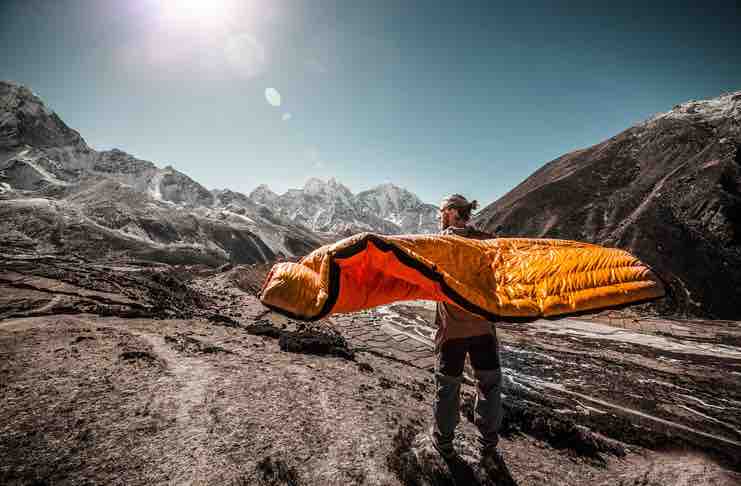 Hiking Boots
We can't emphasize this enough – a comfortable walk is more important than any other piece of gear! Backpackers slowly are moving from high-top and stiff boots to more comfortable, agile, and lighter hiking boots. Additionally, you can wear trail running shoes if you feel like running along the way. And pack a bandage for blisters or any uncomfortable rubbing spots.
Lightweight Backpack
Your backpack needs to be light enough so you can carry it almost effortlessly all the way around. Backpacking packs differ in features, models, sizes, layers, and fills. When purchasing a backpack, the decision will fall on the type of gear you have, the length of the trip, and the items you bring along.
Most backpackers go with a 60-70-liter range. You can find affordable, durable, comfortable, and breathable backpacks at reasonable prices if you do proper research.
Side note: Almost all backpack models offer these basic features! However, if you are considering additional specifications, make sure you are well-informed.
Navigation Devices
Navigation is crucial when going to a remote location where you can easily get lost! Devices like PLB, a compass, or a classic map are the right choice in this case. Additionally, smartphones have hiking apps that can help you navigate through the course of your trip.
Before you hit the road, make sure the connectivity of your device, the network, and the satellite coverage, can be checked at your IP company. It's important to be oriented and have an idea of where you are throughout the entire trip.
Check out this video for more tips on how to navigate while backpacking:
First Aid Kit
Regardless of the backpacking trip length, it's important to bring a first aid kit. At least, the basic items.
Your first aid kit needs to have gauze pads, medical tape, band-aids of different sizes, latex gloves, safety pins, antihistamines, antidiarrheal medicine, tweezers, and antibiotics ointment.
Repair Kit
While we are on the kit topic, it's worth mentioning the repair kit. We'd recommend having a repair kit in case you need to adjust something, repair a utility or assemble a chair. Items to bring: waterproof matches, a knife, a small roll of duct tape, extra batteries, a utility cord, garbage bag, scissors, rope, etc.
Preparation Tips
Without further ado, here are some preparation tips before you hit the road:
Go hiking on longer trails;

Decide on the location where to go backpacking;

Check if you need any permits for the duration of your trip;

Bring all of the essential items;

Bring enough water and food;

Invest in good footwear;
Once you've mastered the above, you are ready to embark on your next adventure!
Pack Your Bags!
To summarize, it's important to have the right gear for backpacking in the US. National Parks. For more information regarding similar topics, please feel free to check our blog. Or share our content with aspiring backpackers who will find it useful.