Summer offers an ideal time to get away since kids are out of school and the weather is usually pleasant. When you and your family are looking for a summer vacation destination, you'll find many great places to choose from across the U.S. The following are some of the top summer vacation spots in the country.
1. Gatlinburg, Tennessee
When you want to go somewhere that offers beautiful mountain views and tons of amenities and entertainment, Gatlinburg is a perfect choice. Gatlinburg provides easy access to the Great Smoky Mountains National Park, which is the most popular national park in the U.S.
This area has hundreds of hugely popular Gatlinburg cabins nestled in the foothills, scenic roads in all directions, and plenty of family-friendly attractions. You'll also find 2,000 miles of streams for fishing and other water activities, as well as hiking trails and an abundance of plant and wildlife, and vast forests.
2. Outer Banks, North Carolina
For a beachfront vacation with historic sites and other attractions, consider visiting the Outer Banks for your summer vacation. The Outer Banks area offers more than 100 miles of coastal areas, where you can stay in a quaint beachfront cottage or a more luxurious beach house with the latest amenities.
During your vacation, you and your family can swim in the Atlantic Ocean, go fishing and boating, and explore several lighthouses. The Outer Banks also offers scenic roads, parks, and dining options featuring seafood dishes.
Watch this video to see what else you can do in the Outer Banks:
3. Bar Harbor, Maine
For a charming summer vacation destination with stunning water views, head to Bar Harbor. This area of Maine offers convenient access to Acadia National Park, as well as picturesque views of Frenchman Bay and the Atlantic Ocean.
Hotels and other accommodations in the area include upscale hotels and smaller inns with a more casual atmosphere. You and your family can go on whale-watching tours and boat tours, dine on lobster and stroll along the shore. Explore the downtown area's parks and gardens, or wander along nature trails in Acadia National Park.
4. Panama City Beach, Florida
Panama City Beach offers 27 miles of beautiful sandy beaches to enjoy, along with short drives to nearby state parks for hiking and other outdoor activities. This waterfront vacation spot features Pier Park, a dining and shopping hub with over 124 shops and restaurants.
Several hotels and other beachfront accommodations are available, so you can have water views during your trip. This whole coastline along the Emerald Coast of Florida offers good easy swimming for the young ones in the family, as well as ocean sports farther out from shore.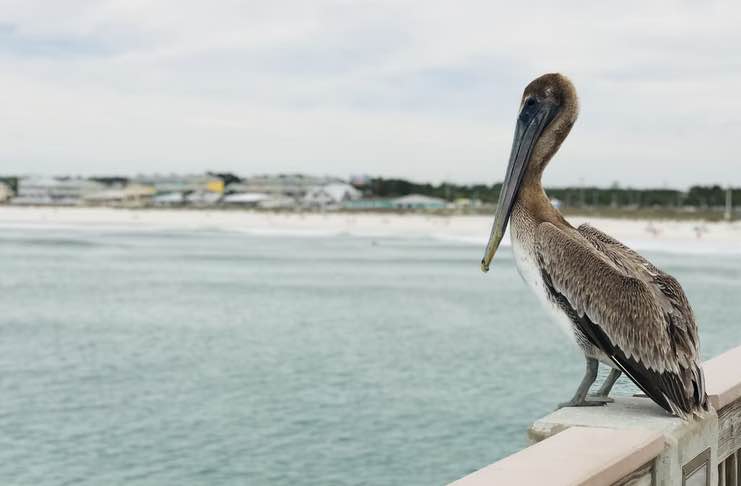 5. Mount Rainier National Park, Washington
If you're interested in roughing it in the great outdoors, a summer camping trip in Mount Rainier National Park might be in store. This national park features an active volcano that reaches 14,410 feet at its highest point.
For a more exciting vacation, you can scale the glaciers in the park. Mount Rainier offers plenty of relaxing outdoor activities as well, such as scenic drives in and around the Sunrise area and meadows filled with wildflowers. The park's Silver Falls Trail and Skyline Trail provide incredible views.
Check out this video to get a glimpse into Mount Rainier:
6. Grand Canyon, Arizona
The Grand Canyon is among the most visited sites in the U.S. The canyon's South Rim tends to attract more visitors in summer, while the North Rim offers cooler temperatures, higher areas to explore, and trails that are a bit more challenging.
Summer visitors can stay in lodges, cabins, or other accommodations while checking out the canyon's trails and enjoying the scenery. When you're looking for a summer vacation destination with fewer crowds and quieter, the Grand Canyon's North Rim is a good option.
7. Route 66, Chicago to Santa Monica
For a road trip adventure this summer, plan a drive along Route 66. This famous route stretches from Chicago, Illinois to Santa Monica, California with several notable stops along the way, including historic areas and classic diners.
Driving along this route brings you through multiple states, including Arizona, Kansas, Missouri, and Texas. You can explore part of Route 66 or plan on driving the whole length, depending on how much time you want to spend. The entire route takes roughly 2 weeks to do. You can also do the other way, from Santa Monica to Chicago, and stay in the big city for a week or more.
Check out this road trip to see what it'll look like:
8. Chicago, Illinois
When you want to experience the thrill of being in a big city for your summer vacation, consider making plans to go to Chicago. This Midwestern city has a ton of attractions and amenities to offer, including ball games at Wrigley Field, free concerts, world-class museums, and Lincoln Park Zoo.
You can also hang out on the shores of Lake Michigan, or take a cruise on the water. Chicago has tons of accommodations to look into, ranging from luxury hotels to budget-friendly hotels.
9. Yellowstone National Park, Wyoming
Yellowstone National Park is home to the famous Old Faithful geyser, but it offers a lot more than that to see and do. This national park, which also stretches into parts of Montana and Idaho, covers more than 2 million acres of land.
This gives you and your family plenty of places to explore and take in the scenery, including colorful pools, hot springs, lush forests, and serene meadows. Cabins, lodges, and hotels are available in the area for accommodations, and you can also camp in the park.