The Mill is more than you expected when you want something different.
When you are on Central Avenue here in St Petersburg, Florida you can find a variety of restaurants to have lunch or dinner in. That is very common, and many are all the same. There is a time when you can find something different. It stands on its own as a place you have not seen and has a look you can not imagine. It is there waiting for you to come in and try.
The Mill, FL
Welcome to The Mill. Located on Central Avenue near 3rd Street, this is a place that is different. As soon as you arrive and sit down you can tell. It is not typical but different. When you look at the menu you can see what is offered, but it is different.
We were here to try something new and different from the variety that was offered. But first was to consider as we looked thru the menu.
First thing to do was to look at the wine list. There are cocktails, beverages and wine. A good list to view and consider. There are even a few special you would normally consider but they are here for you this time. There are good selections so we waited for those while we considered the menu.
When the drinks arrived we were able to speak with the waitress with recommendations and questions. Monique was very helpful. She would take her time and discuss what we were interested in. She even gave us suggestions we might not have considered. She provided the details and discussed how everything was made. This is not typical of most places. At The Mill, they discuss everything with you to make sure you have what you are expecting or more.
We made our selections and then waited to see what would come our way.
Start with a First Plate.
First to arrive was a dish we could share while we waited. This was The Mill Charcuterie. It was unique. We had an assortment of Duck Bacon, Foie Gras Torchon, Pork Belly Croutons, Octopus Bacon, and Canadian Gator Bacon. There were also a few more selections of cheese to enjoy with each bite you took. It was fresh, tasty, and enjoyable as you ate it while you waited.
Along with a cocktail, this selection was perfect to share as you enjoyed the evening and waited for the meal to come. There are truly a variety of selections to start with. From cheese to Bruschetta to Hamachi Rudo and even Seafood Foie Gras. It is here for you. Otherwise, ask the team and they can help you decide which is the way to start.
Special meals to enjoy.
Seafood to steak and everything in between. It is your choice. And with a selection so varied and interesting, it is not easy to decide. However, whatever you select you will make a good choice.
We started with Littleneck Clams and Spaghetti Squash. It sounds familiar but it is not. It is fresh, tasty and enjoyable with each clam you take. There were a total of 24 clams in the plate. This was then mixed with Spring Peas, Red Pepper, Bacon, Parmesan, Chablis and Egg Yolk for extra taste and richness.
Next, there was Cider Braised Muscles. This was about 24 muscles that topped a special sauce. This mix was made of Bacon, Sweet Onions, Cauliflower, Smoked Pine Nuts, Grilled Focaccia and a combination of Gorgonzola cheese. This was different. And tasty. Very fresh as the muscles were brought in from the morning. The chef made this to perfection. The taste was new, different, and an experience you need to have.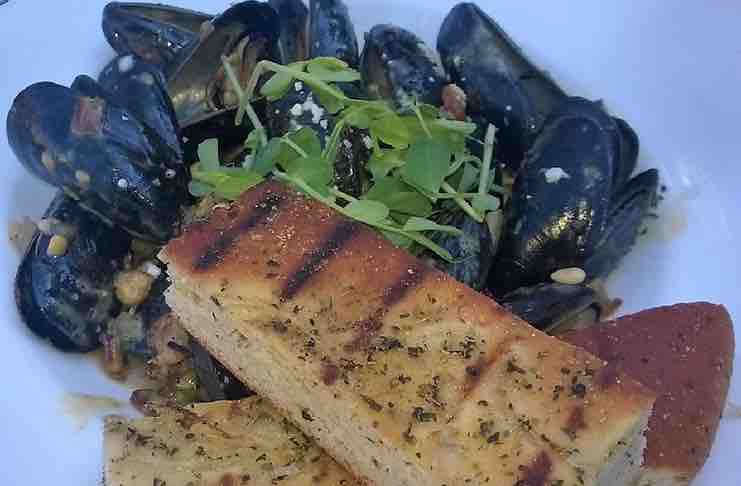 From seafood we went to traditional items you might select. To start we had Meatloaf Wellington. Normally, It would be Beef Wellington, but this time it is meatloaf but made the same way as beef. You would think you were back in England for this and we had to ask Monique if the restaurant was British. This was unique and different.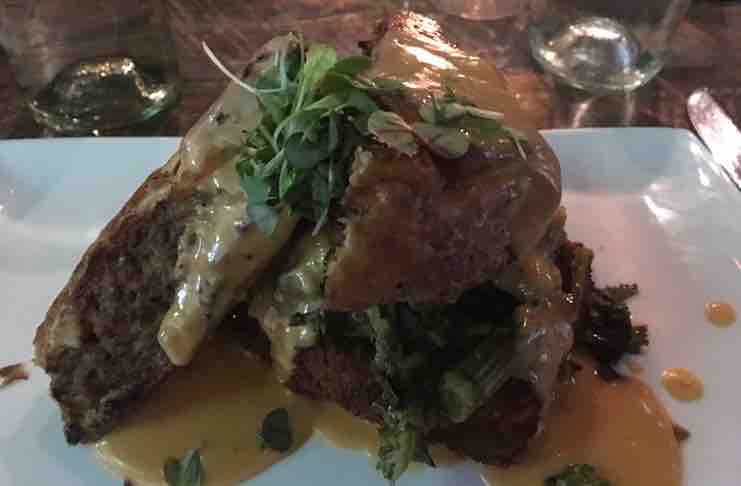 The entree was mixed with Loaded Potato Casserole, Braised Collard Greens, Honey Hot Sauce Gravy. It was fresh, rich and tasty. Each piece was something to enjoy. It is not a typical meatloaf as you manage. Instead, it is a new meal you received and want to try. It is a special feature of the house.
Finally, we had to have a Bone-in Veal Chop. This was a grand size. Served with Hasselback Potatoes you had your choice of a sauce to place on the side. Caramelized onions and mushrooms were an ideal selection. As for the veal, it was medium-rare. It was on a large bone if you wanted to hold it. It was also fresh, tasty, rich in flavor, and freshly grilled. This was made as it should be and for something to enjoy as you took a bite of the meal.
The potato was perfect. It was a good compliment to the veal, which in itself was a meal two people could enjoy together.
These entrees complemented each other and made you want to try something else when you come back.
A new dessert to try and enjoy.
Dinner could not end without dessert. And here at The Mill, there are a few good selections to consider. We did ask Monique and she discussed each one with us to consider. The list is not long, but the desserts offered are enough to consider.
We selected two of the recommendations. First was the Apple Crostata. This is a torte made of buttered brown streusel and then layered with fresh sliced apples, candied hazelnuts, caramel, and topped with vanilla bean ice cream. Perfection. It is light and fresh. It is not heavy and it is not sweet. It is seasoned properly to let you know what it would be like after the first bite. It is delightful. Here's a different, but good recipe if you want to try it at home.
Next up was a special. This was the selection of the Chef, Ted Dorsey who is a graduate of Le Cordon Bleu. This dessert was the choice that he created. It is Poundcake Grilled Cheese Cake. It sounds different and it is. It is a special pound cake that is baked with white chocolate between the two layers. The cake itself is mixed with real Stilton lemon cheese. There is a side of peach coulis. It does sound different. But when you try it you will realize this is special to enjoy. It is not sweet. It is not a traditional grilled cheese sandwich. It is a cake that is created in a special way that you can then enjoy.
Naturally, you can enjoy this with tea and coffee, this is freshly made (and is not decaffeinated).
The Mill is a new place to find and return once more.
The Mill is a special place to discover. It is on the street we would normally venture. But this time we crossed the street and went into The Mill. It was different.
The service is great. We thank them for their assistance as we are here to experience something new. They can answer your questions and provide recommendations. As you eat your meal they will stop by and make sure you have what you need and if you want anything more.
The food is fresh. The portions are large. The cooking is superb. The team is great. The price is perfect for the meal you have received. Nothing is forgotten when you are here. It is ideal for a special event, or even just for a good meal. It is well worth coming back for the next time you want to enjoy it. You can already be thinking of what you might want next!
Location:
The Mill, St. Petersburg, Florida
200 Central Avenue
St Petersburg, FL 33701
Phone: 727-317-3930
Website: www.themillrestaurants.com