Planning a few Elk Hunting Trips in Colorado? Well, you've reached the right place. Colorado is one of the best — if not the best — hunting grounds in America.
Aside from its diverse geography with great forests, tall mountains, and arid flat plains, its fauna is incredibly rich, as well. Pronghorns, moose, black bears, and deer are on the table depending on the season. But the animal that makes Colorado truly special for hunters is elk.
Did you know that Colorado has more elks than anywhere on the planet? With a tally of well over 280,000 elks roaming the wild parts of the state according to one estimate, the Centennial State is more or less the Mecca of elk hunters.
Interested in planning a Coloradan Rocky Mountain elk hunting trip?
Here's what you should know before you start.
What Are the Elk Hunting Seasons in Colorado?
Before you set out, always check the website of Colorado Parks & Wildlife. You will find all of the application deadlines, season timings, and relevant information.
The following is hunting information for 2021:
1st Season (Separate limited elk): October 16th – 20th.

2nd Season (Deer/Elk): October 30th – November 7th.

3rd Season (Deer/Elk): November 13th – 19th.

4th Season (Limited Deer/Elk): November 24th – 28th.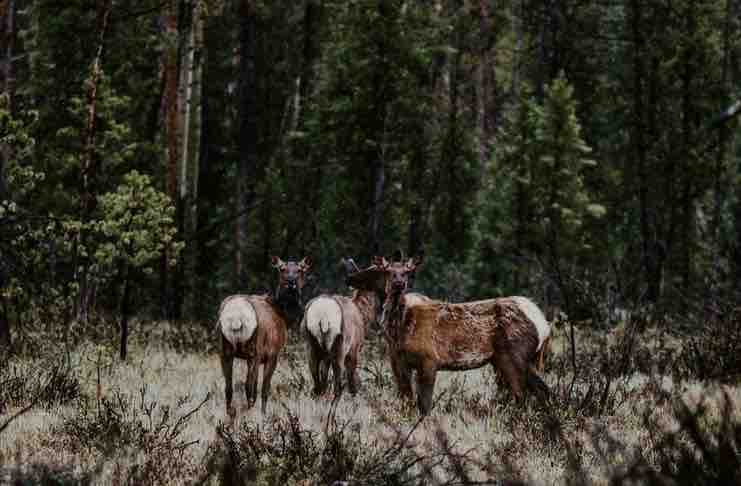 Do the Paperwork For Your Elk Hunting Trips
No matter who you are or where you hailed from, you must fill in the paperwork with the Colorado Parks & Wildlife before you can begin to hunt big game like elk. Needless to say, never attempt to hunt without a license. It is a serious criminal offense.
If you're new to hunting and don't know where to start, the following are the basics that you need to know about the system.
Qualifying License
Anyone who wishes to hunt big game will need a qualifying license. This doesn't just include adults, but also youths from 12 to 17 years old, as well.
Qualifying licenses include:
Annual resident/non-resident Small Game Hunting License

Annual resident/non-resident Spring Turkey License

Resident Combination Small Game/Fishing License

Veteran/First Responder/Senior Lifetime Combination Small Game Hunting/Fishing License (available only for residents)
Aside from the license itself, you will need to purchase a Habitat Stamp, too. And if this is the first time that you have gone out hunting, you need to undergo hunter education before you can apply for your qualifying license.
Draw System
When you hold one of these licenses, you will be eligible to apply to the big game draw system.
This is the stage that will ultimately decide whether you get to hunt elk for the year or not. As a result, it is critical that you understand how to "play" the system.
How the Draw System Works
The draw system was created to minimize the impact of hunting on the big game population in the state. It basically works like a lottery system. If you win the draw, you get the tag to hunt for the larger games.
Application for the draw is opened typically around June. At the time of this writing (October 2021), the deadlines have already passed. So, if you're reading this now, wait until 2022 to re-apply.
In your application, you will have to write out four units and seasons that you wish to hunt in (called "choices").
The first choice is the most important one, as it is the first one that the state will grant. It is also the only one out of the four choices to use the preference point system. Those with the highest preference points will win this round.
You get a preference point for every draw that you enter, but don't get drawn. Alternatively, you can apply directly to forego using the first choice and get a preference point, instead.
When you win the first round, all of the preference points that you accumulated will be reset to zero.
Once all of the first choice applicants for that particular hunt code are processed, if there are still licenses remaining, they will be randomly distributed to those who put down that hunt code as their second choice. And if there are still spare licenses, the excess will continue to trickle down to third and fourth ranks.
If you're lucky enough to get drawn in any choice, you will have to make an immediate payment to secure your tag. The Colorado Parks & Wildlife organization updates its website with the fees every year.
For Colorado residents (2021):
Elk License (Adult): $56.88

Youth Big Game License (Under 18): $16.05
For non-residents, the license is more expensive (2021):
Antlered or Either Sex Elk License (Adult): $688.26

Antlerless Elk License (Adult): $516.63

Youth Big Game License: $105.51
Once the system has drawn your name, the payment will be automatically made via the credit card you stated on the papers. If you miss the payment, your position in the draw will be forfeited.
Tips to Maximize Your Chance of Winning the Draw
Preference points decide your success in the draw. So, if you want to win it, you have to ration it as much as possible and use it wisely.
If you like to hunt in a unit or season that can be picked as part of the second choice, do not put it as your first choice. Remember, if you win your first choice, your preference points are struck down to zero. But if you lose, you get an extra point.
Therefore, our best tip is to forego the first choice and apply for a preference point. Then, write down your desired hunt code in the second choice.
But this does present a risk. Because, as we said, the second choice is drawn randomly, there's still a chance that you won't get the stamp for the year.
This is where the Draw Recap Report comes in. Every year, Colorado Parks & Wildlife releases the document to give you an idea of how licenses were distributed in the last season.
If less than 100% of second-choice applicants win a license, you will also be taking a risk by applying for the second choice.
In that case, you have two options: either take the risk and apply for the second choice or go straight and apply as first choice knowing that you could be losing your hard-earned points. None of them sound appealing, but this is a luck-based system. You cannot always guarantee a win.
Don't Hold Onto Your Preference Points
When preference points can only be earned once a year, it is easy to become anxious every time you have to put it on the line. It could take a decade or more to build enough points to gain a chance in one of the best units in the state. But, honestly, it's not worth waiting a decade for a hunt.
Every couple of years, there are many units and seasons that can be feasibly won with a point or two. Take these up and don't worry about the point reset. The trip will be great regardless.
If these limited hunts aren't on the table and you didn't win the second draw, there are still Over-the-Counter (OTC) licenses. Like OTC medicine, these licenses can be straight-up purchased with no complicated drawing system involved.
Getting there:
Reaching the Colorado Parks & Wildlife is probably only possible by car. If you're flying over to Colorado and need to rent one, we recommend using Discovercars.com. These guys are among the most reliable car rental platforms I've encountered. They created a really seamless car rental experience, with a very clear and effortless booking process.
Conclusion
If you managed to jump through all of these hoops and got yourself an elk hunting tag, then congratulations! Your hunting trip in Colorado for elk is secured. The next step is to pack up your gear and go.
For that purpose, we have a couple of reviews and guides you can look through, such as this short article on what are the best elk hunting boots. Check it out if you got the time!