Already planning your winter holiday? Searching for the best places to go snowmobiling this winter? You've reached the right place. Few things are as disheartening as planning a trip and traveling all the way to a popular destination only to find the tracks closed due to low snowfall or bad weather. Whether you prefer guided tours or challenging, off-trail adventures, this year, be sure that you find the right tracks for snowmobiling.
Our Top 8 US Winter Snowmobiling Destinations
While this is a numbered list, the snowmobiling destinations presented here are in no particular order. Each provides its own unique slice of natural beauty and adventure. Most offer guided and unguided tour packages suitable for families, lone riders, beginners, and experts.
With that said, we feel that the highlights of this list, which we wholeheartedly recommend, are the Upper Peninsula in Michigan and both Seeley Lake and West Yellowstone in Montana.
The Upper Peninsula for the sheer area covered by its groomed trails. Seeley Lake for its accessibility to beginners and its extensive local support for snowmobile riders. And lastly, West Yellowstone in Montana for its unrivaled natural beauty.
1. Upper Peninsula, Michigan
When it comes to snowmobiling in the US, few places come close to Michigan's Upper Peninsula; the area has been consistently polled as one of the best snowmobiling venues in North America. It features 3000 miles of groomed trails that will take you to scenic natural vistas, including frozen waterfalls and expansive Great Lake shorelines.
After a long day of snowmobiling across the pristine landscape, retire to one of Northern Michigan's many snowmobile resorts and lodging accommodations. A couple of favorites are the Wolf Lake Motel & Resort in Manistee National Forest, Lake County, and the Lake N' Pines Lodge in Grand Traverse County.
Wolf Lake Motel & Resort is 7 miles north of Baldwin, Michigan, on M-37. Here you can ride your snowmobile right from the outside of your room. If you haven't got your own, the resort provides onsite snowmobile rentals.
Lake N' Pines, on the other hand, is conveniently located only 15 minutes away from downtown Traverse City. Their Snow Lovers package is available from December 1 to March 31 and is ideal for a couple's holiday. It includes, among others: 2 nights' accommodations with breakfast, a bottle of wine, and two 4-hour snowmobile rentals.
2. Heber City, Utah
One of the best places for snowmobiling in Utah has to be the Wasatch Mountain State Park. It's a nature preserve spanning nearly 23,000 acres, open to the public since 1968. Snowmobilers can enjoy the park's numerous facilities, which include parking and restrooms, as well as 70 miles of groomed trails. Additionally, warming stations are available for chilly vacationers at the park's golf course clubhouse and visitor center.
3. Katahdin Region, Maine
Snowmobiling is a favorite among winter sports throughout Maine's Katahdin region, and the area offers snowmobiling vacationers hundreds of miles of networked trails to traverse. Visitors will find plenty of accommodations and amenities for snowmobilers, as the local businesses offer snowmobile parking and repair services while organizing numerous rides along the region's well-maintained snowmobile trails.
4. Moran, Wyoming
With its impressive 600 miles of trails and over 3.4 million acres of public land, Yellowstone National Park's Bridger-Teton National Forest, located in Western Wyoming, is a renowned venue in the outdoor recreation and snowmobiling communities.
First-timers, as well as experienced snowmobilers, can look forward to a stay at the Togwotee Mountain Lodge. First-timers can learn from the Lodge's skilled instructors, while more seasoned enthusiasts can avail of their selection of top-quality sleds. The area features numerous straightaways for easy riding but also challenging and demanding terrain to be found around the Lodge's off-trail courses and deep backwoods.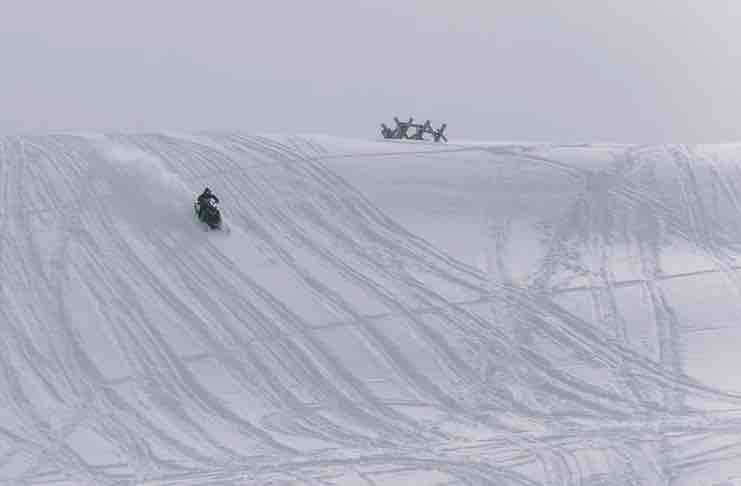 5. Mount Snow, Vermont
Mount Snow in Vermont's Green Mountains is definitely one of the best places for snowmobiling in the country. It offers visitors daily guided tours through the renowned Vermont State trail system, courtesy of Snowmobile Vermont. Along with top-of-the-line Polaris snowmobile rentals, Snowmobile Vermont also provides helmet and boot rentals, so you can safely and comfortably power through Mount Snow's deep pines and race through its hills and valleys.
6. Seeley Lake, Montana
Seeley Lake is nestled in Western Montana's Mission and Swan Mountains, which allow outdoor enthusiasts access to some of the State's best snowmobiling trails. With 365 miles of trails, including the beginner-friendly 15-mile Marshall Lake course, the area features numerous idyllic wintertime vistas for the intrepid adventurer to discover.
Thanks to the Driftriders – a local non-profit organization of snowmobile enthusiasts – visitors can enjoy groomed trails throughout most of the area's trail network. The Driftriders are also available to assist with booking snowmobile rentals and accommodations, or simply to provide recommendations for the best local food.
7. Steamboat Springs, Colorado
Situated high up in the Yampa River Valley and offering a stunning view of the Rocky Mountains, Steamboat Springs' handful of snowmobiling trails have made it a well-known winter vacation destination for enthusiasts of all ages and experience levels. Steamboat Springs' most accessible snowmobiling can be enjoyed through its guided tours with the assistance of its professional guides.
Experienced snowmobilers may instead prefer the thrill of an unguided tour. In which case, the area's Dumont Lake to the Towers, Muddy Creek to Latigo, and Dry Lake to the Towers trails offer plenty of challenging opportunities along both groomed and ungroomed sections of the trail.
8. West Yellowstone, Montana
Returning to Yellowstone National Park, we find the pristine trails and natural wonders of West Yellowstone, Montana – a snowmobile enthusiast's paradise with many guided and unguided tours and snowmobile rentals on offer from the area's many establishments.
With easy access to a snowmobile, guided tours are available to take you upwards of 2,000 feet above sea level, where you can appreciate the full spectacle of the area's natural beauty. On the other hand, newer snowmobile riders may prefer to go on a guided tour to visit the Old Faithful Geyser Basin. No matter what kind of snowmobile experience you prefer, whether laid back or challenging, at West Yellowstone, Montana, you'll find almost inexhaustible natural features to showcase natures splendor.