Planning a whiskey road trip? You've reached the right place. I'll provide you with a few useful tips. Whiskey tourism is an actual thing and, in the last couple of years, it has hit an all-time high. This significant rise in whiskey tourism may be attributed to a growing curiosity amongst whiskey lovers. Nothing beats the feeling of seeing exactly where the whiskey that you love so much comes from.
Different distilleries across the globe welcome hundreds of thousands of visitors, especially during a whiskey festival. Visitors can tour both independently-owned and corporately owned distilleries.
Planning a whiskey trip
If you're a true whiskey lover and collector, you must, at some point, have had the temptation to tour various world-class distilleries. The most appealing part about these trips is collecting rare whiskey bottles from different parts of the world. For some people, leisure can only be achieved through such explorations.
We have put together a few pointers to make your trip easy, fun, and educational. Each step will bring a fresh thrill of something simultaneously new and familiar.
9 Tips For A Whiskey Road Trip:
1. Plan your trip
The genesis of this trip should start with a well-detailed itinerary, especially if you plan on combining multiple tours. It's also important to check whiskey reviews before deciding which distillery to visit.
Most distilleries offer guided tours of the location as well as premium tasting. Each distillery also offers a unique experience, and this may be attributed to why their products differ in taste.
Depending on the kind of experience you're looking for, you should make your booking in advance. This means planning where you're going to stay and ensure that it isn't very far from the distillery.
2. Pack your suitcases
Depending on the region you're visiting and the time of the year, make sure that you pack appropriate clothes. If it's sunny, pack some light clothes. If it's cold, pack some jackets. Don't forget to pack comfortable walking shoes.
3. Get a designated driver or bus
Find someone to take you around the distilleries as you enjoy the tasting to the max. Alternatively, you could take the taster kits with you and enjoy them from the comfort of your home or once the car is safely parked. Having a designated driver allows you to get around more quickly and at your convenience.
If you're on a self-driven trip, you shouldn't drink for obvious reasons.
4. Stay on track
Strictly follow through with your schedule so by the time your trip is over, you'll have covered everything on your itinerary. There's nothing worse than having to cut your trip short because you still have some unfinished business. That's what happens when you lose track of your tight schedule. Don't spend so much time on one task that the others remain neglected.
Staying focused is the only way you can make the most out of your visit, especially if you have limited time.
5. Socialize
There's a high likelihood that the people you meet are friendly. This is for a reason – whiskey lovers are always in the spirit of sharing their drinks. Shortly after drinking a few glasses, they'll have something to chat about.
The tours are a great opportunity to not only make friends with the other tourists but also ask guides questions. You might come back from your trip with more information than you expected.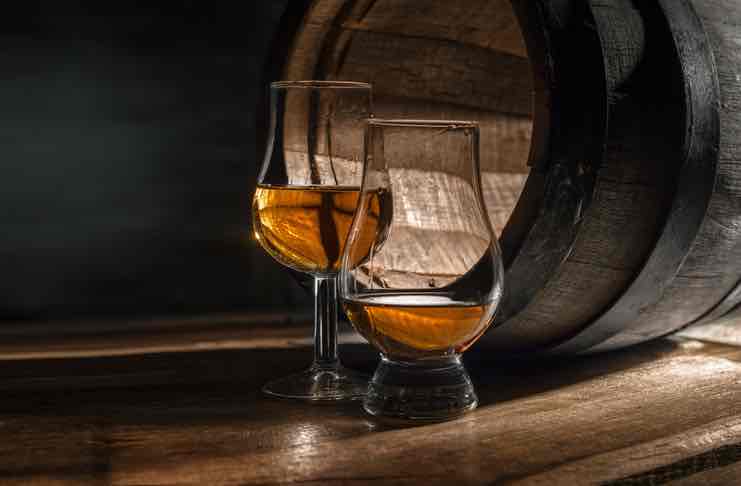 6. Take pictures
Of course, you would like for each one of your Instagram followers to know about your trip. Take pictures or it didn't happen!
This is a great way to remember all the good memories you created on your trip. If there are props at the distillery, ensure that you get creative with them. Do not take pictures in restricted areas – for safety reasons, some breweries prohibit their visitors from taking pictures of their plants.
7. Make notes
The whiskey road trip will, most probably, include plenty of details about the production process with a comprehensive tour around the industry. As you take a guided tour around the distillery – with the guide taking you through the steps of whiskey-making – make notes of everything you see, including the mill, mash, washback, stills, etc.
If possible, you can ask that your notebook gets stamped and signed at the distillery.
8. Pass by the bars
Visiting pubs near the distilleries are also so much fun. If the tour starts getting repetitive and boring, find a nearby bar and enjoy the casual atmosphere as you unwind. One of the biggest advantages is that the prices in these bars are very affordable.
Don't forget to eat before you start indulging. Conveniently, most distilleries have onsite cafes.
9. Bring home some souvenirs
When it's time to go back home, bring the maximum amount of whiskey bottles that your bags can accommodate.
During the tour, you'll see many immaculate bottles of whiskey that seem almost impossible to resist. There's no better souvenir than a rare bottle of whiskey to share with your friends and family back home. If you love collecting, you can keep the bottle as a memorable souvenir instead of savoring it.
Summary
Almost every whiskey lover has dreamed of taking a whiskey tour around. Now that you came looking for this and read all the way through it means that your dream is about to become a reality. Hopefully, you've learned a thing or two about how to prepare for the perfect whiskey road trip.
Want to read more of our latest posts? Check out these alternative locations for your next team building event.