Searching for LGBT friendly countries in Europe for your next travel adventure? Well, there are several criteria that make a country LGBT friendly. I usually start with the overall attitude (liberal vs. conservative society), the type of bars, hotels, shops and restaurants it offers, and of course – how safe we feel in a place. We always look for destinations where we aren't judged for who we are. The best LGBT-friendly countries are always those with open-minded people that respect us for who we are.
Before I delve into my own shortlist of the best LGBT-friendly countries and cities in Europe – don't forget to always do your own research on a destination. Legal and cultural changes can evolve fast these days and can change the whole story. You should always be on top of the latest news when planning your next trip. Join the most active and updated LGBT forums or groups on Facebook, read the news and be alert. And now, let's delve into my favorite LGBT friendly countries and cities in Europe…
5 LGBT Friendly Countries and Cities in Europe – For Your Next Journey:
Europe, in general, is probably the most LGBT friendly continent on the planet. There's no country in Europe where it's illegal to be homosexual or transgender. However, there are countries and cities where the people are more liberal and open to LGBT, and there are more conservative countries where they aren't.
1. Vienna, Austria
I love Austria for so many reasons, not only for its LGBT friendliness. This country is just so beautiful and clean, that I always find a few days to visit Vienna when I'm in Europe.
Asking yourself how a country where Adolf Hitler was born – is so open to gays? Well, gays were part of Austria's history way before Hitler. Many of Austria's most famous artists, music composers, generals, and even Emperors were gay and lesbians.
Vienna is not just a beautiful and safe city for LGBTs for traveling to, but it is also perfect for shopping. You'll find here lots of shops for gays and lesbians, including a unique and large bookstore called Löwenherz, which caters to the LGBT community and has over 12,000 titles and magazines.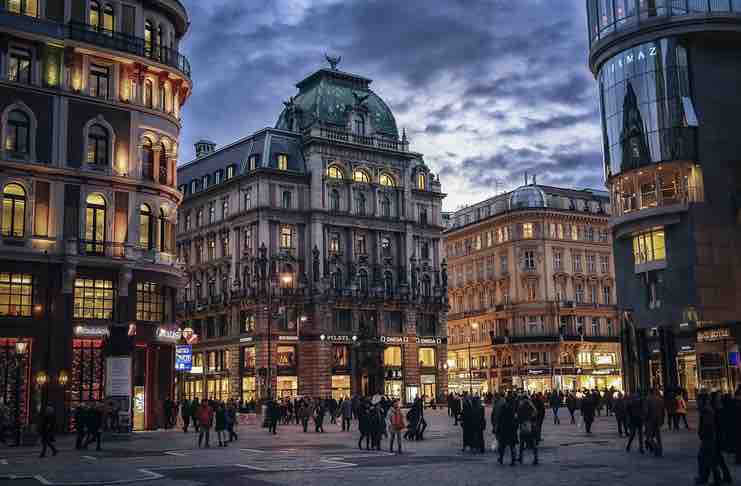 As for LGBT activities, Vienna has its own (very) popular Gay parade called 'Vienna Gay Pride". There's also the 'Diversity Ball', that takes place at Kursalon Wien. It's a special festival of respect for human diversity and colorfulness. And one of my favorites – the 'Vienna Boylesque Festival', which brings the best international boy and burlesque dancers to Vienna.
For more updated events click here.
2. Barcelona, Spain
Spain has always been a welcoming and LGBT friendly country. Actually, I first wanted to put Gran Canaria in this spot. It's one of Spain's Canary Islands (off northwestern Africa), known for its beautiful black lava and white sand beaches. Gran Canaria is extremely popular among gay travelers and is perfect for enjoying the sun and partying on the beach.
However, Barcelona is just too amazing not to be mentioned here at the #2 spot. It's one of the most beautiful cities in Europe, and in recent years has become one of the most popular LGBT destinations. The city has its own LGBT district, called Gaixample, known as the mecca for LGBT tourists in Spain.
Why is Barcelona so LGBT friendly? Well, because it's an open-minded and cosmopolitan city that offers a wide range of attractions related to diversity, freedom, and tolerance. Take, for example, Jedet Sanchez, a famous Spanish actress, and author who is currently living a key LGBT moment in her life. According to Facialteam, experts in ffs surgery USA, Jedet fulfilled her dream to undergo a facial feminization operation in Spain and received support from all around her country. In my eyes, this kind of support makes a country LGBT friendly, and safe for traveling.
As for LGBT events and festivals, Barcelona is filled with these, mostly during the summer. You have the Sonar Festival which is one of the largest events in the city. It's basically a dancing event with great dance and electro music.
Naturally, there's Barcelona's colorful and lively Gay Pride. It starts at Placa Universitat and goes through Gran Via, Carrer de Sepulveda, and Placa Espanya.
Watch this video of Barcelona Pride:
3. The Island of Malta
If you're not familiar with the Mediterranean island of Malta – you should definitely pay it a visit. Malta is located in the middle of the Mediterranean Sea, north of Libya and south of Italy. It has a population of only 400,000 and is only 95 square miles big, but it's an extremely popular tourist destination. This year-long sunny Island is also considered as one of the most LGBT friendly countries in the world.
From the 1.2 million tourists that visit Malta every year (not including 2020), many come for the large number of LGBT friendly clubs, hotels, bars and restaurants. The Maltese people are just so welcoming and pleasant – making it a pure delight to travel across this small Island.
Over the years, the tourism infrastructure has improved dramatically, with new high-quality hotels, and better transportation. Maltese cuisine is a delight as well, and venues offer live music, karaoke, cabaret shows, and most importantly – a warm welcoming atmosphere.
As for LGBT festivals in Malta, don't miss the Malta Pride, which includes street parties, parades, concerts, international DJ's and performers.
Here's a short video of the event in 2018:
4. Prague, Czech Republic
Eastern Europe has some Catholic countries (like Croatia, Poland, Slovakia, and Slovenia) where religious beliefs disavow anything that has to do with LGBT. The Czech Republic, however, and its capital Prague in particular, are not the case.
Prague is a dazzling, unspoiled medieval city with a rich history, beautiful parks, endless romantic locations, and bustling nightlife. It was one of five cities on my honeymoon trip, so it holds a special place in my heart. But more than that, Prague has become one of the top LGBT hotspots in Europe. Its majestic streets, bridges and medieval castles are the perfect scene for any drag queen.
So what makes the Czech Republic become one of the most LGBT friendly countries? Well, it has extremely progressive LGBT laws and may soon introduce gay marriage laws.
As for LGBT festivals, there are plenty, and almost all year long. There's 'Behind the Mask Queer Ball' in March, the 'Prague Rainbow Spring' in May, Prague Pride in August, Mezipatra Queer Film Festival in November, and more.
5. Tallinn, Estonia
Another Eastern European gem for LGBT travelers is Tallinn, the capital of Estonia. A former state of the Soviet Union, Estonia is situated in Northeastern Europe, bordering the Baltic Sea and the Gulf of Finland. It has beautiful and diversified terrains, from rocky beaches, old-growth forests, lots of lakes, and around 1,500 islands and islets. Tallinn, although a small city, has a charming Old Town, good museums, and an impressive 314-meter high TV tower – with an observation deck.
However, we love this place mainly for how it welcomes the LGBT community, and for what it offers them. But first, how is a former Communist country that has Russia as its neighbor – so LGBT friendly?
Well, it seems that Estonia and its people were more influenced by its northern neighbor, Finland. It became one of the most Hi-tech countries on the planet. Big names like Skype and TransferWise were founded in Estonia. This young generation of smart and educated Millennials and Entrepreneurs are much more open-minded.
Estonia was the first of the former Soviet countries to recognize same-sex couples. Extensive anti-discrimination laws were put in place in 2009, and transgenders have been allowed to change their legal gender and name since 2002.
Watch this video of the Tallinn Pride festival:
As for LGBT festivals, the Baltic Pride is the main event that actually rotates between three Baltic capitals: Tallinn, Riga in Latvia, and Vilnius in Lithuania. The other big event is the Festheart, a queer film festival that takes place in October.