Once upon a time, people saw cruises as reserved for the older generation. The stereotype was a ship full of retirees, dining early, with entertainment in the form of easy listening crooners belting out the classics in a traditional ballroom. But a lot has changed about the cruise scene over the last few years, and newcomers might be surprised at how popular cruises are with the younger generation these days.
Millennials are now the biggest market for luxury cruises as younger folk take to the seas, seeing cruises as a cool way to get more out of a vacation. The Instagram generation has taken to cruising in a big way, which is why plenty of cruise lines see millennials and Zoomers as the future of the industry.
But why are Millenials booking cruises now? What are the things that attract them to vacation aboard a ship? Here are a few reasons why cruising has become popular with those who grew up around the Millenium.
5 Reasons Why Millenials Are Booking Cruises:
1. Several destinations, one vacation
One of the most appealing things about a cruise, for anyone, is the chance to visit a bunch of fantastic destinations in just one vacation. This is particularly important to Millenials, who tend to be a bit more time-poor than older generations and often look to pack more into their trips.
The opportunity to explore three or four different places in one trip, without having to pack bags and find transportation between each one, is a big draw for the Millennial market.
2. Value for money
Millennial travelers, as a rule, tend to look for value for money in their vacation choices above all. Millennials have a tendency to aim for authenticity, meaningful experiences with customized itineraries, and want to spend their hard-earned cash wisely and effectively.
Cruises are a great way to do this since it offers accommodation, entertainment, and transport all in one package.
3. The journey is as important as the destination
On a cruise, the journey is, in many ways, as important as the actual destinations you visit. The ship itself is an experience all of itself. Even on a short 3-day cruise, there are loads of things to explore and do as you sail between ports.
Being at sea can be pretty exciting, and when you include swimming pools, evening entertainment, and high-quality dining options, just being on board can provide a rich vacation experience.
4. Instagrammable moments
It might be a bit of a cliche, but Millennials look for social media photo opportunities on vacation or a romantic getaway more than any other demographic. A whopping 75% of Millennial travelers post about their experiences while traveling at least once a day. Also, 97% post at some point during their trip, which understandably affects their vacation decisions.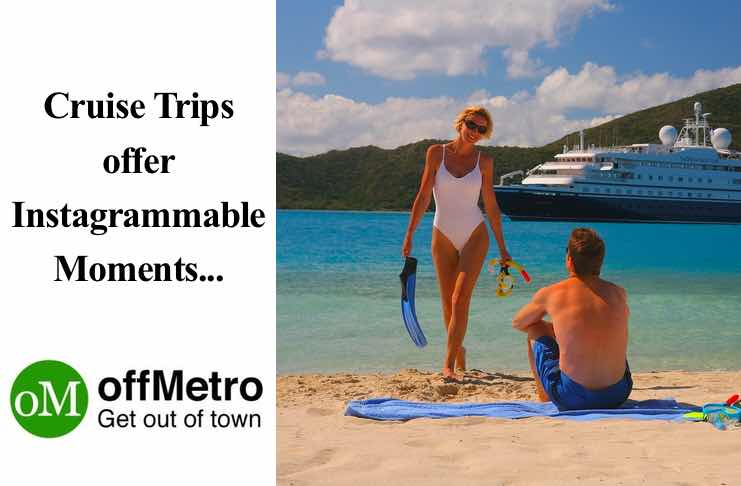 With beautiful scenery, amazing new cities, and exciting shore adventures, cruises excel at providing new sights and experiences every day. Even on a day when there's nothing new to see, nothing beats sunrise and sunset viewed from the top deck of a cruise liner!
5. Exciting experiences
In catering to the Millennial audience, cruises have upped their game when it comes to onboard entertainment, tapping into the desire to learn new skills and have rich, authentic, and exciting experiences while on vacation.
These days, ships offer everything–from immersive theatre evenings and cookery classes with ingredients bought at local markets to board game nights, outdoor barbecues, and educational lectures. This adds a whole new dimension to the cruise experience and one that's specifically aimed at attracting a more Millennial crowd.