Want to walk (or run) in the footsteps of Rocky Balboa and discover the city of Philadelphia? We've all seen (at least one) Rocky movie, the iconic boxing blockbuster that spans a franchise of six (mostly successful) sequels. The first Rocky movie even went on to win the Oscar for Best Picture. One of the leading "characters" in the film is the city of Philadelphia. In this post, we'll cover the main attractions on the Rocky Tour of Philadelphia. This includes South and North Philly neighborhoods, the Italian Market, as well as the Museum of Art, the famous "Rocky Steps", and other city center locations.
8 Attractions on The Rocky Tour of Philadelphia
1. Where Boxing Started: Mighty Mick's Gym
In the movie, Mighty Mick's Gym is an old grimmy boxing gym founded and owned by Mickey Goldmill. He trained Rocky in the rematch against Apollo Creed that eventually led to Rocky becoming the heavyweight champion of the world.
Here's the gym today:
When you visit Mighty Mick's Gym today, you'll be surprised how the facade looks exactly the same as in the movie. However, the old 3-story building was actually never a boxing gym or any other sort of gym. It was constructed back in 1910 and changed hands many times since then. At one time it served as a Dollar Plus market.
Where? 2147 N Front St, Philadelphia.
Go Boxing with the Right Gloves
If you reach Philly for a boxing tour and want to experience some real boxing, you can visit Joltin' Jabs on 4303 Main Street. It's probably the closest you'll get to Mighty Mick's Gym. The owner of Joltin' Jabs, Joey DeMalaves has trained lots of big shots from Sixer Charles to 6abc's Cecily Tyna.
In case you don't have boxing equipment yet, we recommend Everlast. From legendary champs of yesteryear to today's superstars like Deontay Wilder, this iconic brand has been the choice of champs for generations. Everlast started out back in 1910 and takes price in their 110-year heritage. If you think of going into boxing as your new sport, check out their top-selling training gloves, their staple punching bag made from durable materials that never tear, or their classic Hand Wraps.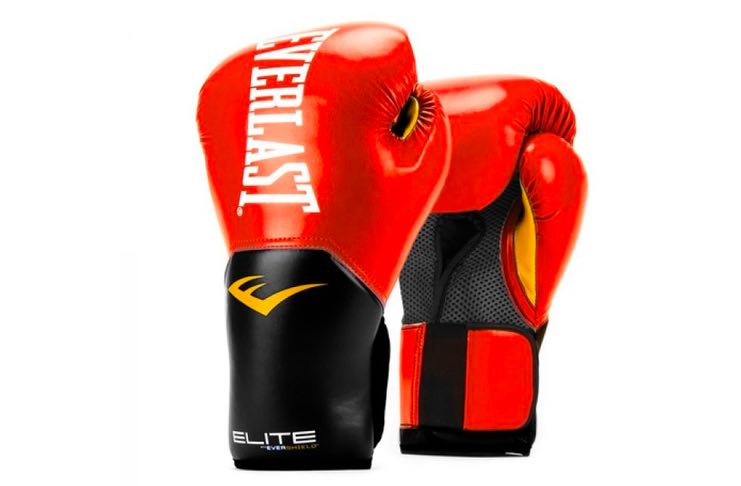 After a good and tough boxing session in one of Philly's boxing gyms, it's time to continue your Rocky Tour of Philadelphia.
2. The Unforgettable Rocky Steps & Statue
This dolomite staircase leading up to the entrance of the Philadelphia Museum of Art is probably the most famous staircase on the planet. It was featured in every Rocky film, except Rocky 4.
We all got hyped as we watched Rocky run up the 72 steps and raise his fists up in the air, with the iconic Rocky soundtrack playing in the background. Recreate the famous run up at Rocky's Steps on your own, and film it with your iPhone. It'll be a great Instagram post 🙂
On the way down the steps, don't forget to visit Rocky's statue. This larger-than-life sculpture of the legendary boxer is situated just north of the Rocky steps.
The statue was created by sculptor A. Thomas Schomberg and first appeared in Rocky III.
It later appeared also in Creed and Creed II. There are plenty of tourists who line up for a photo with Rocky every single day.
Where? 2600 Benjamin Franklin Pkwy, Philadelphia
Watch this clip from Rocky 3 to see the gigantic statue:
3. The Italian Market on 9th street
Rocky's Steps may be the most famous stop of his running path, but the Italian Market is probably the busiest. Known as the country's oldest and largest working outdoor market, the Italian Market on 9th street is where Rocky gallantly jogs past cheering vendors.
Today, you'll find the market filled with butcher shops, produce stands, cheese purveyors, taquerias, and bistros. The Italian Market route looks almost exactly the same as it did when Rocky jogged here in 1976.
Watch this clip to see the Italian Market, Rocky's Steps, and more:
4. Rocky's WaterFront Training Path
On that same famous jogging path that included Rocky's Steps and the Italian Market, Rocky reaches Penn's Landing, one of Philadelphia's waterfronts.
He runs really fast as we see the ships behind. Back then, Penn's Landing was the perfect industrial tract background for the film. Today it's home to outdoor concerts, classes, beer gardens, parks, and a great location for jogging like Rocky.
5. Rocky's Favorite Steak House
Alongside his love of boxing and jogging all over town, Rocky loved stakes. One of his favorite stops is Pat's King of Steaks, where he devours an authentic Philadelphia cheesesteak.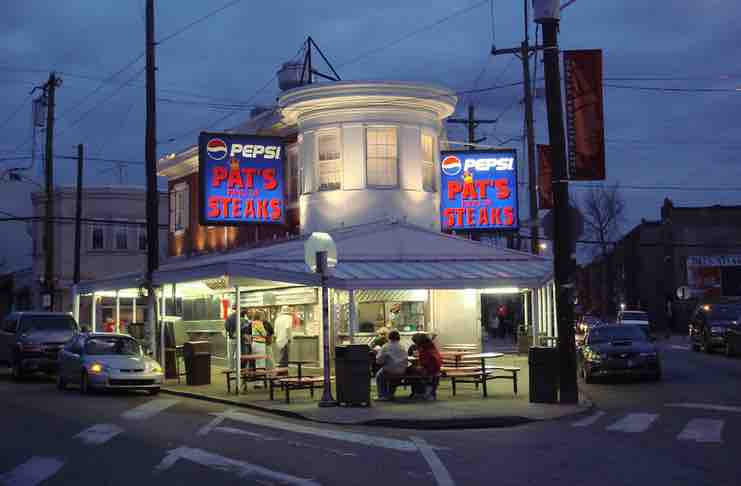 The famous shop is where the Philly cheesesteak was invented back in the 1930s. Its appearance in the film brought a lot of fame and impact. Today, a special plaque where Rocky stood at the restaurant is dedicated to Philly's biggest star. The plaque reads "On this spot stood Sylvester Stallone filming the great motion picture Rocky. Nov. 21, 1975".
Where? Pat's King of Steaks, 1237 E. Passyunk Avenue, Philadelphia
6. Where Rocky Proposed to Adrian
We all know Adrian, Rocky's one and only true love. But do you remember where he proposed? Like a true champ, Rocky proposes to Adrian at The Philadelphia Zoo, the first true Zoo in America.
This beautiful 42-acre zoo is home to more than 1,300 animals, many of which are rare and endangered. In addition to all the animals, it's known for its beautiful and historic architecture, including the country home of William Penn's grandchild, botanical gardens with over 500 plant species, and much more.
For the spot where Rocky proposed to Adrian, you'll need to hop in front of the tiger exhibit. Maybe that's where he got the eye of the tiger 🙂
Where? The Philadelphia Zoo, 3400 W. Girard Avenue
Where: Rittenhouse Square, Walnut & South 18th streets
7. Rocky's Restaurant
In the later movies, Rocky Balboa, Creed and Creed II, Rocky owns and operates an Italian restaurant called Adrian's. In real life, the place is called Victor Cafe, and it opened back in the 1930s.
Victor Cafe is known for fine Italian food and talented staff who perform operatic arias during service. It's a great place to have dinner, and think of Rocky, and why he opened the restaurant. Did you know that Rocky opened the restaurant following the death of his wife? Read on…
Where? Victor Cafe, 1303 Dickinson Street
8. Adrian's Grave
Adrian Balboa passed away at the age of 51, from ovarian cancer. This happens between the events of Rocky V and Rocky Balboa, leaving Rocky a widower.
Adrian is buried at the Laurel Hill Cemetery, which is a historic garden founded back in 1836 in the East Falls neighborhood of Philly. The cemetery, which overlooks the Schuylkill River, was the 2nd major rural cemetery in the country.
In 1998, Laurel Hill became the first cemetery in the U.S to be designated a National Historic Landmark. The site plays a role in three incredibly touching moments in the Rocky films. The first happens in Rocky Balboa when Stallone visits Adrian's grave.
Where? 3822 Ridge Ave, Philadelphia.
Conclusion, we listed only eight attractions on our Rocky Tour of Philadelphia. There are plenty of other sites and attractions that appear in the Rocky movies, which you can add to your list and visit. You can do this tour on your own, or go on a guided tour like the one offered on Get Your Tour Guide. Don't forget your boxing gloves! And if you're looking for more good boxing gear – try Elitesports.com.