Hunting is about seeking out, pursuing, and then either capturing or killing a wild animal. However, without a beautiful scenery surrounding the action, it's just not the same adventure. In this post, I've selected a few of our favorite hunting locations in the US. Let me know in the comments what's your favorite hunting location in the country.
Five Breathtaking Hunting Locations in the US – That You Should Visit:
1. Hunting in South Carolina
It's now peak season for hunting in South Carolina. Known as one of the best hunting locations in the country – it's also a beautiful one. During the months of August till January, the scenic forests of South Carolina come to life with thousands of deer, quail, wild boar, and even some wild turkeys.
If you come at the right time, you may experience the forest leaves changing colors. One of our favorite hunting locations in South Carolina is Woodbury Wildlife Management Area in northeast South Carolina.
Around two-thirds of this 25,700 acres hunting location is bottomland. At the park, the junction of two rivers, the Little Pee Dee and the Great Pee Dee creates a unique scene with a black river swamp on one side and a red river swamp on the other. A perfect hunting scene.
By the way, if you're pursuing the sport of rifle hunting for the first time, you may be looking for a reliable supplier of ammunition for your chosen weapon. One of my favorites is BulkMunitions who provide excellent products and superb service.
2. Hunting in California
One of the best things about Southern California is its great weather, all-year-long. This makes it an ideal place for outdoor activities, including hunting, and the government is definitely encouraging it.
The Angeles National Forest is a beautiful and massive hunting location that attracts over 100,000 hunters every year. It spans over 694,000 acres and has some hunting areas that are open all year long. Our favorite spots in Angeles National Forest are Lake Castaic, Glendora Ridge, and the Altadena area.
What can you hunt in LA county? Well, you're allowed to hunt for pigs, rabbits, mule, sika, axis, whitetail, but the most popular prey is, of course, deer.
Do note that although the weather in Southern California is usually warm throughout the year, it can get cold after sunset. The Angeles forest is characterized by extreme temperature changes, so better dress up in layers that you can adjust.
3. Maine Hunting
Hunting is a very old sport in Maine. The state has been blessed with the beautiful and vast countryside and woodlands, perfect for this sport.
There's also a vast variety (and quantity!) of prey to hunt, from small wild animals like quail, geese, turkey, and birds, to big bears, moose, and deer. With over 35,000 black bears, Maine has the highest population and density of this species in the East. They're at no.2 (after Alaska) when it comes to the number of whitetail deer (200,000) and Moose (75,000).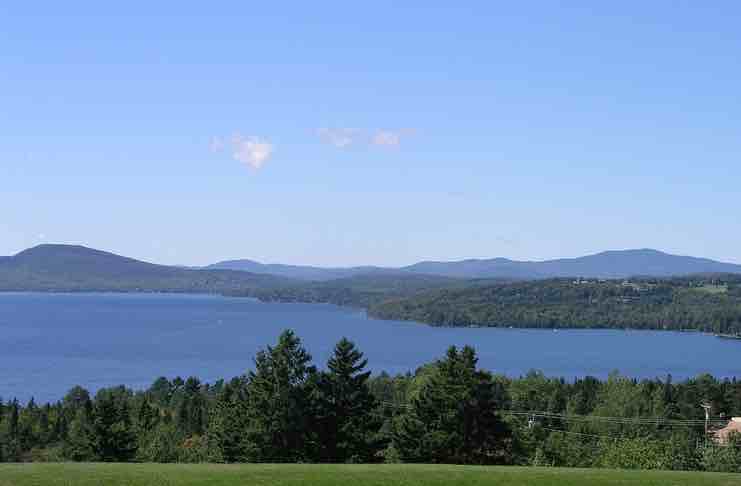 You can go hunting in most areas of Maine, all year-round, but you should probably focus on the more popular areas in the North. Among these are Katahdin, Moosehead, and Rangeley, which attract thousands of hunters every year.
If you plan a weekend hunting getaway with a few friends – there are plenty of hunting resorts and retreats in Maine. Or, you can go for a camp or cabin rental.
4. Hunting in West Virginia
Known as "Wild and Wonderful", West Virginia probably offers the most beautiful hunting locations in the US. The huge oak trees, the dazzling scenery, and fresh air make West Virginia a haven for hunting and enjoying nature.
When and if you do decide to go hunting in West Virginia, you'll encounter an abundance of challenging prey. Aside from deer season, which is naturally very popular, you'll be able to hunt raccoons, squirrels, wild boars, quails, bears, and more.
While there are plenty of amazing hunting locations in West Virginia, you should focus on the more popular areas. These include Ritchie, Jackson, Mason, Lewis and Monroe counties, but it'll depend on the conditions. The best is to check online at the local hunting sites, like the DNR.
5. Hunting in Alaska
If you're bold enough to travel to the last frontier (Alaska's famous nickname), why not go hunting there? Hunting in Alaska, with its 365,000,000 acres, is definitely one serious challenge, but probably one you'll never forget.
This state contains huge areas of the wild and uninhabited country. Aside from having more than a dozen species of big-game animals, Alaska is also home to the biggest prey animals in North America. You'll find there moose, brown and grizzly bears, black-tailed deer, mountain goats, wolves, elks, bison, sheep, and more.
The best months for hunting in Alaska are between August to October, but some locations allow hunting also in the fall and spring.
There are plenty of hunting locations in Alaska. Unfortunately, I haven't been in Alaska yet, but our offMetro team did choose their favorite hunting location in the last frontier. It's called Sitka, and with a total land area of 1,870 square miles – it's the largest city-borough in the U.S.
Aside from spectacular hunting landscapes and prey, there are beautiful hiking trails for serious hikers. One example is The Baranof Cross-Island Trail, which is only advised for experienced backpackers, due to the extreme weather conditions in the mountains.
The route, which spans around 16 miles, passes through a few alpine lakes and descends down to Baranof Lake. And all this, through a mix of broadleaf forests and cliffs.
I hope you enjoyed the article, and if you do visit any of the places mentioned above – do leave a comment!
If you're new to hunting and want to learn about the best hunting trips out there – check this post.