We all wait for our weekend getaways, but folks like to get away more often than others and decide to have their own getaway Cabin in NY. The cabin craze started way before Covid-19, but the pandemic has probably brought it to new heights.
There's probably not a single soul in town who doesn't die to escape the urban crush every single weekend. And most look for those rustic, woodsy getaways within driving distance from NYC, where they can disconnect, relax, and recoup. Are you also contemplating doing so? Wondering where do New Yorkers tend to buy or build their getaway cabin? And how do they go about it? Read on.
Most Popular Locations for a Getaway Cabin in NY
Whether it's the Hamptons, the Catskill Mountains, Hudson Valley, or any other region, there are plenty of small towns in New York, all within a few hours from the big apple. And most important for offMetro readers – many of these locations are reachable with public transportation.
Lake Dutchess, located in the heart of the Hudson Valley, is a perfect location for a getaway cabin. This 800 square miles of natural beauty is filled with historic and cultural landmarks, as well as outdoor recreation. Here you can explore estate gardens, visit the homes of FDR and Vanderbilt, tour and taste the wine trails along the lake, and much more.
The small hamlet of Kerhonkson in Ulster County is another beautiful place to set your getaway cabin. It's located close to the 22,275 acres Minnewaska State Park Preserve, on the Shawangunk Ridge. A small cabin here will offer a very secluded getaway from NYC.
If you're opting for the Catskill Mountains, the town of Windham is just one choice out of many, for a cozy getaway cabin in NY. The town is known for Windham Mountain Resort, with its ski trails, terrain parks, and a beautiful mountain bike park. But honestly, there are endless options in the Catskills, which are just two hours from NYC. The mountains offer amazing activities, as well as perfect places to relax.
It's already a scientific fact that just being in nature makes us more joyful, and improves our health. A weekend getaway to the woods is all we usually need to forget a bad working week. With so many of us working from home these days, moving our home to our favorite getaway location is becoming a real option. Imagine waking up to fresh air every single day. Taking a 1-hour hiking lunch, and lighting a fire at the end of a long day in front of the computer. It is possible.
However, like every other major project, building a getaway cabin starts with research. So let's take a look at a few tips about building your own quiet place in the Catskills or in the Hamptons.
Tips for Building your own Getaway Cabin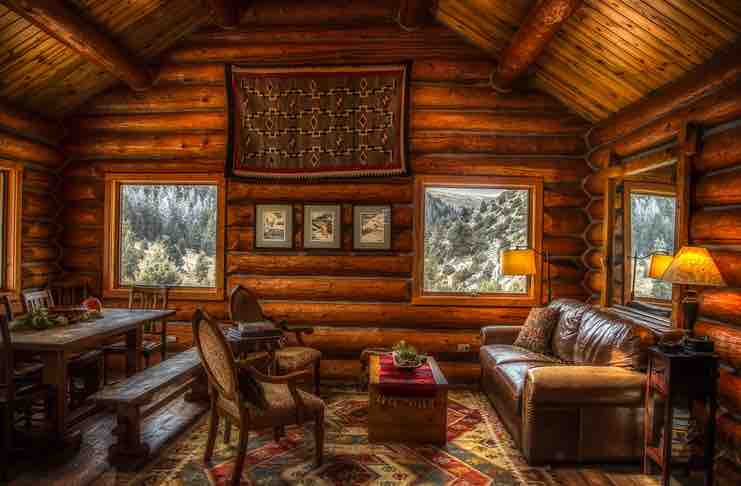 1. Plan Your Cabin, In Detail
It will probably take you a year (probably more) to build your vacation cabin from scratch. Make sure you spend significant time on the planning stage. This doesn't just include the floor plan or design, which are important – but aren't the entire ballgame. Planning means having a complete construction schedule, with sections about preparing the materials, site clearance, foundations, construction, finalized costs, and more.
2. Keep Your Footprint Small
As an eco-friendly site, we encourage keeping a small footprint in anything we do. A small getaway cabin is by nature more energy-efficient and less expensive to maintain. You can do wonders with a small lot.
3. Use Cost-effective Materials
You may think that a crawl space is the best foundation for building a cabin, but it's not always the case. For smaller cabins, using tubes, concrete piers, patio stones or other materials could be much more cost-effective. Consult with an expert as you decide.
4. Get Your Cabin Off the Grid
I love off-grid living (and wish I could make that wish come true one day), and suggest you consider it in your planning. You can deploy alternative energy options (solar, of course, as well as wind), or electric incinerating toilets. These are becoming more advanced and efficient by the day.
5. Build It Yourself (or at least part of it)
You may not be the builder type, but with endless YouTube tutorials and kits that come with very detailed instructions – it's possible. On top of the great feeling that it will give you for the rest of your life ("I built my own home!"), this means saving money. However, you may not be able to do all the construction on your own, so hire a few handymen to do the tough jobs.
6. Keeping Your Budget
It's probably one of the most important factors on this list. Keeping your budget at bay is key. This is best done during the planning stage, where you can already select your materials, tools, etc. A lot will also depend on your land, and what sort of site preparation is required. Other items that will affect your costs are utilities and services, insulation, roofing, and fixings. Again, planning it all early on is key to keeping your budget where you want it.
7. Choose a Reliable Construction Insurance
In any type of construction project, no matter the size, accidents are bound to happen. Therefore, it's advised that you make sure that you're protected in case something goes wrong. You can search for an affordable construction insurance cost online and find the best option for your project.