It might take a few more weeks until the COVID-19 crisis will ease down, and until borders will open. However, there's a lot to think about when you plan your first trip to Europe. Where will you go? What do you want to see? How are you going to get there? In the work-intensive planning portion of your travel, don't forget about your packing list.
You might be planning for a cliffy retreat in Normandy or just a green tour of Paris. Depending on the type of trip that you plan, a couple of small, everyday items can really make a difference in how you enjoy your traveling experience. Here are a few essential items that you need to take into consideration while you decide what to pack:
1. Backpack
A good backpack is the foundation of a comfortable trip. You need something sturdy that can keep up with you and won't kill your back if you are carrying it around for hours on end.
When you are choosing which backpack to purchase, think about the kind of trip you want to have. Are you going to stay at hotels in heavily-populated cities, or will you be staying at hostels and traveling on foot for a more cultural experience?
If you are staying in a hotel, you might not need anything too heavy-duty. If you are going to be traveling long distances on foot, make sure you do your research to find a backpack that can comfortably carry all of your items. For a detailed guide on how to choose your backpack – check out this post on Nomadic Matt.
If you're into kayaking or other extreme water sports – you should also get a dry bag. These bags are constructed in a way that absolutely no water can get inside, so all your valuables will be 100% protected. For more info check out this dry bag guide.
2. Vitamins
When your traveling, you are putting your body under a lot of stress. You may not be eating very healthy food. You probably aren't getting enough sleep. You may be on your feet a lot or stressed out by the fact that you are in an unfamiliar place.
No one wants to get sick on vacation or become too exhausted to hit all of the places you want to see. Make sure that you get the most of your time in Europe by staying healthy with vitamins.
3. Plug Converters
YOU NEED PLUG CONVERTERS. If you are relying on technology to aid you during your first trip in Europe, you are going to need a converter so that you can plug things in to recharge.
This is a pretty basic tip. Depending on where you are staying, plug converters may be provided for you. However, you shouldn't rely on these services. You never know when your plans might fall apart. What if you get lost and your phone is dead?
Save yourself from scrambling to find a public phone. Pack a plug converter to make sure that you are prepared for anything.
4. Water Bottle
A reusable water bottle is an essential item for all travelers. This is especially important if you are doing a lot of your traveling or site-seeing on foot. Packing a water bottle will save you from spending money at rest stops or restaurants and help you to stay hydrated on long walks where you might not have immediate access to water.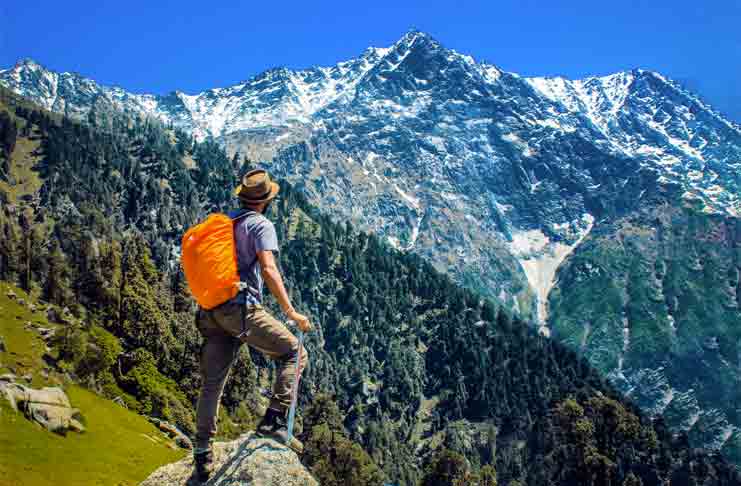 My personal favorite is the Kool8 stainless steel bottle. It's affordable, looks smoking hot, and keeps my beverage hot or cold at all times. It has a sleek, modern style and comes in a variety of colors so you can pick the one that best suits your style. It is also very sturdy, so it can stand up to all of the rigors of travel. And I was pumped to see Kool8 recently voted the best water bottle of 2020 too. But, again, there's a lot of other companies making water bottles too…Your choice!
5. Hanging Toiletry Bag
A hanging toiletry bag is a great way to store your personal hygiene items. It keeps everything organized and easily accessible. And, because it can be hung up, you can keep it off of questionable hotel or hostel bathrooms (depending on your traveling preferences).
Toiletries can also cause big messes while you are traveling. Shampoo or lotion bottles may pop open or crack, coating your clothes and personal items. A toiletry bag will help keep any unexpected spills contained so that none of your other items are damaged.
6. Fitness device to track your steps
If you're going on your first Europe Trip, you should also consider getting a tracking device to record your steps, miles, and distances. It's going to be like your badge of honor. Of course, the most famous ones come from Apple or Fitbit (I own both, lol), but there's a lot of lesser-known brands out there that have all the pedometer functions you need from a tracker. You can check out this list of pedometers options on Amazon.
Conclusion
Traveling can be a stressful and hectic experience, but it is definitely worth the work that you put in. To make traveling easier on yourself, take time to consider the demands of the trip. Think about the situations you will be in day-to-day and what items you may need to get through those days comfortably.
Don't let a lack of organization cause a major catastrophe during your travels. Plan ahead and prepare yourself. Your traveling experience will be much more relaxed and enjoyable as a result.